J is for Jets: Who's tops in private aviation?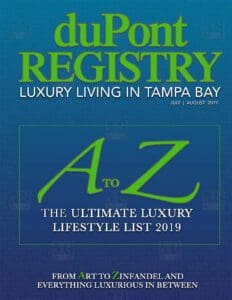 A to Z: The Ultimate Luxury Lifestyles List is duPont Registry Tampa Bay's annual compendium of the best our region has to offer. Each year we choose a different set of categories and then select businesses that are top-of-the-line in each category. This year: Art to Zinfandel (and everything luxurious in between).
VistaJet is like a luxury hotel in the air, complete with butler-trained flight attendants and gourmet dining. Locally based ExecuJet Charter, founded in 1994 at St Pete-Clearwater Airport (PIE), is known for its safety record, round-the-clock service and attention to detail. And if you have your own jet but need a place for it to hang, there's Sheltair, a nationwide aviation services company that leases hangar space in Colorado, New York, Georgia and Florida, and last year built its fifth hangar at Tampa International. A 32,000-square-foot, $6.5 million affair, the new hangar boasts 28-foot-tall doors to accommodate jets that verge on jumbo.
Previous Post
Next Post