Vincent Jackson is an acclaimed wide receiver with the Tampa Bay Buccaneers, co-author of children's books written with his wife, Lindsey, and a shrewd investor whose high profile holdings include the popular SoHo restaurant, Cask, Ferg's Live in downtown Tampa and a rapidly growing real estate company.
A lifelong commitment to philanthropic activities led Jackson to launch the Jackson in Action 83 Foundation in 2012. Its mission is to provide support for military families, focusing on the educational, emotional and physical health of children. The organization operates annual programs that provide scholarships to military dependents, encourage reading achievement among elementary-aged students, gift military moms with items to help them care for infants, host military families and veterans at Buccaneers football games and more.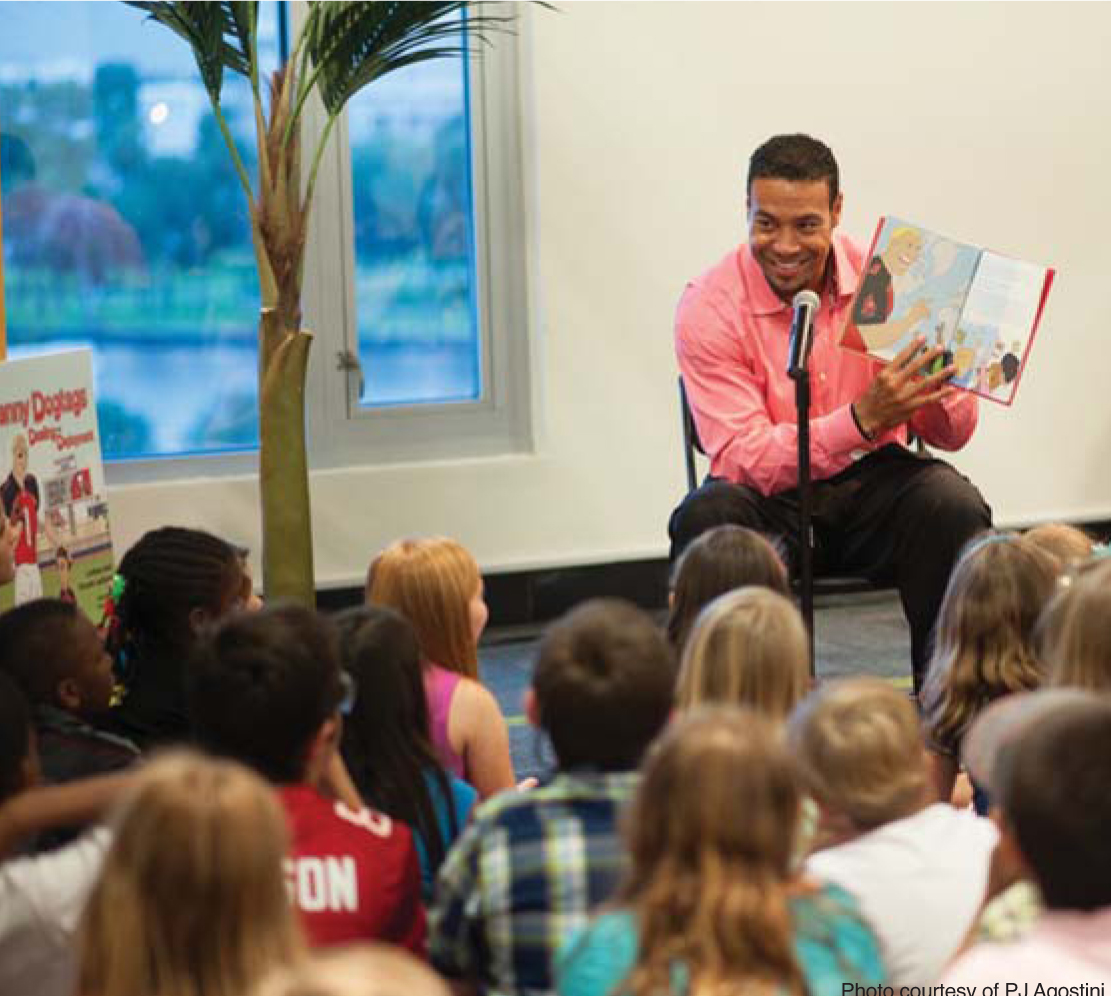 As the only child of a military family himself, Jackson was fortunate to have close relationships with both parents but the frequent relocations and occasional long-distance relationships admittedly were disruptive.
How did your father's 21-year military career affect your childhood and provide motivation for your foundation?
Being a military kid, we were always moving so I had to learn how to make friends consistently as I was changing schools. I had to be a little more adaptable, get out of my comfort zone and face some different challenges.
I've been philanthropic my entire life. My dad was big on that as far as giving back to the community. We did a lot of charitable 5Ks together, we used to do community clean-ups and feed the homeless. As a professional (football player) starting my career in San Diego, I got involved right away with the Salvation Army, working with the cancer foundation and Boys & Girls Clubs. In the back of my mind I always wondered what would be something for me to put my personal stamp on, something that would be near and dear to my heart, something that I could relate to? And it always took me back to the military.
There seemed to be a niche that was being overlooked. What's going on at the homes of these families? How are the spouses and the children being affected by deployment and how can we provide a support team to really focus on that?
How are you impacting these families?
We reach out directly and get feedback about their background and any resources they may need. It may be help finding a job, meeting other moms or questions about schools. All of our programs, our baby showers, our reading program and our kid's camp, are generated from speaking with military personnel, spouses and teachers to find out what is the gap and how we can help.
How does the foundation operate and how much of your personal time is involved?
Our foundation is very organic and honestly it is myself, my wife, our executive director (Allison Gorrell) and about three or four board members. Obviously we have great volunteers who come out to events we have. We cannot do this without them. As far as myself, my hands are on everything we do. When we take kids to One Buccaneer Place, I give the tours. Lindsey and Allison are the leads on the baby showers but I am there. I wouldn't have it any other way. The whole point of this is to make an impact and take me out of it. I am just another volunteer. We want to make these military men, women and their families the stars of everything we do.
What is most fulfilling to you about the foundation's work?
The results that we see and, first and foremost, the children. I loved my childhood and look back at it as a gift but there were many challenges that came with it. If not for a great support system that I had with my family and the people they surrounded themselves with, it would have been very difficult.
Our programs are very wholesome, we are truly hands-on and very impactful. I don't know if these programs are going to affect five kids or 500 but I know it's invaluable because there is such a need to support these families.
We get new faces every year. These young families are always coming and going. We may have them for six months or two years. Even when they have gone onto a new military base or a new part of the country, they still reach out to us to say "Timothy brought up something he did at your camp two years ago". That's what it's about. That's the beauty of it.