M is for Money: Vital funding and good advice during times of crisis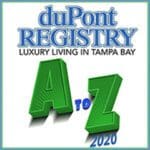 This year's A to Z Issue celebrates people and businesses who have been successfully riding the turbulent waves of change and offering service and hope to the community at large. The print edition will be out later this month, but we're teasing the content online, one letter at a time.
For small businesses adversely affected by the pandemic, a rescue loan from the government's Paycheck Protection Program (PPP) was the only thing that enabled them to keep their doors open; according to a USA Today study, community banks were found to be particularly effective in securing such loans. A standout in this regard was Pilot Bank, which funded over 730 PPP loans totaling $119 million; during the second round of loans, its employees worked through the night to make sure loans were expedited in time, Pilot President Rita Lowman told the Tampa Bay Business Journal in April. Bank of America has stepped up on both a local and national scale, granting $875,000 to 18 Tampa Bay nonprofits dealing with issues related to COVID-19 and committing $1 billion nationally to help drive economic opportunity, health care initiatives and racial equality, particularly focused on creating opportunity for people and communities of color. And when businesses are faced with multiple challenges as they are now — a time when clear messaging and quick action are imperative — they know they can turn to Tucker/Hall. The Tampa-based PR and communications consulting firm usually counsels its clients on just one aspect of their business: strategy, crisis or planning. Now clients are seeking counsel on all three.
Next: N is for Newspapers: Carrying on through tough times and more necessary than ever