Let's talk about silence. Me, I like the quote by Leonardo da Vinci: "Nothing strengthens authority so much as silence." It's up there with the line from the Dalai Lama: "Silence is sometimes the best answer". Or leave it to novelist Sarah Dessen: "Silence is so freakin' loud!"
Gliding effortlessly across Alligator Alley in Mercedes-Benz' newly-minted, full-size, all-electric EQS SUV, and all I can think about is this exquisitely-furnished, family hauler's astonishing silence.
That's the beauty of electric motivation, and a slippery bodyshape that's as smooth and aerodynamic as a bar of Dove. Plus a single-minded focus by those white-coated Mercedes boffins to quell noise. Think encased electric motors, innovative door and window seals, and acoustic foam in every body cavity.  
Based on Merc's low-slung EQS sedan, aka the electric S-Class, this new EQS SUV satisfies our love affair with roomy, versatile, tall-riding 4x4s while peaking our growing curiosity with zero-emission batterification. 
OK, it won't win any beauty contests. In profile it looks like it might have plopped out of a Jell-O mold. But then its closest rival, the bloated, Tesla Model X, is no beauty queen either. Elon himself once described it as being the Fabergé egg of cars. No yoke.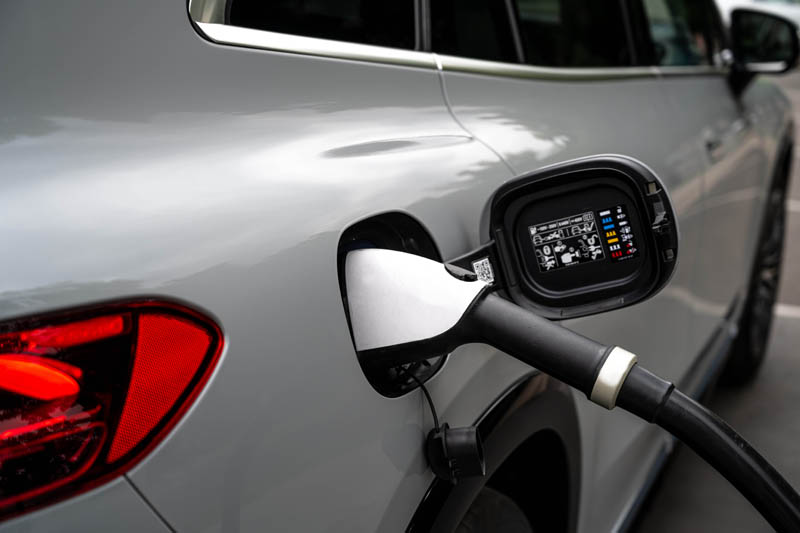 But there's plenty of visual drama in the Merc's bold, blacked out, solid front fascia – being electric, there's no need for a traditional grille. I just love the multitude of tiny, backlit Mercedes tristars swirling around that big central three-pointed star. Those and the line of wafer-thin LED running lights beneath the contoured hood.
Inside it's all very much inspired by the EQS Sedan, but with considerably more headroom, and space way in the back for a third row of seats. And like the sedan, opting for the Hyperscreen dashboard delivers a 56-inch wall of digital screens.
Being the S-Class of electric SUVs also means hedonistic levels of luxury and comfort. From the La-Z-Boy-like, diamond-stitched seats with those insanely-decadent, puffy-pillow headrests, to the biz-jet-roomy second-row with individual 11.6-inch touchscreens. 
Of course, it's the EQS SUV's electric powertrain that grabs the headlines, and here it comes in a trio of flavors. The entry EQS 450+ (from $104,400) features a single 355-hp electric motor mounted in the rear axle with up to 305 miles of range. 
Step up to the 450+ 4Matic (from $107,400), and you add a motor at the front axle to give all-wheel drive. While the range drops to an estimated 285 miles, 0-to-60mph sprinting goes from 6.5 secs to 5.8 secs. 
For awesome power, performance and refinement you're going to want the twin-motor EQS 580 (from $125,950) which we're driving. With its galloping 536 horseys and gut-wrenching 633 lb-ft of torque, there's power-a-plenty to catapult this 6,228-pound whopper from rest to 60 in a mere 4.5 seconds. And it will still run for 285 miles on a charge.
As we've come to expect from high-horsepower electric vehicles – hello Tesla Model X Plaid – off-the-line acceleration is rock-out-of-a-catapult, heart-stoppingly instant. And, in the case of the EQS, eerily silent. The thing just rockets. 
The surprise here, however, is its athleticism and agility through the curves. With standard rear-wheel steering, coupled with precise, super-responsive steering, the big EQS feels nimble and, dare I say, fun to drive. It's even capable and competent off-road.
But it's as a relaxed, refined cruiser where the big Benz excels. Air springs at each corner provide a magic carpet-like ride, with any body roll reined-in by variable damping and smart suspension design.
With all these qualities, this new, Alabama-built EQS 580 SUV is definitely worth making some noise about.