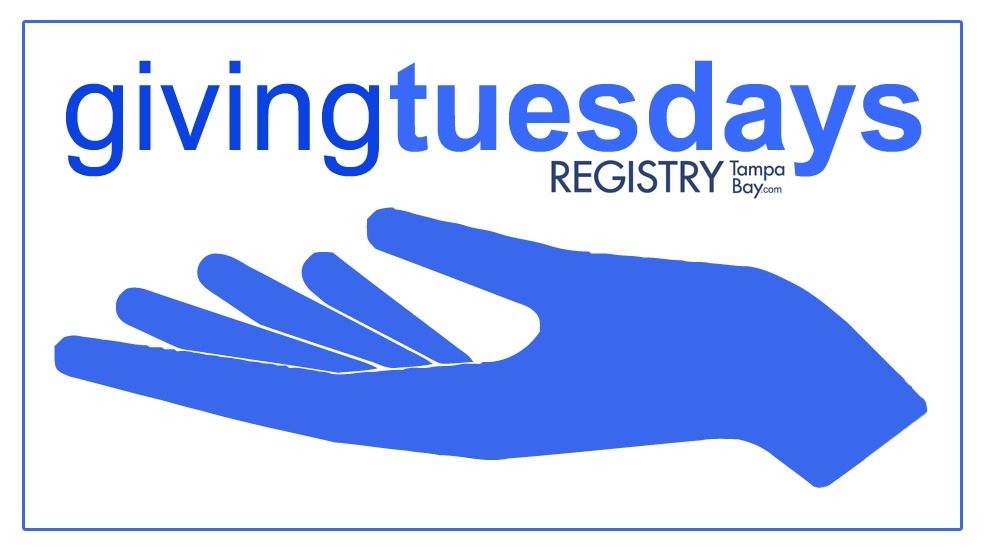 Sponsorships and tickets still available for one of St. Pete's favorite events, this year at the Morean Center for Clay.
"I don't even know what to say, and I'm never at a loss for words!"
That was actor Matthew McGee's reaction when he learned that he'd won a 2022 MUSE award — the annual honor given out by the St. Petersburg Arts Alliance (SPAA) to recognize the city's artists and arts supporters.
This year, for the first time in the awards' 8-year history, the honorees first heard the good news on camera. SPAA CEO Terry Marks made surprise visits to the winners (with the help of friends and family) and Associate Director Tracy Kennard caught their happy reactions on video.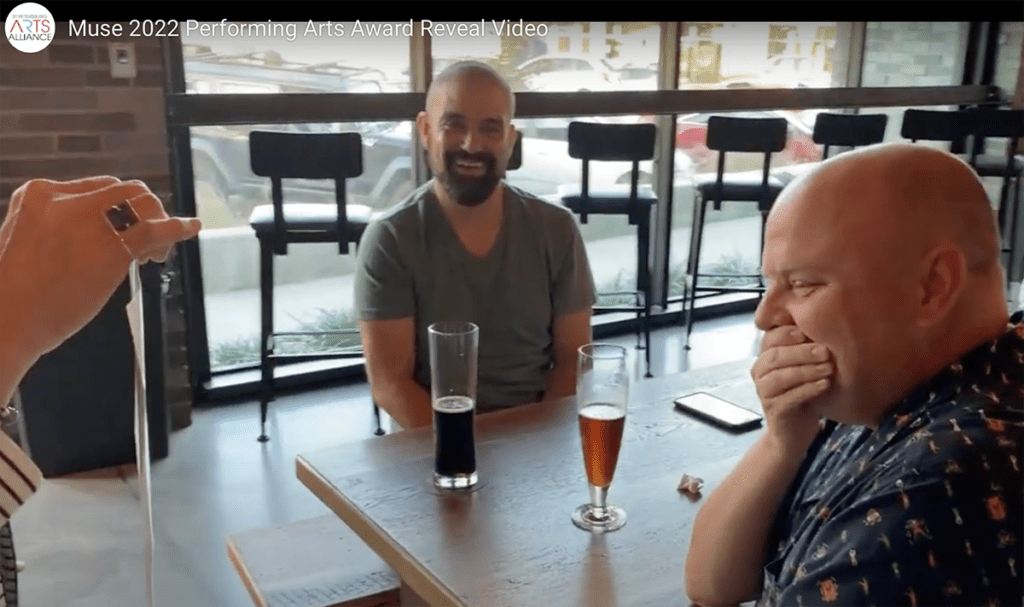 The emotions in the videos run the gamut. Arts Ambassador Chad Mize, surprised at his gallery in Historic Uptown, freezes in his chair. Visual Arts honoree Carlos Culbertson (aka Zulu Painter) covers his face with his baseball cap at his studio in the ArtsXchange. The poet Gloria Muñoz gets the news of her Literary Arts award at Uptown Eats, where she's sitting with her husband, the jazz musician Mark Feinman of La Lucha. "Omigod! What? For me?" she exclaims, and gives Marks a big hug as Feinman applauds. McGee, cited for Performance Arts, is at Grand Central Brewhouse with Eric Davis, the artistic director of freeFall and a past MUSE honoree himself, who was in on the surprise.
"He asked if we could have a drink after work," McGee told me via email. "Something he never does! I was like…uh oh. Bad news. lol."
Each of these video reveals — as well as the ones for craft art collectors David and Becky Ramsey (Patron of the Arts award) and Matthew Walker of Pixelstix (Art and Technology award) — is a delight to watch. (You can see them all on SPAA's MUSE page.)
"My goal is always to bring warmth and humor along the way at all times," says Marks, "and in particular these times." The videos accomplish that for sure. They also make clear that the awards continue to accomplish what they were intended to do when Marks's predecessor, John Collins, introduced them in 2014: to celebrate, in his words, "those people in the arts who are the muses for our city."
The awards play a key role in SPAA's vision, as stated on its website: "to strengthen and sustain the art and cultural community within St. Petersburg through collaboration, economic growth, education, and adequate and consistent funding." Marks says that proceeds from the MUSE 2022 event, this year taking place on March 4 at the Morean Center for Clay, will help sustain key SPAA programs like the SHINE Mural Festival, the Second Saturday ArtWalk and the ArtBeat newsletter, as well as initiatives in arts education and workshops for artists and nonprofits.
And the MUSE party is fun. Collins, who retired as executive director of SPAA last year, was adamant from the event's inception that it not be a stiff-tux, sit-down dinner affair, but rather "a giant cocktail party." As a former busker on the streets of Boston, he envisioned the milieu as being like an outdoor street festival, but inside the Museum of Fine Arts — the site of the party through 2020. (There was no party in 2021 due to Covid.) Collins did not come up with the event's name; he credits that idea to SPAA volunteer Laura Fage.
Both the party and the awards have evolved over the years. There were only two awardees in 2014 — The Studio@620's Bob Devin Jones and actor/singer Becca McCoy — with the slate growing to six-plus (including couples). The winners are selected by the SPAA Board of Directors, who canvas their contacts and past honorees for suggestions. (As the 2017 Literary Arts winner, I was pleased to be among those asked this year to make nominations in that category.) There's no monetary award, but winners have in the past received gorgeous glass bowls by Duncan McClellan, a 2020 honoree. This year, says Marks, Zen Glass artist David Walker, an SPAA board member, is creating "new beautiful glass awards."
And that's not all that will be different this year. The new venue, the Morean Center for Clay, will allow "an opportunity to have outside and inside space," says Marks, "and kilns blazing into the night." Visual artists will be stationed indoors and out, with "at least 10 clay artists working and exhibiting in the back rooms."
Other attractions will include "a trolley with surprises inside"; students from Gibbs H.S./Pinellas County Center for the Arts creating artworks on the spot; "gourmet delicacies and cool libations," including a Spraycation Station from Bayboro Brewing where guests can try the beer created for the SHINE festival; dance performances; the music of La Lucha, a MUSE perennial, with singer Sierra Amora, a PCCA grad; a special VIP experience starting at 6; and, as always, the bon vivants (and 2018 MUSE honorees) Paul Wilborn and Eugenie Bondurant as emcees. (He's taking a break from running the Palladium and writing award-winning fiction, and she apparently will not be in Paris modeling for Balenciaga, as has been her wont of late.)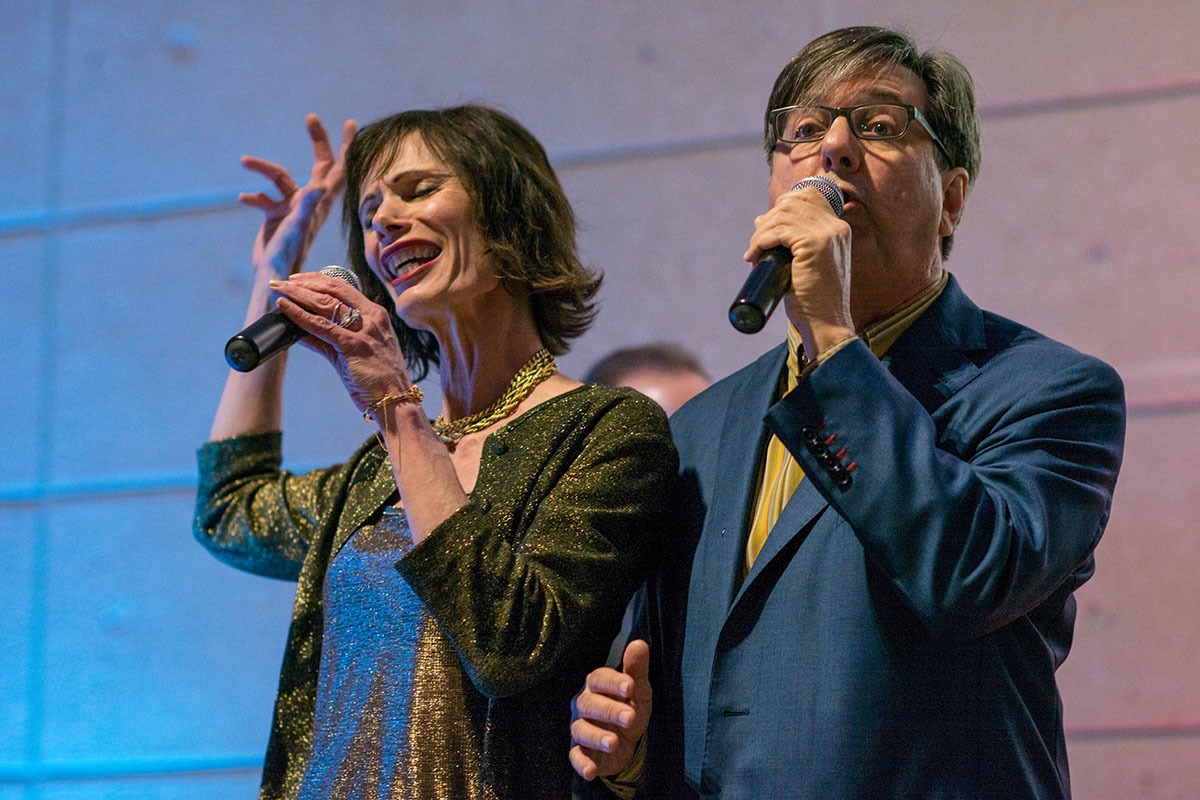 "We're going to dance and have fun!" says Marks.
Sponsorships and tickets are still available to MUSE 2022. 
MUSE 2022: Friday, March 4, 7-10 p.m.; VIP Experience, 6-7 p.m. Morean Center for Clay, 420 22nd St. S, St. Petersburg, stpeteartsalliance.org.