N is for New Digs: High-rises that raise the bar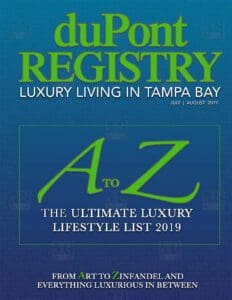 A to Z: The Ultimate Luxury Lifestyles List is duPont Registry Tampa Bay's annual compendium of the best our region has to offer. Each year we choose a different set of categories and then select businesses that are top-of-the-line in each category. This year: Art to Zinfandel (and everything luxurious in between).
The multi-family residential boom in Tampa Bay means that a shiny new edifice seems to be sprouting up every other week. But a select few of these works-in-progress stand out. In downtown St. Pete, the 15-story, 368-unit ICON Central Apartments building takes up an entire city block, with retail spaces that include a beautifully rehabbed 1926 bank (which could be a snazzy site for a restaurant). In South Tampa, two luxury condos under construction on Bayshore Boulevard are causing jaws to drop and pocketbooks to open: Virage, which will be the tallest condo tower on Bayshore, with 24 stories and 71 units on the former site of the Colonnade restaurant; and the 17-story Sanctuary at Alexander Place, which will be the only luxury condo tower with just one residence (or, ahem, "condominium estate") per floor (except for the penthouse, which will take up two). Across the bay in Tierra Verde, Sunset Pointe at Collany Key offers a deluxe version of island life, including a "sunset pavilion" and a kayak launch, and in Belleair, the condo owners of Belleview Place will enjoy access to the amenities of a fabled inn and golf club.