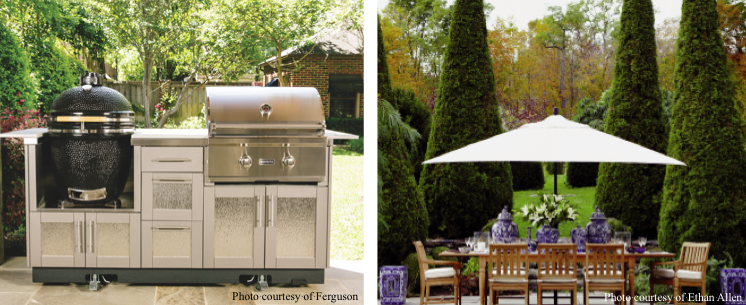 Beautiful Exterior Spaces For Luxury Living Outdoors
As homeowners spend more time at home entertaining family and friends, customized outdoor living spaces have become increasingly popular, says Steve Freund, Area Showroom Manager – Southwest Florida for Ferguson Bath, Kitchen & Lighting Gallery.
"Florida's temperate climate allows a homeowner to expand upon an open floor plan with retractable glass walls, creating a seamless transition into an outdoor living space," says Freund. "Many of today's outdoor kitchens also reflect indoor amenities, with everything from built-in grills, sinks and pizza ovens to refrigerators, dishwashers and outdoor chandeliers."
Why not have all the luxury that you appreciate inside your home at your fingertips outside, too? Enjoy a resort-type atmosphere every day of the year.
Brigette Pina, Tampa manager for Ethan Allen, agrees that outdoor spaces are no longer just patios, but an extension of the home. That requires thinking about outdoor spaces in an entirely new way, she says, including how to best place furniture for good conversation and traffic flow, especially if you like to entertain.
Good Design Principles at Work
"Outdoor spaces done well reflect the same good taste as a beautiful home interior, which means they are designed with a nice blend of textures, colors and fabrics, and there is attention paid to the smallest details to make them comfortable and inviting," says Pina.
That means selecting the right rugs and lighting, adding accents of color with pillows and thinking of how best to use the space. "A well-designed outdoor space uses every corner to create the perfect outdoor environment for family and guests," says Pina.
Consider placing a cozy chair in the corner of the yard or by the pool just like you would have a cozy chair inside by the fireplace. Position a sofa or loveseat and chairs to create an intimate conversation area, similar to how you might place furniture in a living room. And be sure to add a large, freestanding umbrella or two to protect family and friends from the blazing Florida sun.
In addition to all of the extra amenities that make outdoor spaces special, there is the issue of functionality. No one wants to be hassled by having to run back and forth from the outdoor kitchen to the house, especially when the steaks are almost done. The solution is to plan the outdoor kitchen with all of the practical features that you expect in your primary kitchen, says Freund.
For example, he suggests adding amenities like a side burner and warming drawer, which provide more space to cook, keep prepared food warm and minimize extra trips in and out of the house. A built-in trash chute will help minimize insects, while a weather-rated sink and pullout bar faucet allows for quick rinsing of meats, fruits and veggies on the spot.
Lighting is also an important consideration, especially for entertaining at night, says Freund. If you or anyone you know owns Festoon lighting, but have yet to hang them up, instead of doing it yourself, you could look into festoon lighting experts to come round to install them safely. There is a lot of planning involved when it comes to parties. From food, invitations to the theme and lighting, this all needs to be considered. Task lighting above cooking stations is the key to food preparation, while a decorative chandelier, ambient wall sconces and freestanding lanterns can create ambience for seating and dining areas. Extend lighting out to the yard by placing accent lighting to illuminate trees, and light pathways and trails.
Of course, the perfect outdoor kitchen has to start with the perfect grill. Whether built-in or freestanding, the grill is the focal point of every outdoor kitchen, says Freund. The next consideration is which type of grill – gas or charcoal? It ultimately comes down to taste versus convenience, says Freund.
But why not select a high-end grill that does both? Freund suggests the Coyote Asado Smoker, which allows you to cook over an open flame, sear on electric grates and smoke-in natural flavors.
Hollie Driscoll, business development manager of Just Grillin and a member of the company's design-build team, appreciates Alfresco products for their high-end quality and amazing versatility. "They're the BMW or Mercedes-Benz of grills," says Driscoll.
Alfresco's top-of-the-line grill is the 42-inch ALXE Grill, which has an enormous cooking area, plus a wood chip smoker system with a 5,000 BTU dedicated burner and drawer for wood chips. There is also an integrated rotisserie system and an optional infrared sear station to seal in the juices and caramelize the food for the perfect flavor sensation. Additional accessories include a wok, steamer/fryer basket and commercial griddle.
"This is the only grill on the market that allows homeowners to do literally any type of cooking they want, from charcoal to gas," says Driscoll. "Plus there is a lifetime warranty."
Keeping ice-cold beverages handy, especially on a hot Florida day is also a priority. That makes an integrated or freestanding outdoor refrigerator a must-have amenity. But be sure to purchase one that is outdoor-rated and can handle the Florida heat and humidity, says Driscoll. Refrigerators work hard to maintain constant proper temperatures for beverages and perishable food. Outdoor fridges have to work even harder to keep a constant temperature in all kinds of weather. "A less expensive mini-frig just isn't up to the task and won't last," says Driscoll. She recommends the U-Line 24" Outdoor-Rated Refrigerator, which can hold up to 123 bottles or 185 cans – perfect for parties. A digital touch pad control lets you adjust the temperature to the right setting.
The right amenities and accessories, plus a little advance planning, can help create the perfect luxurious outdoor room that rivals the beauty of your home's interior.