Nicky's Pizza is 35 miles north of Midtown Manhattan, an hour's drive if traffic is light. So while some provincial folks in the boroughs might claim that you can't get authentic New York pizza in the 'burbs, I steadfastly maintain that you can at Nicky's.
Or could. I haven't been there in decades. But man, do I remember. Nicky's, located on Route 59 in Suffern, N.Y., made the pizza I grew up on. Most every Friday night — this was the '60s — Dad would drive down and grab a couple of large pies for the family. As teenagers, my pals and I routinely stopped in for a slice or three.
I'm telling you this to establish my bona fides. I know from New York pizza.
In my adult years, I've tried an array of pizza styles: Neapolitan (pretty good, but hit or miss); Sicilian (meh); Chicago deep dish (a useless pile of dough), St. Louis, Detroit, California (have I even tried 'em? Can't remember.) Chains like Papa John's and Pizza Hut? (Puh-lease.)
New York-style is my go-to, always will be.
These days, you can find alleged New York pizza from Yakima to Yeehaw Junction. And Tampa, of course. St. Pete, too.
I chose two urban pizzerias whose names proclaim legitimacy: Eddie & Sam's New York Pizza in Tampa; and Joey Brooklyn's Famous Pizza Kitchen in St. Pete. Both sell pizza by the slice, a requirement.
JOEY BROOKLYN'S
This place, located on the northern side of the Jannus Landing block, is a true hole-in-the-wall, and I doubt ownership would object to the characterization. I walked in the door and a few feet to the counter, where a middle-aged fella greeted me warmly, which was not very New York but much appreciated.
He wrote down my name and order on a pad: the lunch special — two cheese slices and a can of soda for seven bucks. I dug the low-tech, old-school vibe.
I had a seat outside at a picnic table, and my guy brought the goods out within a couple of minutes. "Here ya go, Mr. Eric," he said.
Appearance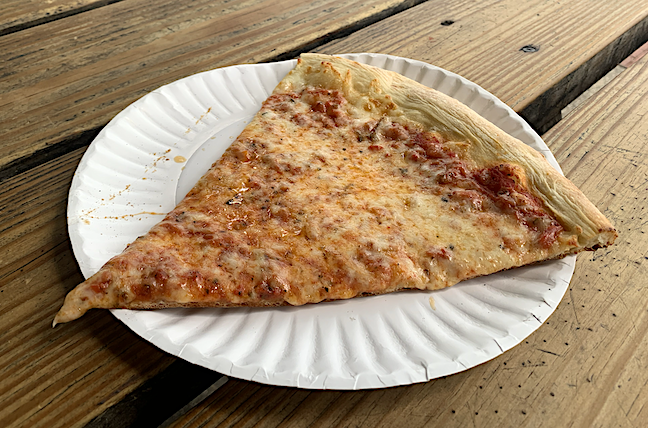 The traditional presentation (shown in top photo) stirred in me a pang of nostalgia: the slices laid on overlapping paper plates, the kind that are ringed with ridges. This pizza looked legitimately New York, with a thin-but-not-cracker-thin crust and a little droop at the tip. The cheese and tomato sauce melded together as they should.
Texture and Taste
The slice folded easily, but it was a bit too hot to eat at first. Better that than not hot enough. My first bite had everything I was looking for: gooey but not (overly) greasy, meaning I didn't have to dab it with a napkin; chewy but not tough; and kissed with that ineffable magic that says New York pizza. The only slight detraction was a tinge of crunch in the crust, probably from warming it in the oven.
It was about 1:30 and I hadn't eaten lunch, so I scarfed down both slices — save for the end crust. People who say the crust is the best part of a pizza should have their frickin' heads examined, know what'm sayin'? The best part of a pizza slice is the tip, and the goodness slowly diminishes as you go. The crust is a waste of stomach space.
EDDIE & SAM'S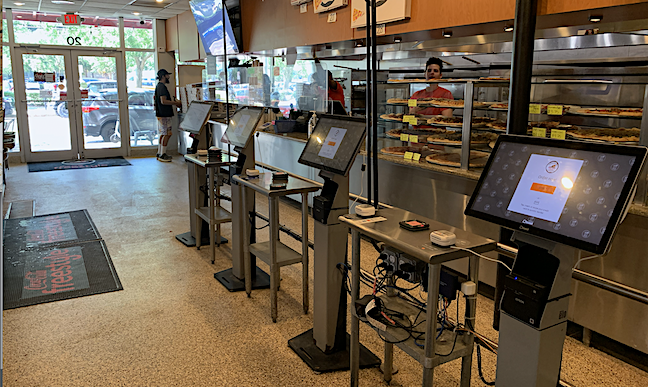 Pardon my rant: Remember when driving from St. Pete to Tampa in the middle of a Wednesday afternoon might actually be a breeze? Let me say, through gritted teeth, that such has not been my experience lately. A backup on I-275 caused us to get off at Kennedy Boulevard, which was of course backed up because other folks had the same idea.
After a 75-minute drive that included some interminable lights downtown, we parked in the lot across Twiggs Street from Eddie & Sam's. In 90-degree heat, we fumbled our way through the pay station. We had to pay $12 for six hours, when all we needed was an hour. By contrast, I paid a buck for an hour in St. Pete.
We entered the pizzeria — a bigger hole-in-the-wall than Joey Brooklyn's — and found … more pay stations! Kiosks where you push buttons on a screen until you get carpal tunnel. At this point, I was well into Aww, come ON mode. While I took deep breaths, Bonnie ordered: two cheese slices and a fountain drink for $7.79.
At our table by the window, I heard a woman say sharply, "what's up with the garbage overflowing?" Ah, the ambience.
Appearance
Our two slices came in a small pizza box. When we opened it, Bonnie and I both did double-takes. The slices were enormous, positively Flinstonian. The tip dripped well over the paper plate. The crust looked a little thinner than that of Joey Brooklyn's. Pools of grease were visible.
Texture and Taste
The Eddie & Sam's mondo-slice was a bit too foldable, to the point where it sagged. After one bite, I turned it downward to let the grease roll off. (For those of you who find this repugnant, it's not that unusual for New York pizza, although not ideal.)
Nevertheless, the early bites were legit NYC-tasty — good enough that they eased me out of my agitated state.
The grease made quite a pool on my plate and soaked through to the table. But at least it wasn't in my stomach. The late going was a bit laborious, especially as I approached the end piece and only tomato sauce was left.
The lunch special was definitely enough for both of us. Where else do you get a meal for two for $8.38 with tax? I don't think I could've finished both slices no matter how famished I was — especially if that included the end crust.
And the Winner of the New York Pizza Slugfest Is …
Joey Brooklyn's.
Both of these places earn NY-style cred, but the St. Pete spot wins based on a far lower grease factor, and a no-fuss, old-school vibe that hit home for an old-school cat like me.