Newport News: The festivals are back and summer breezes beckon
Ah, the charms of Newport. I was a columnist covering the social scene there for Women's Wear Daily in the '80s, and remember so many only-in-Newport moments: a chat with Prince Andrew (aka "Randy Andy") at the Astor estate; cocktails with Andy Warhol on the roof of the Clarke Cooke House with socialite Cornelia Guest after his Newport Art Museum exhibit; talking to Jackie Kennedy's mom, Janet Auchincloss, at the International Tennis Hall of Fame as she pulled on her white gloves; covering black-tie soirees at the same time Bill Cunningham was shooting his iconic images for the New York Times and Dominick Dunne was writing his investigative articles for Vanity Fair. Newport was magic back then. But then it always has been.
Founded in 1639, this charming Colonial-era port has miles of beaches, scenic trails, distinctive shops, renowned restaurants, diverse accommodations and world-class events. It may be best-known for its Gilded Age mansions, especially The Breakers, an 1895 mansion patterned after a Renaissance palace and built by the Vanderbilts in 1895; they were among the uber-wealthy families whose summer "cottages" in Newport led to the town's moniker as "America's First Resort." Home to the Tennis Hall of Fame since 1954 and to the America's Cup sailing competitions from 1930-83, it's long been associated with both those sports — and, since the 1950s, with its two iconic music festivals.
Let the Music Play
Both the Newport Jazz Festival and the Newport Folk Festival were canceled last year, and thanks to the pandemic, I called off my own annual Newport visit. But I'm happy to report that the world is opening up again and tickets will be on sale soon for both festivals, which take place at Fort Adams State Park at the mouth of Newport Harbor. The folk festival will present two three-day events of performances, storytelling and workshops at Fort Adams July 23-25 and July 26-28. Access to the summer's events will be announced in phases. 
The Newport Jazz Festival will make its return from July 30 to August 1. Participating artists have not yet been announced, but this we know for sure: the late jazz great (and Clearwater resident) Chick Corea will be honored. Missed by all since his death in February, he was reportedly playing the piano right up until the end. His compositions — including "Spain," "500 Miles High," "La Fiesta," "Armando's Rhumba" and "Windows" — are jazz standards.
It's a not-so-secret tradition for locals and out-of-towners alike to gather on their boats to listen to the festival music. It's always one big music party for days. 
Sleep by the Bay
Book a room at Castle Hill Inn, named one of the top 10 most romantic hotels in the U.S. by Tripadvisor. Located on a 40-acre peninsula at the west end of Newport's famous Ocean Drive, the secluded oceanfront resort was once the summer home of Harvard marine biologist Alexander Agassiz. Comprised of Agassiz's restored Victorian mansion, the quaint and oh-so-private Harbor Houses, and well-appointed Beach House lodging rooms all snuggled along the coastline, the Inn has been deemed by the New York Times as "quite simply, the best spot in town." Heads up: Festival-goers who used to enjoy a cocktail at the Inn will be very disappointed this year, since Covid restrictions will only allow hotel guests (room rates $900 and up) and those with dining reservations to enter the grounds. They reopened on May 16 for lodging guests only. 590 Ocean Drive, castlehillinn.com.
Situated on Goat Island and surrounded by picturesque Newport Harbor and Narragansett Bay, Gurney's Newport Resort & Marina is the hot and trendy place to see and be seen. It offers the seclusion of a private island, though it's only a short walk from the heart and history of the charming waterfront cobblestone streets of Newport. Expansive grounds offering 360-degree water views provide an ideal setting with 257 guestrooms. 1 Goat Island, gurneysresorts.com.
A brand new luxury boutique hotel opened last July called The Brenton, located on the waterfront with a ton of exclusive perks for travelers, including private boat rentals and Peloton bikes. The Gilded Age-style hotel has 57 spacious rooms and suites and panoramic views of the harbor and Newport downtown area. 31 America's Cup Ave., brentonhotel.com.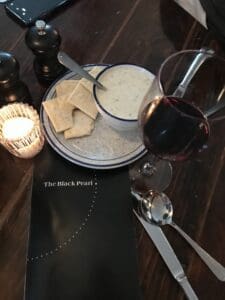 Eat & Repeat
There's New England clam chowder, Rhode Island clam chowder and then there's the Black Pearl's clam chowder. Fifty to 100 gallons per day are made in the summer months. It's worth spending the time to score a table. 30 Bannister's Wharf, blackpearlnewport.com.
The White Horse Tavern has only 17 tables and books up early. Opened in 1673 and now a National Historic Landmark, the restaurant exudes colonial charm but is anything but dated. Enjoy fish, clams and lobsters directly from Narragansett Bay, along with just-picked produce, artisan cheese, honey, prime cuts of beef and the highest-quality chops and poultry from local farms. 26 Marlborough St., whitehorsenewport.com.
Getting There
It's an easy flight from Tampa International Airport to Providence, and the airport is less than an hour's drive to the Atlantic Ocean and Newport. Get ready for all the lobster, clam chowder and sea breezes you crave. 
And then there's this… While Newport has long been synonymous with high society, its most celebrated visitors of late were considerably more lowbrow: The Real Housewives of New York, who descended upon the town last year in what one publication described as "a girls' trip from hell."