Let's dispense with the niceties first.
Joyeux Jour de la Bastille! Or as we're more apt to say in the States: Happy Bastille Day!
What good fortune that Friday Food Fight falls on such a hallowed occasion — a French national holiday honoring an 18th Century rebellion that defies explanation in a few short words. So I won't try.
At any rate, it's fitting that I feature a French staple this week. I chose coq au vin, which, when run through an online translating program, comes out "cock in wine." Here's a more useful description: a classic French stew of chicken braised in red wine that yields a rich gravy. The dish usually includes small pieces of bacon, mushrooms and pearl onions. Julia Child, who popularized coq au vin in America, included carrots in her recipe. I'm all for that.
I selected two categorically French eateries as contestants: The Marquise Cafe in South Pasadena and The Left Bank Bistro in St. Pete.
Here's wishing me bon appétit.
THE MARQUISE CAFE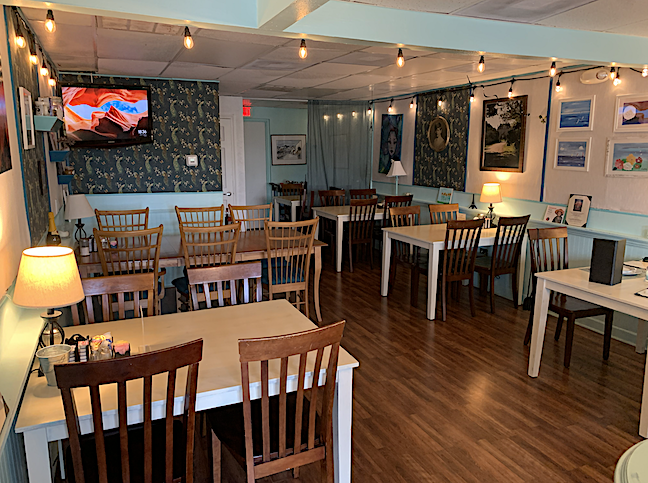 I associate French dining with high-brow sophistication. This ain't that.
Marquise Cafe is squeezed into a tired strip mall on Pasadena Avenue South a half mile northeast of St. Pete Beach. The small dining room is outfitted with simple wooden tables and chairs. Basic but cozy — made even more so because we were the only customers when we arrived at 6:30 on Tuesday. And we remained the only customers until we left just before 8. We were serenaded throughout by vintage French pop playing quietly on small speakers.
Philippe was our server. He runs the restaurant with his wife, Stephane, the chef. A charming fellow with a swoony French accent, Philippe had plenty of time to chat with us.
The limited menu had four entrees and some desserts and appetizers. I asked for a salad ($5, not on the menu) as a prelude to my coq au vin ($27),  and the restaurant obliged.
Appearance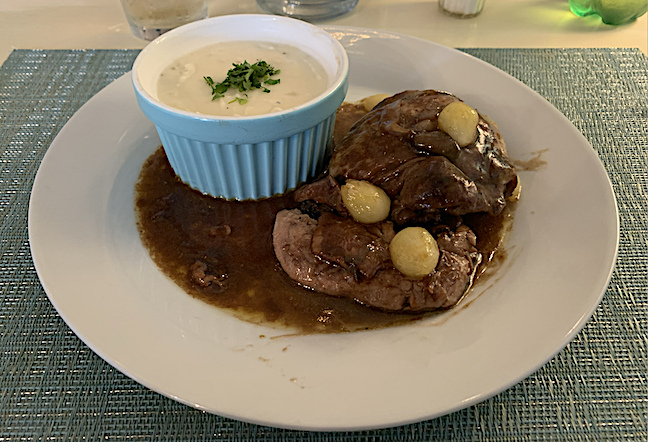 A subdued presentation. The chicken thigh was covered in brown sauce, topped by pearl onions and mushrooms, and joined by a crock of finely whipped potato. No carrots (sigh).
Texture and Taste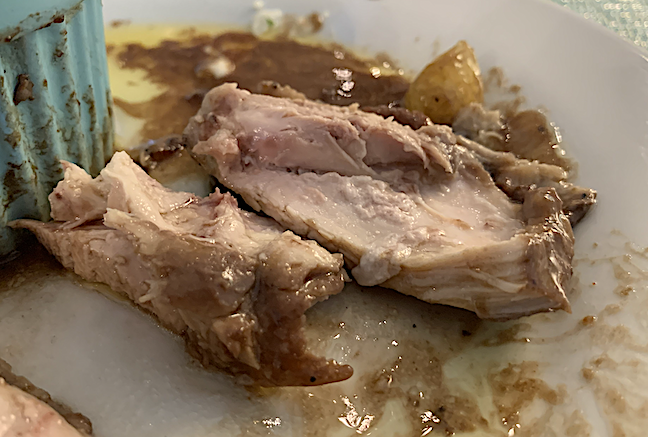 The sizable bone-in chicken thigh was flavorful and moist, made more so by the lush sauce, which had the consistency of brown gravy. I could not detect much red wine flavor. There was a tinge of bacon, present but not overpowering. I'm not a mushroom man, but these were well integrated into the overall package. The entree could've used more than three pearl onions.
I was mightily impressed with the pureed potato. Sprinkled with parsley, it had a more potent flavor than most mashed spuds I've eaten. I guessed garlic. Nope, said Philippe, just potato, milk and heavy cream. The crock kept it hot, and then warm 'til the end. I scraped out all I could with my fork, and lamented that the tines would not allow me clean the little bowl. Ah, for a spoon.
The salad, dressed with simple oil and vinegar, was an adequate if unspectacular opening act.
As far as portion size, one chicken thigh — however ample and however tasty — was less than I'd expected.
LEFT BANK BISTRO
Set in a converted bungalow on MLK Street a mile north of downtown, Left Bank Bistro has been a thriving concern since it opened in October 2018.
Parking is a problem. The small lot was full at 6:30 Wednesday, but we managed to find a space on the street a block or so away.
Left Bank's interior has a relaxed elegance about it — tastefully appointed, nicely chandalier'd,  with plenty of natural light and tables that are well spaced. Original paintings from local artists decorate the walls (make sure and check out Lance Rodgers' large, whimsical The Lost Supper).
Business was fairly brisk, and the room was boomy, but not to the point of needing earmuffs. We adjusted and were able to converse easily. Early on, a couple of house flies buzzed around us at our four-top, but after we shooed them a few times they moved on.
I ordered a Large Garden Salad ($15) as a starter for the coq au vin ($28).
Appearance
A half-chicken as compared to Marquise Cafe's single thigh. A bone jutted upward, making the dish look kinda fancy. The bird rested in a pool of brown sauce. Fingerling potatoes mentioned in the menu were nowhere in sight. And … no carrots. (sigh)
Texture and Taste
The chicken was on par with the competition's, but the portion was bigger by half, and that's a conservative estimate. The sauce was thinner, less gravy-like, with a piquant flavor and the wine more present. If the recipe includes bacon, I couldn't tell.
Quick aside: If anyone's giving a class on how to eat a half-chicken with just a knife and fork, sign me up.
The fingerlings were buried under the bird, which had turned them dark brown. They were small, and there was only a few. Thus I had to eat the morsels strategically, so I wouldn't be left with chicken only.
The first-rate salad had a lot of good stuff to go along with crunchy greens: onions, carrots (yay!), cucumbers, heirloom tomatoes, slices of radish, black olives and parmesan shavings. It was dressed beautifully with a red wine thyme vinaigrette.
And the Winner of the Bastille Day Battle of the Coq Au Vins Is …
Left Bank Bistro.
Each place had its advantages. Left Bank was in a far more attractive neighborhood in a building with considerable charm. Then again, it's hard to beat having a restaurant dining room all to yourself — like we did at The Marquise Cafe. The South Pasadena eatery had a leg up on service.
Both meals were quite pleasurable. Left Bank easily wins the bird battle. The portion size and the different tastes and textures (thigh, breast, leg) were ultimately the determining factors. I'll call the sauces a draw. Marquise Cafe's potato puree provided the most delight of anything I ate at either place. So — a close call between two contrasting restaurants.
Full disclosure: This is the first time I've ever observed Bastille Day. And it was made possible by this column.
Vive la Bataille Alimentaire du Vendredi! (Long Live Friday Food Fight!)