St. Petersburg musician and author Paul Wilborn is at it again! We all know him as the executive director of the Palladium Theater, and enjoy his performances as an entertainer (often with his wife Eugenie Bondurant) all over town. But there seems to be no off switch to this man's creativity. Having won the Florida Book Awards' Gold Medal in Fiction for his 2019 debut short story collection, Cigar City: Tales From a 1980s Creative Ghetto, he went on to write a novel, Florida Hustle, that's just been published by St. Petersburg Press.
Florida Hustle is already winning raves, like this starred notice from the prestigious Kirkus Reviews: "…an irrepressible Florida frolic filled with lost dreams, forlorn love, and horror movie lore." 
We recently sat down with Wilborn to get the scoop.
"I took two years writing the book," he explained, "and then another six months doing a final revise. It was finished in 2021, but I delayed the release in hopes we'd be beyond the pandemic and I could do live book talks. While COVID isn't over, the world is back and book talks are live again."
[Scroll down for a schedule of upcoming book talks.]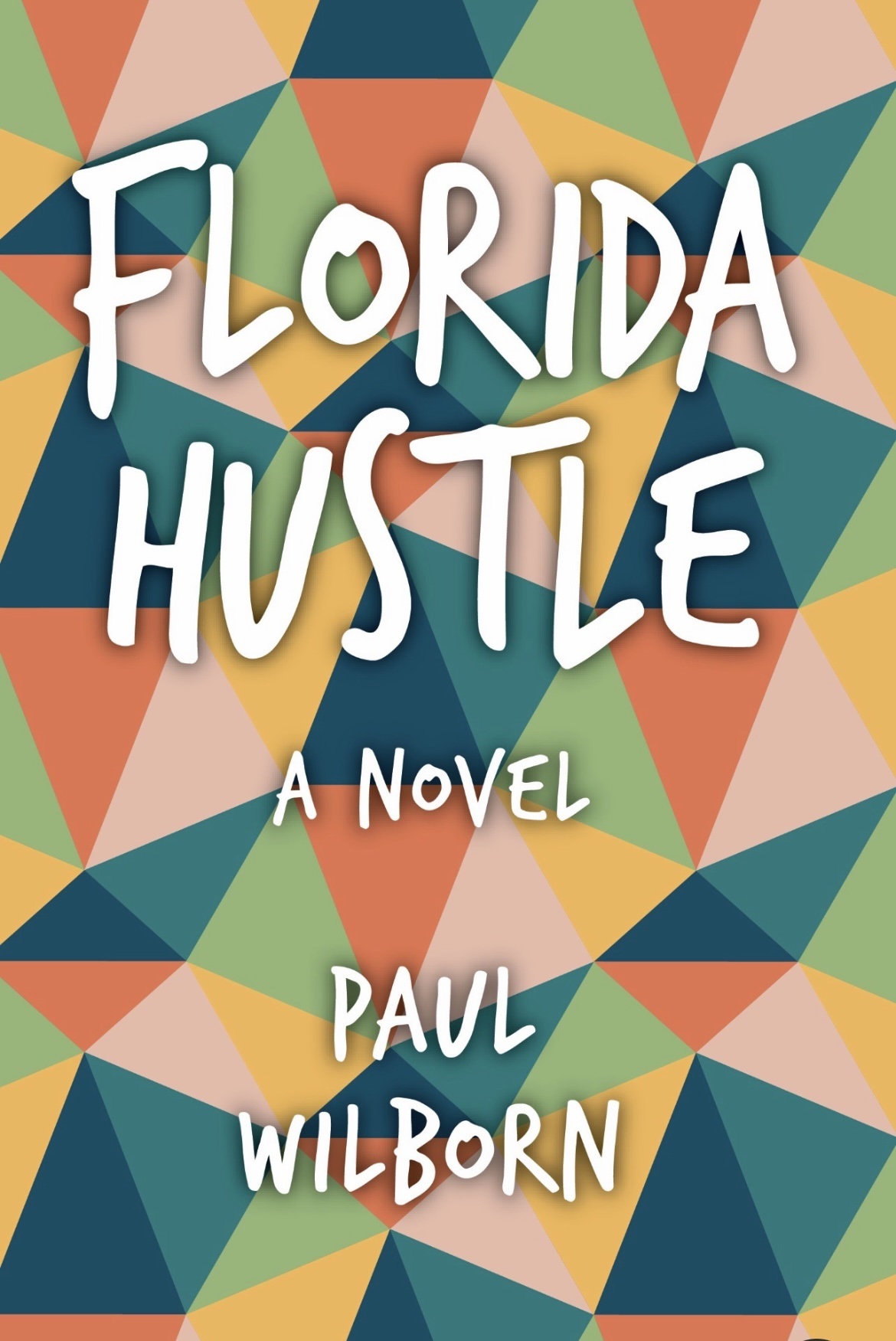 Why the Florida theme? "The book is set in 1982, as the phenomenal success of Friday the 13th spawned a string of cheap slasher-film copycats, shot around the Sunshine State. I set the book in Palm Beach and West Palm because I lived there around the time in which I set the book, the early '80s. And later I roamed Florida as a reporter for the Tampa Tribune and the St. Petersburg Times, and I used a lot of places and experiences from my reporting in the book. So it's fiction, but based on my real experiences."
What's up with the bright cover and the name? "Florida Hustle started as a screenplay back in 2002, when I was living in Los Angeles. I like the idea of a sheltered kid obsessed with a movie star. And I thought the world of cheap 1980s slasher movies could be a funny premise. The cover is by Chad Mize, the local artist and gallery owner. The inside 'storyboard' panels are by Eva Avenue, who lives in NYC but grew up in St. Pete. She's a good artist, but I asked her to draw the panels like a 17-year-old kid who wasn't a great artist. And she did!"
Wilborn says that after Friday the 13th came out in 1981 and made a ton of money, many of his young actor friends got hired for these B-grade slasher movies shot in Florida. "They all went into the woods and got killed by some Jason type. The movies were super low-budget and went straight to drive-ins or video."
Wilborn's "sheltered kid" protagonist, Michael Donnelly, believes he can make a better brand of horror film, and he's obsessed with having teen-aged scream queen Dawn Karston, known for dying horribly in a string of cheap slasher flicks, as his star.
But obsession, like filmmaking, is a risky business. To Dawn and her LA manager, Michael's comic book storyboards, rendered in blood-red ink and mailed to the actor's home address, look more like death threats than movie pitches. And with Dawn's new project, Swamp Fiend 2, about to shoot in the Florida Everglades — just an hour from Michael's house — the producers convince his family that something must be done.
When Michael gets wind of a plan to lock him up at a plush retreat for the rich and deranged, he flees to a sketchy motel in West Palm Beach. There, he enlists an aging con man and his fiercely ambitious teenaged girlfriend to help him reach the set of Swamp Fiend 2. Michael doesn't realize his new partners see him as an opportunity to satisfy their own obsessions.
While the book is set in the world of horror movies, says Wilborn, it's a coming-of-age comedy, with a bit of an on-the-road storyline. "I'm not writing a scary Stephen King book. Hopefully people will think it is funny and touching. As one reviewer put it: 'Florida Hustle is a romp with heart.'"
PAUL WILBORN'S APPEARANCES/BOOK SIGNINGS: FLORIDA HUSTLE LIVE!
Tuesday, June 14, 7-8 p.m. Seven C Music, 535 22nd St. S., St. Petersburg. Hosted by Tombolo Books. 727-755-9456, tombolobooks.com.
Sunday, June 19, 3:30-4:30 p.m. The Oxford Exchange, 420 W. Kennedy, Tampa, 813-253-0222, oxfordexchange.com
Wednesday, June 22: 7-10 p.m. Meet & greet Paul Wilborn and see a classic Mario Bava horror film. Greenlight Cinema, 221 2nd Ave. N., St. Petersburg, 508-816-8968, greenlightstpete.com
FLORIDA HUSTLE is available at Tombolo Books (St. Petersburg), Oxford Exchange (Tampa), and as a print and e-book on Amazon.com. Check out wilbornwrites.com for additional appearances.