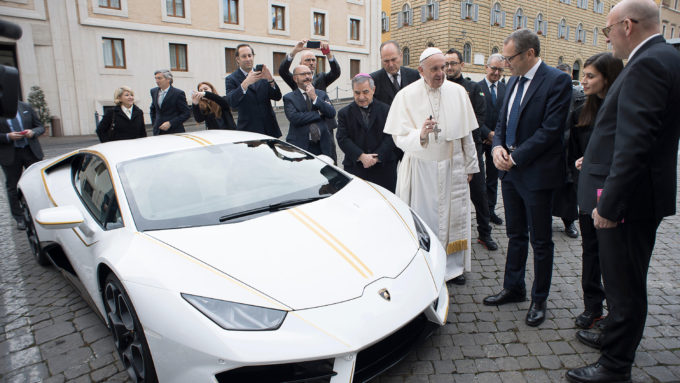 Pope Francis Gets His Own Special Lamborghini
Like a Miracle From Heaven, Pope Francis Gets His Own Special Lamborghini
Lamborghini has presented Pope Francis with a very special Huracan that was created especially for His Holiness. The car is the rear-wheel-drive version of the Huracan and was heavily modified by Ad Personam, Lamborghini's customization department. Ad Personam had the supercar finished in Bianco Monocerus (white) with Giallo Tiberino (yellow) stripes, an homage to the flag of Vatican City.
Pope Francis Gets His Own Special Lamborghini and Will Be Auctioning it For Charity
Pope Francis will be auctioning the Lamborghini supercar off through RM Sotheby's on May 12, 2018. Proceeds from the auctions will be given to the Pontifical Foundation "Aiuto alla Chiesa che Soffre" (Aid to the Church in Need), the Pope John XXIII Community, GICAM headed by Dr. Marco Lanzetta (hand surgeon) and "Amici per il Centrafrica" (Friends of Central Africa).
Pope Francis Gets His Own Special Lamborghini.
Previous Post