What diners will find on the Sacred Pepper Tampa Menu is sure to please.
Dramatic three-dimensional art installations add intrigue to overhead spaces and walls. A floor-to-ceiling backlit mirror etched with a handwritten recipe makes a stunning backdrop for the main dining room.
Sun-bleached seashells literally add a Florida feel to exterior walls while Italian agate embedded in the surface of the centerpiece bar emits a warm glow.
Electrifying cobalt blue hues highlight chairs and carpet to boldly contrast with lightly colored Pecky Cypress boards and beams covering walls and ceilings.
Sacred Pepper shows it is no shrinking violet when it comes to a one-of-a-kind restaurant design reflecting the singular style of Candy DeBartolo. DeBartolo, matriarch of the family that owns the restaurant and operates one of the largest family-owned companies in the Tampa Bay area, put her personal stamp on the restaurant in more ways than one. Her penmanship and personal not-so-secret marinara sauce are displayed on the mirror.

"To be a great restaurant I think you first need a welcoming and relaxing atmosphere," DeBartolo said. "You need to be greeted by happy, smiling faces. Your food has to be a little different in taste and presentation. It must be so tasty that people keep coming back. I believe Sacred Pepper does all of this."
DeBartolo collaborated with Enrique Crespo of Crespo Design Group to re-imagine the North Tampa site that previously housed Grille 116 and Don Pan Bakery. After thoroughly gutting the 7,100-square-foot space, they transformed it into a stylish 202-seat destination for discerning diners to sip signature Sacred Cocktails and fine wines, share conversation and small plates of Honey Goat Cheese Baklava and crab cakes and enjoy pizzettes (a cross between a flatbread and a pizza) to made-from-scratch pastas defined as American Contemporary cuisine.
"Our main mission was to keep it simple. By making dishes from scratch and using high-quality ingredients we create food that is comfortable but not complicated," said Executive Chef James Maita. "There is so much ambiance throughout the restaurant that we decided to make it easy for our guests to tour our menu and ensure that what they select is what they get. There are no surprises." The accomplished chef and Clearwater native hints the staff may stretch their culinary legs a bit down the road.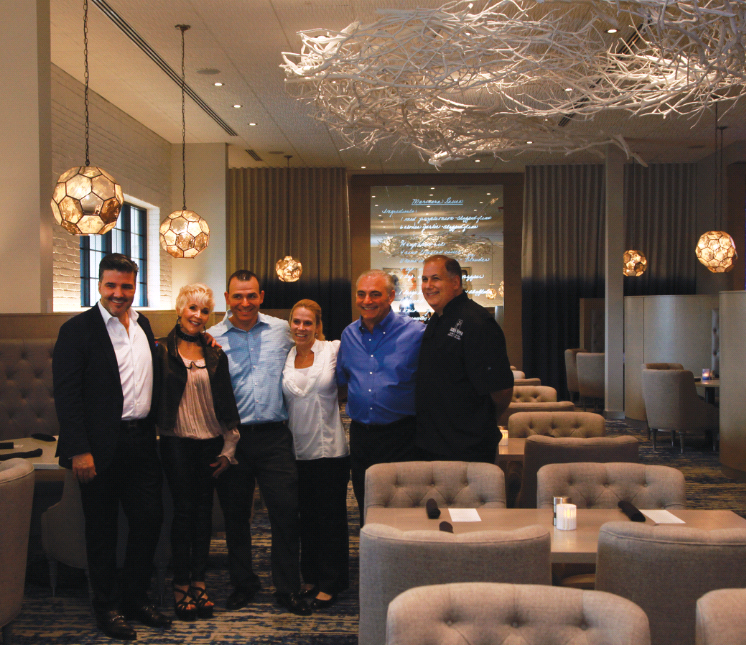 Crespo, a Tampa-based interior designer who previously worked on residential projects for Candy and her daughters was thrilled to add the Carrollwood restaurant to his portfolio.
"It is not often you get to design something where you are allowed to fully express yourself. But I understand Candy well and get her aesthetic. She wanted the color to be blue and I started running with that," Crespo said. "Every element really took a lot of thought. Everything was designed for Sacred Pepper. Nothing was standard."
Paintings and art installations made specifically for the interior were commissioned with the assistance of CASS Contemporary Gallery owners Jake and Cassie Greatens.
"After meeting at the location, we immediately knew what artists we wanted to contact," said Cassie Greatens. Ian Ross, Dana Oldfather, Mark Joseph Oliver and Casey Johnson were the artists handpicked for the project. "We couldn't be happier with the way the artwork is displayed in the restaurant."
A shared recipe from the Sacred Pepper Tampa Menu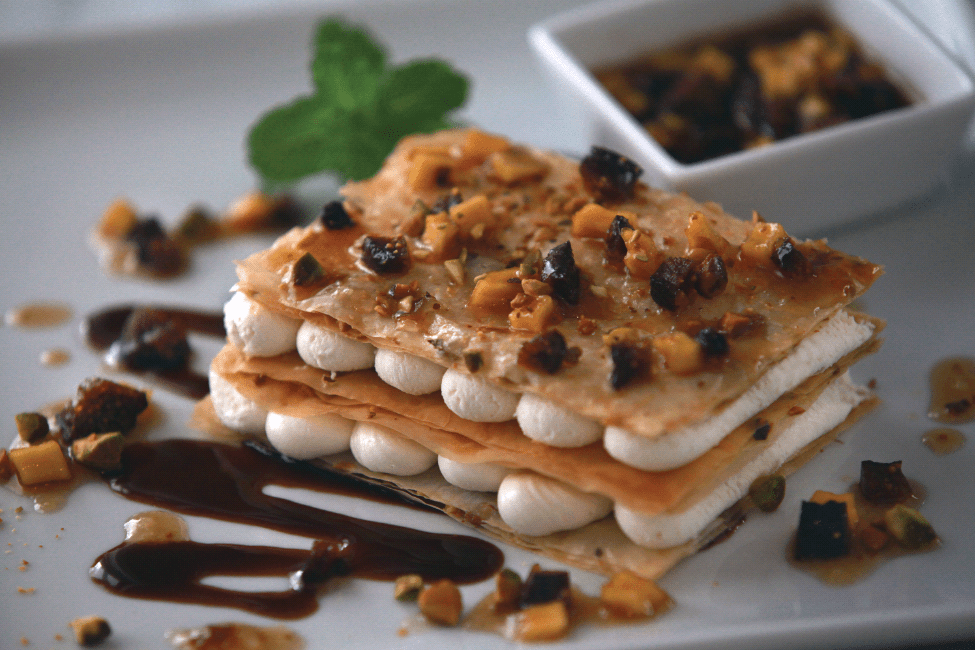 Honey Goat Cheese Baklava Recipe
Step 1: Honey Goat Cheese
1 lbs. goat cheese
¼ cup honey
Place goat cheese and honey into the Robot-coupe with the blade attachment. Blend the cheese honey mixture for 30 seconds. Scrape down the bowl of the mixer and blend for 30 seconds. Remove form bowl and place into pastry bag and refrigerate.
Step 2: Phyllo Pastry
1 package Phyllo Dough, thawed
1 cup melted butter
¼ teaspoon truffle oil
¼ cup of honey
1 cup chopped Pistachios, toasted
Place butter, oil, and honey into a small sauce pot and melt together, do not boil.
Place a sheet of phyllo on to clean half sheet pan, brush lightly with butter mixture.
Sprinkle evenly with ¼ cup of chopped Pistachios. Repeat process and continue to build to 5 sheets, press down firmly on each layer. Bake in a 350 degree oven for 10 minutes or until golden brown. Remove and cut into 3"x 6" rectangles, place them on a ½ sheet pan and cover with parchment paper. Allow to cool completely, cut into 3 X 5 portions. Store at room temperature.
Stage 3: Honey Drizzle
¼ cup granulated sugar
1/2 cup water
1 each whole clove (remove after reduction)
⅓cup orange blossom honey
½ teaspoon truffle oil
1/4 cup fresh mango, diced ⅛x ⅛inch
2 oz. rehydrated Figs, Diced ⅛x ⅛
Simmer sugar, water honey and oil together in a sauce pot (reduce by ¼). Add hot liquid to the fig and mango and let steep at room temperature for 10 minutes
Stage 4: Assembly
3 pieces pre –baked Phyllo Dough
3 oz. honey infused goat cheese
2 oz. fig and mango syrup
1 oz. balsamic glaze
1 each fresh mint sprig
Place 3 pieces of phyllo on steel pan, pipe 1.5 ounces of goat cheese on 2 of the
3 pieces of phyllo, place the 3 pieces of phyllo into a 350 degree oven for 3
minutes or until goat cheese is slightly bronzed in color. Using a rectangular app
plate, make a diagonal drizzle with the balsamic glaze, place 1 of the cheese
topped phyllo on top of the glaze, then top that piece with another cheese topped
phyllo, cover with the plain piece of phyllo (Napoleon Style). Drizzle entire
phyllo stack and plate with fig syrup, and serve with 1 ounce of syrup on side in
a ramekin. Top with fresh mint sprig.
Written by Mary Lou Janson. Photos courtesy of Sacred Pepper
Enjoy This Fabulous Recipe From Sacred Pepper Tampa Menu.