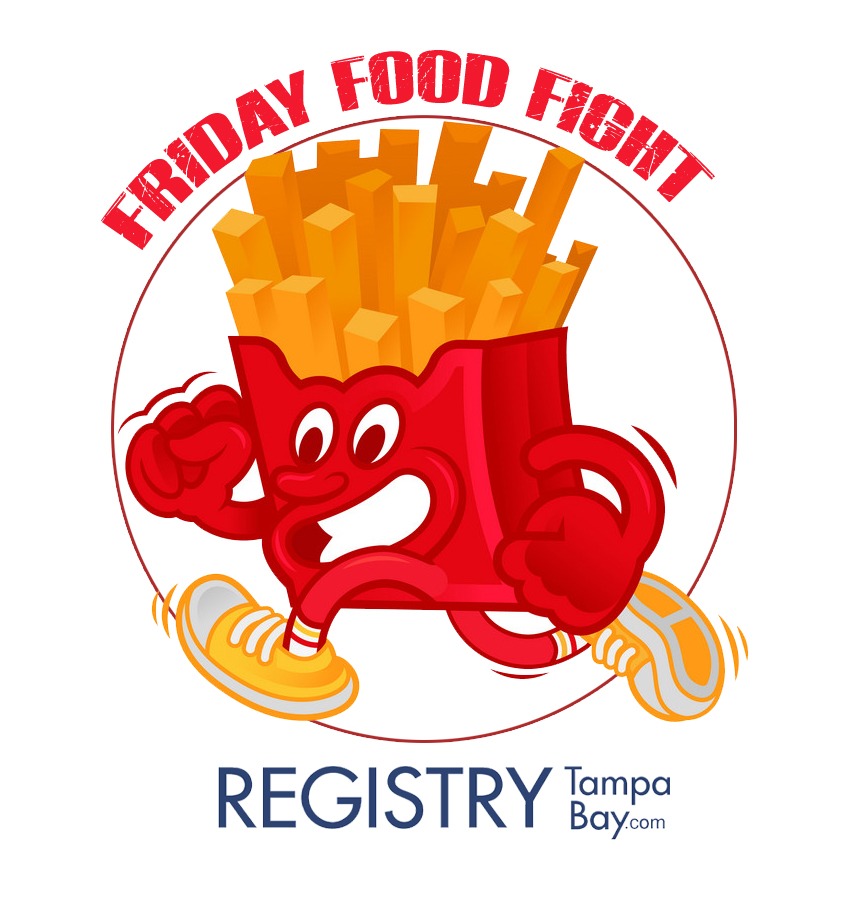 Corned beef and Ireland have a complicated history. (Check out this informative piece from Smithsonian Magazine to learn why.) Suffice it to say that corned beef is, like St. Patrick's Day celebrations, more Irish-American than Irish.
But as we are now headed into St. Paddy's week, with parades and parties leading up to the big day on March 17, it felt like a good time for Friday Food Fight to address corned beef hash – ideally served at breakfast and topped with eggs over easy.
But two caveats to begin with. First, the best corned beef hash I've ever had, and the most unusual, is the creation of James Beard-nominated chef Jeannie Pierola at Counter Culture in Tampa. It's got big chunks of corned beef, aged to full-flavored perfection, and it's served with organic eggs, watercress Asian pear salad, pickled mustard seed beurre blanc, and toasted rye bread from Jamison B. Baker Breadhouse. So it's sui generis — a gourmet version of corned beef hash that I can't compare with the standard, because it sets its own standard.
Number two, I need to include here a recommendation from Tom duPont, not because he's our esteemed publisher (well not just because), but because his "recipe" has unique merits. The best corned beef hash, he says, is Hormel's Mary Kitchen brand from a can, as long you prepare it this way: Open both ends of the can so you can easily slide out the cylinder of hash. Slice the cylinder into patties. (He recommends keeping the can in the refrigerator beforehand to make the slicing easier.) Lightly flour the patties and fry them up in vegetable oil, and what you get are the quintessentials of corned-beef-hashness: a satisfying mix of crusty and soft textures and a deep meat-and-potatoes flavor.
But. It comes from a can. And we're here to talk about the corned beef hash you get in restaurants. 
We chose two breakfast/lunch spots that can legitimately be called beloved: Stella's in Gulfport, which has been serving up great food in a convivial atmosphere since 2009, and Egg Haven in West St. Pete, which opened only about a year ago in a former IHOP but quickly drew crowds for its well-cooked meals, swift service and reasonable prices. 
Which one does the better version of my favorite corned beef dish?
Let's hash it out!
EGG HAVEN CAFE
We discovered this place not long before we moved away from the neighborhood, but have kept returning because it's so reliably good. The cars streaming in and out of the parking lot show that a lot of other folks have made the discovery, too. The atmosphere is diner-like, with comfy booths and big windows, and the café is always abuzz with activity — cooks turning out dishes in rapidfire fashion from the open kitchen, front desk greeters quick to seat you (though you may have a short wait on weekends), and servers on the spot. In part because it's such a speedy operation, everything tastes fresh – not always the case in diners. 
Texture: The requisite mix of crunch and softness, with ample corned beef bits providing a nice bit of chew.
Flavor: Sides were offered with the hash, so I chose home fries — which, as you can see from the photo, looked to be all of a piece with the hash. But the main dish, even if it looked similar to the side, had its own rich flavor — and everything smushed together nicely.
And how were the eggs? Perfect. I am a dud at making over-easy eggs at home, so I am in continued awe of restaurants who do them right.
Value: Hash with two eggs, choice of homefries or fruit and your choice of toast or one pancake for $9.99.
Egg Haven, 3601 66th St. N., St. Petersburg, egghavenstpete.com
STELLA'S
We've been going to Stella's since owner/chef Barbara Banno started serving up Southern comfort food in her original location down Beach Boulevard from her present, much more commodious indoor/outdoor space in Gulfport's Village Courtyard. The wait for brunch can still be long, but the patio's very pleasant and the people-watching sublime.
Here as with Egg Haven, the servers are unfailingly friendly and informative, though not lightning-fast. Banno named the restaurant after her late aunt, who was a nun and an accomplished home cook, and there's a family feeling throughout. (BTW, Banno just opened a new restaurant in the Grand Central district of St. Pete in partnership with the former owner of Gulfport's late, lamented Salty's. It's called Salty Nun, and it's already a hit.)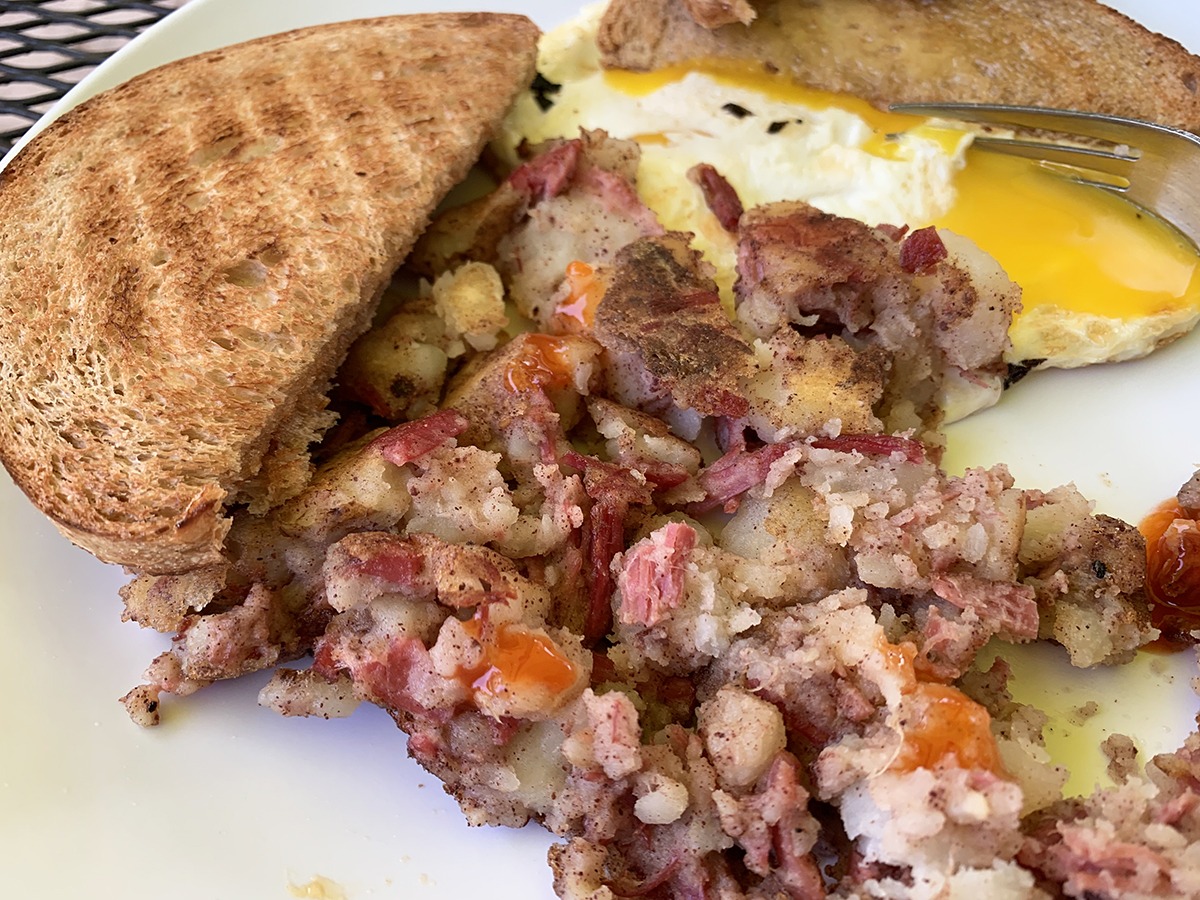 Texture: This is more what I'd hoped for: not just little bits, but strands and chunks of corned beef, confirming the menu's description of the hash as "Hand-chopped." 
Flavor: There's something different about Stella's hash — is that cinnamon I'm tasting? Yes, a server confirms, and the recipe, a Banno specialty, also includes nutmeg, garlic and beer. So there's more than corned beef going on here, and your preference may depend on whether you like that particular taste combination. Even though it was a bit of a surprise, I did enjoy it very much.
And how were the eggs? Also perfect (see Egg Haven above). How do y'all do that?
Value: Housemade hash with two eggs and toast, $12.95.
Stella's, 2914 Beach Blvd. S., Gulfport, stellasingulfport.com
And the winner of this game of hash tag is…
Well, it depends.
Egg Haven, if…
… you want a quick diner-like experience where the corned beef hash is excellent, comes out fast and the value is high.
Stella's, if…
… you want to dine on a colorful patio and savor an unusual but tasty variation on a traditional recipe.
You do you.
And don't forget to try Counter Culture and Hash à la duPont from Mary Kitchen.