Steaks Around Tampa Bay
From cowboy to rib-eye, carnivores relish these restaurants who make grilling steaks an artistic masterpiece. Here you will discover Tampa Bay's best beef served with sides, seafood and desserts that are equally unforgettable.
Armani's: With a stunning aerie view and exemplary North Italian cuisine and impeccable service, this is the perfect spot to celebrate any special occasion. The wine list, grilled bison ribeye and prime New York steak are a wow, especially when you add a grilled half lobster tail. tampabay.grand.hyatt.com/en/hotel/dining/armanis.html
Beau & Mo: This Chicago-style downtown St. Pete steakhouse serves steaks wet-aged 35 days for ultimate tenderness. Best of show are the Delmonico, the Chicago-cut and Frenched bone-in ribeye. Add a side of horseradish mashed potatoes and sautéed spinach or bourbon carrots for the perfect meal. beaunmo.com
Bascom's Chop House: Fine dining, traditional steakhouse serves an exceptional bone-in ribeye. On the weekend special of filet or prime rib with succulent side dishes is popular, but it's the Wagyu Rib-Eye (Australian Kobe Beef) that's best of show. bascoms.com
Tampa Bay's Exquisite Steaks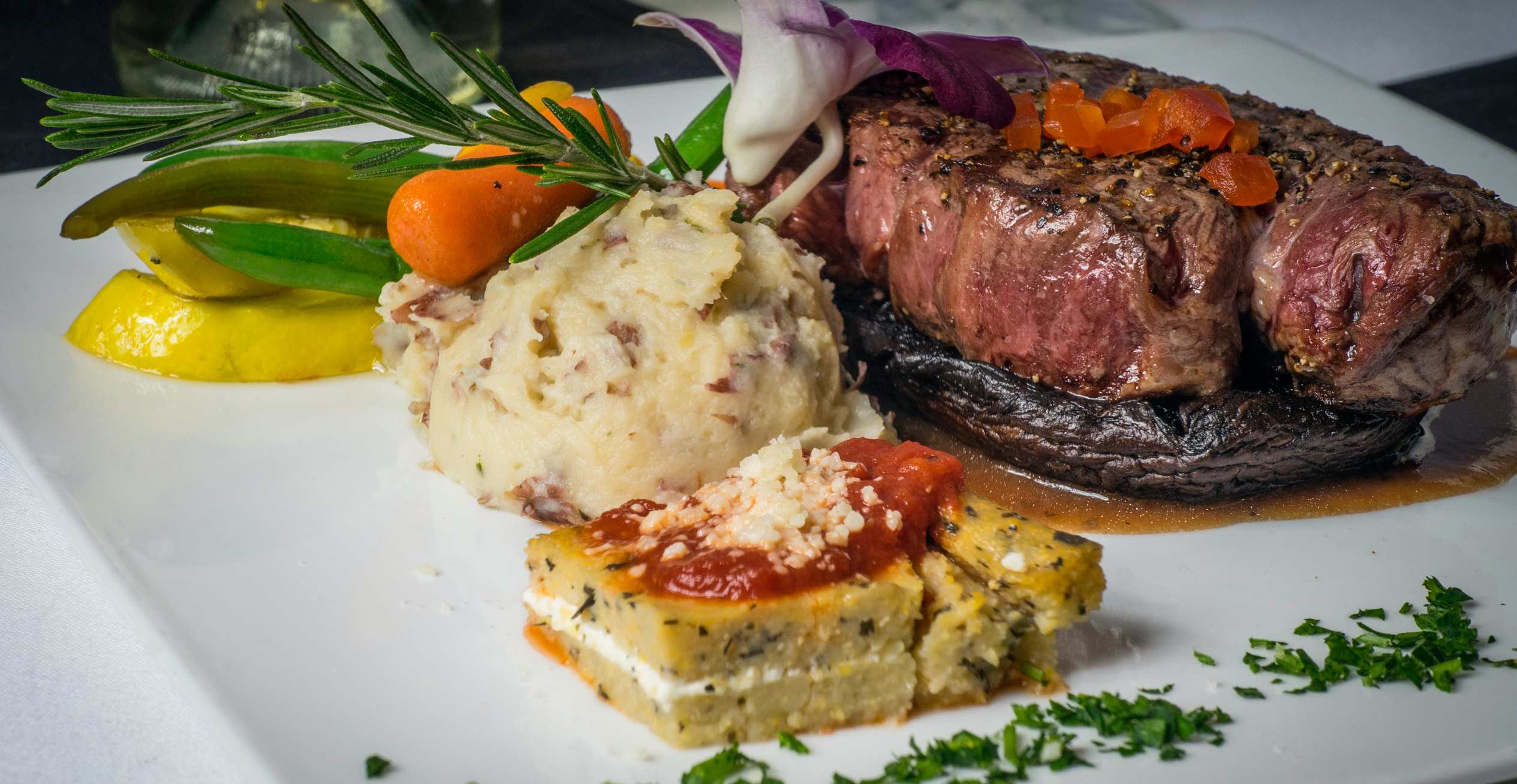 Bern's Steak House: The mouthwatering steaks are seared to perfection, from the delicious Delmonico to the exquisite filet
mignon and some of the best French onion soup in town. bernssteakhouse.com
Café Ponte: An incredible filet mignon with mushrooms, potato puree, pearl onions and red wine salsify with a bordelaise sauce. It's the sides and presentation, coupled with an extraordinary wine list, that make this elegant little bistro. cafeponte.com
Eddie V's Tampa Prime Seafood and Steaks: Start with the oysters or caviar, then celebrate with premiuim hand-cut filet mignon and bone-in ribeye, best topped with the tarragon béarnaise or classic hollandaise. eddiev.com
The Capital Grille: From the Maine lobster salad and signature Cobb to the melt-in-your-mouth filet mignon and bone-in dry aged NY strip with parmesan truffle fries, this upscale restaurant and bar are extraordinary. thecapitalgrille.com
Charley's Steak House: With traditional chophouse decor, the smoky-flavored steaks are cooked to perfection over a Florida citrus and oak wood-burning pit, the service attentive and the wine list most impressive. charleyssteakhouse.com
Fleming's Prime Steakhouse & Wine Bar: Start with the exquisite beef carpaccio or chilled seafood tower and end with the
chocolate lava cake, then dig in to the prime dry-aged ribeye or prime New York strip topped with poached lobster. flemingssteakhouse.com
Gratzzi Italian Grille: Begin with the smoked salmon carpaccio or escargot Antonio, or go big with the classic steak tartare drizzled with with truffle oil and oak balsamic followed by the cast iron porterhouse aged beef topped with colossal blue crab meat, 3 grilled shrimp, white wine garlic herb butter, grilled asparagus, and truffle mashed potatoes. gratzzigrille.com
Steaks And Seafood
Middle Grounds Grill: This Treasure Island jewel features beguiling seafood and certified Black Angus steaks, including an
outstanding bone-in cowboy ribeye served with gun-powder onion rings or filet best topped with sautéed crimini mushrooms plus
excellent early bird and live music. middlegroundsgrill.com
Ocean Prime: Chic Tampa favorite, known for craft cocktails and delightful service, it's carnivore heaven. Don't miss the surf and turf prix-fixe Sunday, only $55. ocean-prime.com
Rococo Steak: Elegant décor, unforgettable wine list and service, you'll love the grass-fed or corn-fed filet mignon with creamed
spinach or wood-grilled asparagus, kicked off by oysters or foie gras. rococosteak.com
Ruth's Chris Steak House: A dry dirty martini, wedge salad, filet mignon and lobster tail or ribeye is the perfect antidote to a
stressful day. Great crowd and bar happy hour menu in downtown St. Pete. ruthschris.com
Find more Dining Guides and locations of Tampa Bays Best Steaks.