The Super Bowl is consuming most everyone's ink, air and brain space hereabouts, including, I confess, my own. But surprise, surprise, it's not the only thing happening this weekend! Here's what else is up — plus, yes, a Super Bowl link or five.
Women Photographers at the Tampa Museum of Art. Being as it's right smack up against the Super Bowl Experience, the museum closes at 3 p.m. Thursday-Saturday this weekend. But if you're hankering to take a break from the NFL hype-a-thon, a dip into the TMA's placid environs could be just the thing, especially since you'll get the chance to see the just-opened show Her World in Focus: Women Photographers from the Permanent Collection. Note: Use the north entrance opposite the Poe Garage. You can only get in via the south entrance from Curtis Hixon Park if you have an NFL OnePass. (Above: Almost There (#2) by Swedish photographer Maria Freiberg.) tampamuseum.org.
Drumline at the Cap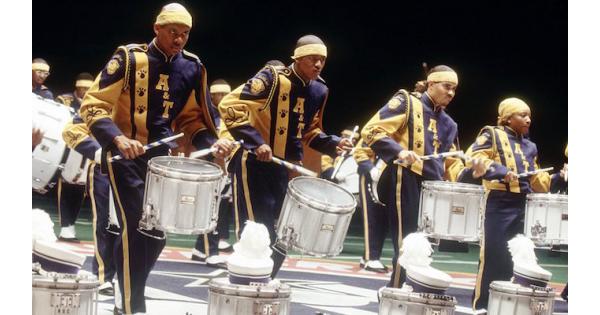 Ruth Eckerd kicks off its excellent Black History Month Film Series on Friday night with the 2002 marching-band hit Drumline starring Nick Cannon. In coming weeks, look for such acclaimed films as Sorry to Bother You, Akeelah and the Bee and Ray. Fri. Feb. 5, 7 p.m., Capitol Theatre, rutheckerd.com.
Imagine Museum's Glass Coast Weekend
A virtual journey through the best of contemporary glass artistry co-sponsored by St. Pete's Imagine Museum and Michigan's Habatat Galleries, the Glass Coast Weekend includes guided home and museum tours, artists' talks, guest speakers, an auction and the International Carnivale of Glass gala on Saturday (festive masks requested). A $50 household ticket grants admission to all nine events; tickets also available per event. imaginemuseum.com.
"Keep It Cute" at MIZE Gallery
Chad Mize knows from cute, so you can rest assured that the artists selected for this show will live up to the title dictum, "Keep It Cute." The exhibit opens online on Fri. Feb. 5 (6 p.m. Facebook, 7 p.m. Instagram) and runs through Feb. 28. Gallery hours are Saturdays and Sundays or by appointment. If you stop by on Sunday, don't miss the sidewalk Uptown Market and be sure to grab a brunch-y nosh at Uptown Eats.
Art & Cars in Gulfport
It's a good weekend to go to Gulfport. On Friday evening, it's time once again for the waterfront enclave's monthly First Friday Art Walk from 5-9 p.m. Then on Saturday, you can gawk at classic cars at the free-admission So Classic Car Show from 9 a.m.-3 p.m. at 49th St. & 18th Ave. S., aka the Tangerine Greenway.
SUPER STUFF
The Market Place. On Friday, Feb. 5, the EDGE District is launching its new EDGE Urban Market Place with a full schedule of Super Bowl-related activities, including an NFL-celebrity hosted watch party on a jumbo LED screen, live music, family activities, a Saturday night party with notable radio hosts, farmer's market, local artists, and vendor booths for local businesses. The site — the 1100 block parking lot between 1st Ave. S. and Central Ave. — will eventually be home to a boutique hotel, courtyard and food hall, but in the meantime it's the Market Place, where two 40-foot cargo containers will house food and beverage concepts by local chefs.
The Experience. Got tickets to The Super Bowl Experience? Have fun! It's on for three more days: 3-10 p.m Thursday and 10 a.m.-10 p.m. Friday and Saturday. But be prepared to wait in line.
The Parties. Be safe, stay distanced, stay home? That would be the safer alternative, but party many of us must. Check out Jenna Rimensnyder's list of watch parties and dinner deals.
The Music. It's not all about The Weeknd's halftime show. There's Fifty Cent at a Friday night party in an airport hangar, Flo Rida at a Sunday tailgate at (where else?) a Catholic church, Gucci Mane at an after-game party at The Ritz Ybor and all kinds of other acts you may or may not know, but the best place to read about them all is the music section of Creative Loafing.
The Game. My money's on the old guy.