Atone in advance for all that turkey you're going to eat by running in this annual Tampa Bay Times-sponsored Turkey Day race in Clearwater. If you haven't pre-registered already, get there by 6 a.m.; three of the four races begin on Keene Rd. just south of Gulf-to-Bay. Thurs. 11/28, races at 7, 8:15, 8:30 and 9 a.m., turkeytrot.net.
2. Let Someone Else do the Cooking
Too exhausted to cook after that 10K? Creative Loafing and the Times are running handy lists of restaurants serving brunch and dinner on T-Day. I recommend FarmTable Cucina in St. Pete's Sundial complex because a) the food is reliably good and their T-G buffet will feature not only roast turkey but stuffed Branzino, and b) it'll be a chance to pay homage to an excellent restaurant that's not going to be around much longer. In 2020 the folks from Tampa's Armature Works are bringing a food-hall concept to Sundial, taking over the spaces now occupied by FarmTable, Locale Market and several other tenants. 179 2nd Ave. N., St. Petersburg, Thurs. 11/28, 11 a.m.-6 p.m., call 727-523-6297 or go to OpenTable.com for reservations.
3. Get your Nutcracker on at the Straz
If Sugar Plum Fairies and Nutcracker Princes are your cup of nog, The Next Generation Ballet's Nutcracker offers an extra frisson: It's a chance to see the upcoming young dancers of Patel Conservatory's ballet program strut their stuff before they jeté off to become stars. 11/29-12/1, strazcenter.org.
This aptly named show at the Blue Note in Seminole Heights on Saturday night features three masters of the instrument: Alejandro Rowinsky, a virtuoso classical guitarist who's played everywhere from Walt Disney World to HBO's The Righteous Gemstones; the blisteringly fast finger-style guitarist Shaun Hopper (above); and Steve Arvey, considered one of the top cigar-box guitarists in the world. Sat. 11/30, 7-11 p.m., Blue Note. 1510 N. Nebraska Ave., Tampa.
iHeart Radio's annual extravaganza at the Amalie promises some of pop's sweetest treats, including the hottest act of the moment, Lizzo, along with Sam Smith, Normani and more. Sun. 12/1, 7 p.m., amaliearena.com.
6. Visit a Museum
All kinds of great shows to choose from (those crazy-beautiful bugs at the Museum of Fine Arts, the wide-ranging centennial show at the Tampa Museum of Art), but given all the consuming we're doing this weekend, it'd be an especially good moment to catch the Environmental Impact II show at the James Museum — especially because it closes December 1! The showpiece: Sayaka Kajita Ganz's 16-foot-long, 6-foot-wide hanging installation of a blue whale (above) made of recycled plastic objects, aluminum armature, wire and cable ties. thejamesmuseum.org.
7. See a Play
The buzz is fierce for The Lion in Winter at freeFall (above), Silent Sky at American Stage and Spirit Level at Early Bird. Collect 'em all!
8. See a Movie
Go the whodunnit route with the new Daniel Craig/Jamie Lee Curtis Knives Out? Netflix and chill for three and a half hours with Scorsese's The Irishman? Or go retro as Miracle on 34th Street (above) kicks off the Holiday Classics series at  Tampa Theatre on Sunday afternoon at 3? Santa's going to this one, we hear. Arrive early for a pre-screening meet-and-greet with you-know-who and the chance to pose with him for a free commemorative photo. tampatheatre.org.
9. Shop Small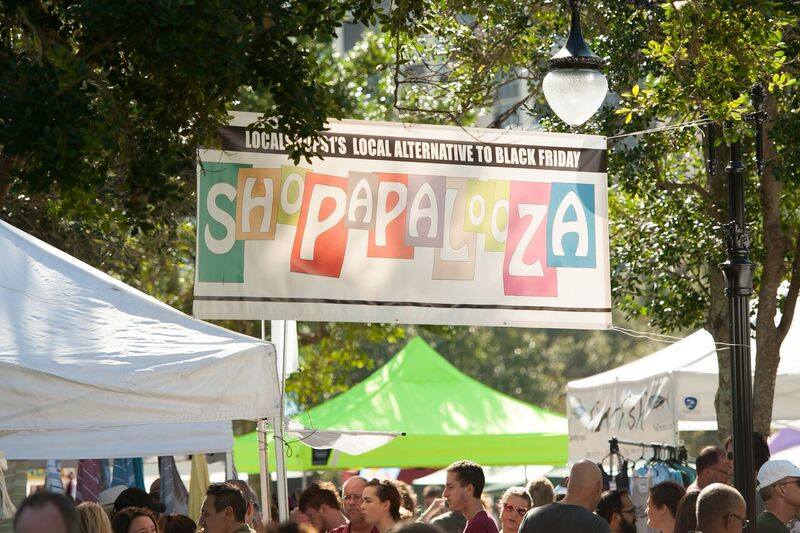 Forget Black Friday (which began sometime back in July anyway). Shop Small Business Saturday instead. Stop by the 10th annual Shopapalooza Festival in St. Pete's Vinoy Park, or browse the wares at small businesses like the ones we recently profiled in Gulfport, Central Avenue or Hyde Park Village. And on Museum Store Sunday, check out the dandy gifts we found in local museum stores.
10. Give Thanks
'Tis the season, after all.