They're all on the Gulf, and why not? Have you seen the color of that water?
1. Pass-a-Grille
Technically part of St. Pete Beach, but a world unto itself. Not only is there a generous expanse of silky sand, Pass-a-Grille's also got the beachside Paradise Grill; a sunset bell (pretend you're a tourist and ring it when the sun goes down, especially if you spot the legendary green flash); the classic kitsch of The Hurricane; and the appealing shops and restaurants of 8th Avenue, including two of the region's best, Grace and The Dewey, across the street from each other and both named after beloved dogs. Public parking: Gulf Way from 1st to 21st avenues.
2. St. Pete Beach
It's a town and a beach — a nearly seven-mile-long barrier island comprised of many beaches, from the aforementioned Pass-A-Grille to Long Key, past the Don CeSar and up to Upham. And they're all glorious — with easy access to some of Pinellas's best beach bars, including Jimmy B's at the Beachcomber and Sandbar Bill's at the BonAire Resort. Public parking: 4700 Gulf Blvd., St. Pete Beach.
3. Treasure Island
Good luck finding parking, but the cruising will be worth it once you hit the sand, which seems to stretch forever. There's a winding concrete walkway, too, lined with condos and hotels (including the Bilmar Beach Resort, with its beloved beachside joint Sloppy Joe's, and the new Treasure Island Beach Resort and its poolside BRGR Kitchen + Bar), a fine place for strolling, people-watching, and dog-walking. No doggies allowed on the beach, but lots of fun can be had there nonetheless, from drum circles to sand sculpture. Treasure Island Municipal Beach parking: 11040-11198 Gulf Blvd., Treasure Island.
4. Sunset Beach
It's at the southern tip of Treasure Island (the town), but Sunset, both the beach and the neighborhood, have a distinct vibe, from the hullabaloo of Caddy's and Ka'Tiki at the north end to the LGBTQ beach at its southern tip, with condos, cottages and quietly expensive beach houses in between. Ring Billed Gull Parking Lot: 8140-8198 W. Gulf Blvd., Sunset Beach/Treasure Island. 
5. Indian Rocks
One of the Gulf Beaches' quieter enclaves, which is part of its appeal. Park in the small lot, stroll down the short boardwalk bordered by protected sea grasses, and enjoy the splendid vista of sea, sand and sky spreading out before you. And afterwards, cross the boulevard to Guppy's on the Beach, an excellent seafood restaurant. Public parking: 2-62 17th Ave. N. (aka 1700 Gulf Blvd.), Indian Rocks Beach.
6. Sand Key Park
Tucked away between the hotels and condos of Gulf Boulevard and the Sand Key Bridge over Clearwater Harbor, Sand Key Park not only has a surprisingly vast expanse of beach but volleyball courts, a fishing pier and a dog park — all in all, an ideal destination to feel like you've snuck away without having gone very far. 1060 Gulf Blvd., Clearwater.
7. Clearwater Beach
Another favorite on Top Ten Beaches lists, but you're going to have to enjoy traffic to get there. Still, it's soooo big and soooo beautiful that it's worth enduring the touristy, spring-break-all-year-long atmosphere — and come evening there's nothing quite like the sunsets and street performers at Pier 60. Pier 60 public parking: 160 S. Gulfview Blvd., Clearwater.
8. Caladesi Island State Park
Placing #7 on Dr. Beach's 2021 list of the Ten Best Beaches in America, this pristine island off the coast of Dunedin is only accessible by boat. But the extra effort is worth it, in Dr. B's words, for its "crystalline quartz sand" and "sparkling clear waters." He's also a fan of the boardwalk, kayak and canoe trails. Ferry information at floridastateparks.org/parks-and-trails/caladesi-island-state-park.
9. Fort De Soto Park
Named the #1 beach twice by the esteemed Dr. Beach, Fort De Soto has it all. The largest park in the Pinellas County Park System, it boasts 1,136 acres of flora, fauna, nature trails, boating facilities, campgrounds, fishing piers, picnic shelters, an historic fort and almost three miles of sandy beach — including a doggie beach (to go along with the spacious dog park). 3500 Pinellas Bayway S., Tierra Verde.
10. Anna Maria Island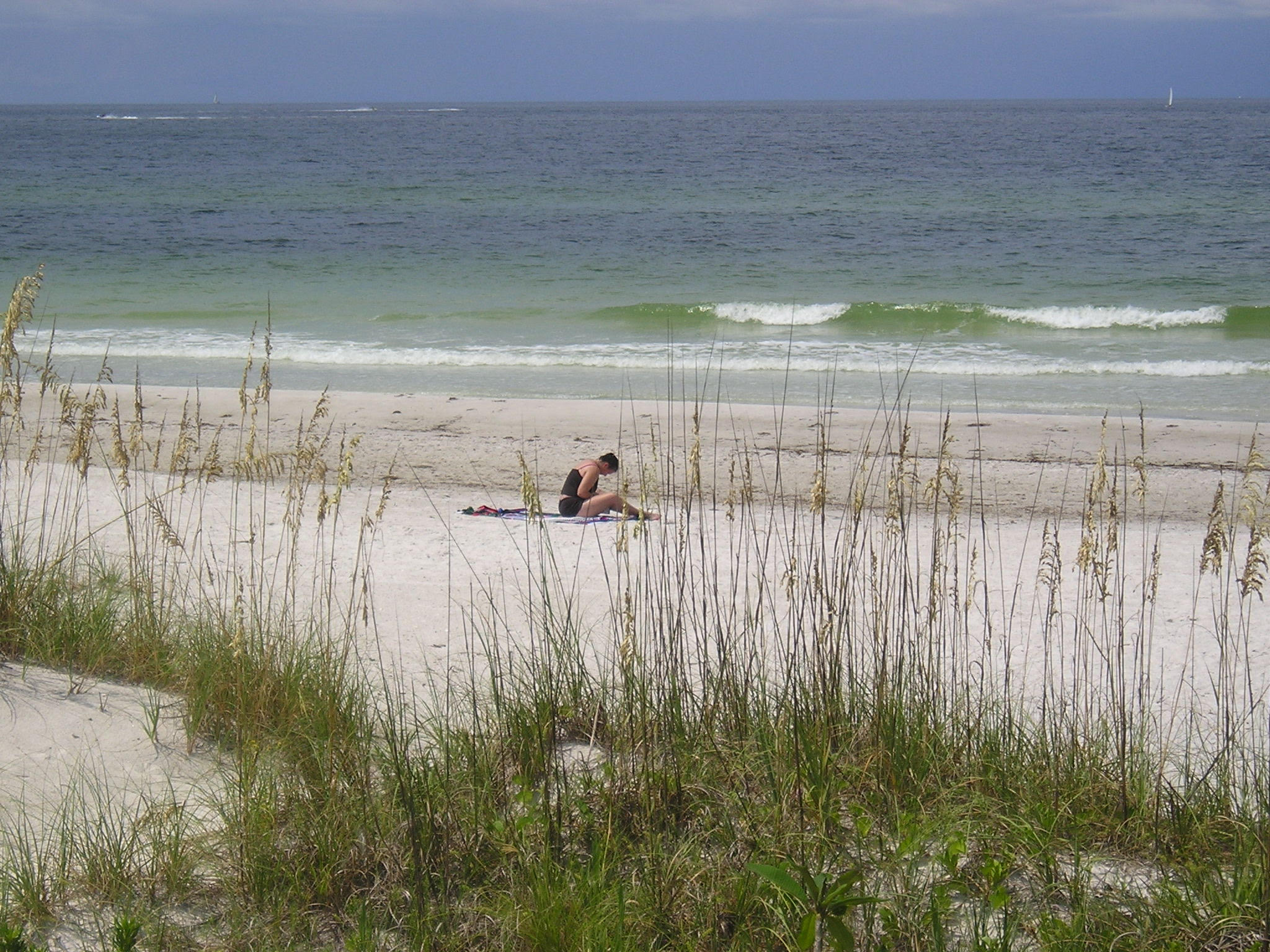 OK, it's in Manatee County, not Tampa Bay per se. And maneuvering through traffic from Bradenton to the island can be tiresome. But never mind. Once you make your escape, it'll be AHHHHHna Maria all the way. The three main beaches are Anna Maria Bayfront Park (310 N. Bay Boulevard); Manatee Public Beach (Manatee Avenue and Gulf Drive); and Coquina Beach (parking at 6th Street South or at the main entrance at Gulf Drive South). Get there early.