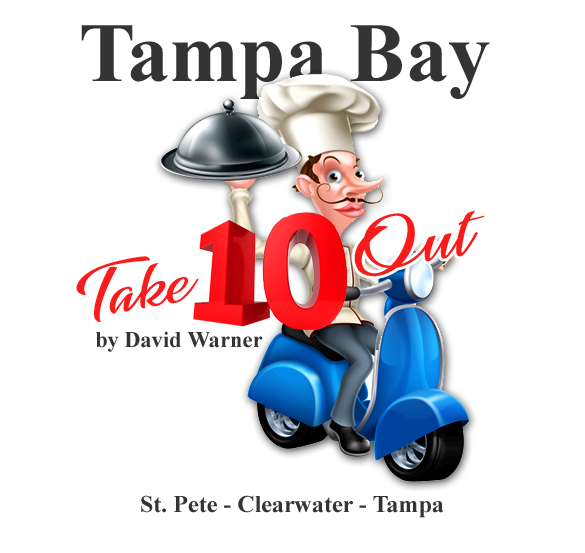 UPDATE: With the recent change in state COVID-19 guidelines for restaurants, many of the establishments listed below have begun offering limited dine-in as well as takeout. Read the updated list here.
In our recent Take Ten features, we've been compiling Top Ten lists of restaurants in various Tampa Bay locales doing takeout during the COVID-19 crisis. Here we combine those lists so you can find them in one place.
The Best Places to Get Takeout in Tampa Bay
We'll keep adding to the lists, and adding more neighborhoods, because we know there are lots of spots offering great meals and great deals at this time. Give them your business — so that they can stay in business.
ST. PETERSBURG
Alésia. This cozy place topped dRTB's list of romantic restaurants in February, and while you can't nestle together in the back garden at the moment, you can take some of the romance home in the form of dishes from Alésia's delicious Asian/French fusion menu. Fresh Vietnamese salad with shredded chicken, summer rolls with shrimp and rice vermicelli, pho and banh mi and potstickers and even raw honeycomb served with bleu cheese, spicy candied pecans, grapes and toast points — all that and more is available for pickup or curbside delivery. Beer and wine, too. Noon-7 p.m., Monday-Saturday. Call 727-345-9701.
Annex 400 Beach. Sandwiches, salads, acai bowls, smoothies, breakfast foods, package sales of wine and beer — all you need for a picnic across the street in Straub Park (keeping your social distance, of course). Call ahead at 727-896-4400, or walk up. All orders to go. Open 8 a.m. to 6 p.m. daily.
Beau & Mo's. Get all those Italian steakhouse delectables you crave for very reasonable prices, like 6oz Filet & Shrimp for $24, 12oz Ribeye for $22 or Lasagna for $18. Dinner specials change nightly. Pasta orders include salad and bread; all other entrees include mashed potato, green beans, salad and bread. Pick up and carry-out only. Order online at beaunmo.com.
Bella Brava. Ask about the occasional Buy One Get One pasta deals or order one of the other tasty items on the limited menu, like their Hot Sicilian pizza, with pepperoni, hot capicola, Genoa salami, Calabrian chili and more for $17.99. Call ahead at 727-895-1515 from 12 noon to 8 p.m. every day except Monday & Tuesday.
Bonefish Grill. "Family Bundles" are available for pickup at Bonefish Grill locations on both sides of the bay. Main dishes in the bundles, which serve up to five and range from $29.90-$39.90, include Grilled Salmon, Lily's Chicken and, of course, their trademark (and much-imitated) Bang Bang Shrimp®, tacos-style. Find the nearest location here and place your order.
Bright Ice. What a bright light this stellar ice cream shop has brought to West St. Pete! Small-batch ice creams and gelatos (gelati?) in irresistible flavors like Lemon with Crystallized Ginger, Pineapple with Brown Butter & Pecans and Deepest Darkest Chocolate Secret, even Chewy Chocolate Chip ice cream sandwiches, plus pastries, coffee, hot chocolate and affogato.  You can order online and elect to do curbside pickup even if you walk or bike to the store. Open 11 a.m.-9 p.m. daily except for Saturday and Sunday, when they're open till 10 p.m.
CD Roma Restaurant and Brew Pub. A popular Italian spot in the Shoppes at the Royale plaza off 66th (next to the new Publix), CD Roma is offering all kinds of great deals, from BOGO pasta dinners (Baked Ziti or Spaghetti) to a 14-inch cheese pizza for six bucks to half-price bottles of wine on Tuesdays. Open for carry-out and delivery; you can call 727-344-3837 or order online. Open 11 a.m.-9 p.m., Mon.-Wed.; 11 a.m.-10 p.m., Thurs.-Fri.; 9 a.m.-10 p.m., Sat.; 9 a.m.-9 p.m., Sun.
Dead Bob's. Don't let the name put you off. DB's is very much alive, and its "COVID-19 TEMPORARY RELIEF MENU" is chock full of tasty options for delivery or curbside pickup, from 10-oz. Angus beef burgers to Philly steaks with "way too much beef or chicken"  to full dinners (pot roast, shrimp, snapper) — and everything's under 10 bucks! Cocktails to go, too, and they'll even deliver you a six-pack of beer. Call 727-317-BOBS (2627) Monday thru Sunday 11 a.m.-3 a.m.
Dr BBQ. "We're still out here smokin' butts and makin' cornbread," says Dr. BBQ. Call 727-443-7227 or go to drbbqs.com to place your order and receive 15 percent off when you pick up curbside.
Gianni's New York Pizza. Their name may just say "pizza" but Gianni's actually has a huge menu of Italian favorites, including soups, wings, parms, subs and strombolis. The pizza has a very good rep and the ingredients are tempting; I've got my eye on the Gianni Five with its slow-cured pepperoni (they do gluten-free cauliflower crusts, too). It's all available for pickup and delivery at the moment; order online or call 727-381-3209. Open Mon.-Thurs., 11 a.m.-9 p.m.; Fri.-Sat., 11 a.m.-9:30 p.m.; Sun., Noon-8:30 p.m.
Hawkers Asian Street Fare. Fans of this EDGE District favorite can choose from a a number of options on the online carryout menu, including small plates like Char Siu and Sichuan green beans; fried rice dishes and noodle soups; classics like Pad Thai and Beef Haw Fun; and Family Packs for four, eight and 12 people (all packs including my personal favorite, Roti Canai). Sun.-Thurs., 11 a.m.-9 p.m.; Fri.-Sat., 11 a.m.-10 p.m.
Il Ritorno. Offering takeout family meals, plus bottles of wine at retail price. A recent $65 family meal included cheese and charcuterie; bucatini pomodoro; mushroom risotto; pan-seared half chicken with creamy polenta; and a half pint of Nutella gelato! Call ahead at 727-897-5900 starting at 4 p.m.
La V. "Your local Grab & Go comfort food," says La V, and they're not lyin'. Delicious Vietnamese Fusion dishes (what's more comforting than noodles?) and sake to go! Call ahead at 727-820-3500.
Leverock's Seafood Restaurant. The message on their Facebook page reflects the family feeling you get at Leverock's: "To all of you who have supported our takeout program we want you to know you are making some happy hearts." Judging by the lines of cars outside, there are lots of folks needing to get their fix of Leverock's fresh, reasonably priced seafood. You can order from the Early Menu (11:30 a.m.-5 p.m.) or the Dinner Menu (all day and night); call ahead at 727-367-4588 (or 727-343-7302 if that's busy), or stop by for takeout. Hours are noon to 8 p.m. daily.
Lucy's. Here's a chance to try a restaurant that's new to the Grand Central district, part of the newly renovated corner complex that also includes the aptly named Valhalla Bakery. Call ahead for vegan and vegetarian sandwiches and sides from 11 a.m.-4 p.m. at 727-954-4784.
Munch's. The beloved South St. Pete institution featured on the Food Network's Diners, Drive-Ins and Dives is open for carryout. Call 727-896-5972: "Deb will take your order and our staff will take care of the rest."
Pesky Pelican Brew Pub. Owner Dan Pemberton, besides running a small-batch nano-brewery and offering a full carryout menu, has turned his four-year-old restaurant into a mini farmer's market. After hearing complaints online and from his own employees that they couldn't find the meats and produce they wanted in grocery stores, he started checking with his vendors and was able to source foods at a low price, including from restaurants that have temporarily closed. He only allows a few people into the market at a time, employees wear face masks, and six-foot distances are marked. Restaurant takeout and free delivery available via Uber Eats, including today's Taco Tuesday specials and such goodies as St. Louis-style thin-crust pizza, Gooey Butter Cake and Toasted Ravioli. Call 727-302-9600 or order online Mon.-Fri., 11 a.m.-11 p.m.; Sat., 9 a.m.-11 p.m.
Red Mesa. All of the Red Mesa restaurants — Red Mesa, Red Mesa Cantina and Red Mesa Mercado — are offering takeout via UberEats and Chow Now, which is good news for fans of Red Mesa's multiple variations on Mexican cuisine.
Rococo Steak. New family style and à la carte options, plus steaks can be ordered uncooked to prep at home — and 25 percent discounts on all takeout bottles of wine. Here's the menu. Also, hospitality, first responders, police, fire and all medical field workers receive 50 percent off on all take-out food. 4-8 p.m.
Stillwaters Tavern. Head to this Beach Drive stalwart for Family-Style Quarantine Meals like Tavern Meatloaf with buttermilk mashed potatoes, sauteed greens, bbq gravy and tobacco onion rings ($49.99) or Mac n Cheese with mornay sauce, sharp cheddar, swiss, parmesan, cavatappi pasta ($30; with ham and peas, $40), served with choice of house or Caesar salad. Or go for their Take-and-Bake Chicken Pot Pie for four with house or Caesar salad, only $24.99. Call 727-350-1019.
Trophy Fish. Longing for a Fin & Tonic (the best G&T in St. Pete, IMHO)? Good news: This stellar fish place is offering Curbside Cocktails — with the ingredients packaged and sealed and following "all Department of Health, CDC, and WHO guidelines." Open Wednesdays-Sundays, 727-258-7883.
The Wheelhouse. The good-time spirit of this food and beer emporium is reflected in the videos on their Facebook page; check out the Joe Exotic lookalike and his recommendation of "Tiger Fries" (which sound pretty tasty). You can order these for pickup or delivery as well as tacos, sandwiches, burger melts, French bread pizzas and salads, many with funny names (like a charcuterie board called The Nosh Pit), plus 41 craft beers on tap and homemade sangria. Order online or call 727-623-0589; ask about the meal deals, like Fiesta in the Casa (10 tacos plus chips and salsa) and the Who Needs Food? (5 mason jars of craft ales).
TAMPA
Armature Works. A whole world of taste re-opened when Armature Works announced its AW To-Go program Apr. 16, through which select vendors (among them Ichicoro Katsu, Dixie Dharma and an Ava outpost) are offering contactless take-out in the form of curbside pick-up, and in some cases delivery, daily from 11 a.m.-8:30 p.m. Order online by going to the #AWTo-Go highlights in their Instagram story.
Ava. Joe Maddon just keeps on giving. The pizzas and pastas and even the cocktails at his and Michael Stewart's South Tampa rustic-chic Italian are now available to-go (except Mondays, when the staff prepares meals for front-line health-care workers). Weekend brunch, too. Tues.-Sun., 5-9 p.m., Sat.-Sun., 11 a.m.-2:30 p.m. 813-512-3030.
The Barterhouse. "2020 zigged, so we zagged," explains Barterhouse on its Facebook page. One of Ybor's hottest new eateries has morphed into a "grocery store," where you don't pick up prepared meals but restaurant-quality foods you prepare at home, like a meal of two center cut filets, fingerling potatoes, broccoli, chimichurri, black garlic vinaigrette and preparation secrets, all for $35. Call or text 843-327-9384, or DM @barterhouseybor.
Bella's Italian Cafe. South Tampa's longtime favorite is offering curbside pickup with a 10% discount, plus sealed beer and wine. Call 813-254-3355 to order from the extensive takeout menu (bellasitaliancafe.com), pull in to one of their reserved parking spots and they'll bring your order out to you.
Bern's Steak House/Haven. The legendary steaks of Tampa's most storied restaurant, plus many of its classic sides and salads, are available for takeout. So is a delectable array of dishes at sister restaurant Haven, like black truffle chicken & dumplings as well as cheese and charcuterie. Both restaurants are offering packaged beer, wine and spirits to pick up and Bern's Cuts to Go, five varieties of dry and wet aged steaks ready to take home to the grill. Call ahead: Bern's,  813-251-2421; Haven, 813-258-2233.
Bulla Gastrobar. Have a taste for tapas? Can't go wrong with the takeout deals at this South Tampa spot, especially the $10 pick-two menu that pairs the daily paella with a choice of first course. There's also 35% discounts on regular prices for pickup orders of salmon, steak, sangria — even churros and dulce de leche. Order online here.
Capital Grille. The popular steakhouse at International Plaza is offering curbside takeout featuring signature favorites, family-style dinners for four and uncooked hand-carved steaks, packaged with house-made seasoning and steak butter for home preparation. Every bottle of wine on their list is available for takeout as well. Available 12-8 p.m. daily, 813-830-9433.
Carmine's. That you can still get deviled crab and Cubans and baked ziti and all the other Cuban/Italian favorites to-go at this Ybor City institution makes quarantine just a little easier to take. Call 813-248-3834.
Meat Market. The new Hyde Park Village hot spot deemed "the sexiest steakhouse of all" by one critic is offering takeout and curbside pickup from noon-9 p.m. The carryout menu is an invitation to indulge, from Roasted Truffle Rockefeller Oysters for $18 to a 30-oz. Wagyu Tomahawk Ribeye for $110, but there are also such affordable treats as sandwiches, salads and an American-Style Kobe Meatloaf for $26. (And packaged meal deals, too, like Steak for Two, $100 or $150, and Feast for Six, $400.) There's a 15 percent discount when you pick up your order, and bottles of wines and liquor are available for sale with takeout, too. Call to place orders at 813-280-1113.
Mise en Place. Tampa's gourmet groundbreaker Mise en Place is offering a wealth of delicious dishes for takeout from Chef Marty Blitz, plus you get 50% off the wine list price when you pick up your bottles in person. The Mise en Go menu at miseonline.com has everything from duck confit pizza to filet of beef tenderloin; call 813-254-5373 to place your order.
Rocca. The critics are delirious about this new Italian restaurant in Tampa Heights, and rightly so. And while you won't be able to watch fresh mozzarella made tableside for a while, you can pre-order from their takeaway menu from noon-4 p.m. for pickup from 5:30-8:30 p.m., choosing from items like their amazing bread with lemon butter and sea salt or their lasagna (with fresh-shaved black truffles on top, if you so choose). There are wines by the bottle to go, too. Call 813-906-5445 or email info@roccatampa.com.
Rooster Re-Dux. Ferrell Alvarez and Ty Rodriguez made national news with their idea of serving takeout from three of their restaurants — Gallito Taqueria, Nebraska Mini-Mart and Rooster & the Till — all from under one roof at the flagship Rooster address in Seminole Heights. You can order from all three to-go menus — say, roast chicken thighs with brown butter cauliflower from Rooster, or a Korean cheesesteak from Mini-Mart, or carne asada from Gallito — and because they're all Alvarez/Rodriguez joints you know everything will be impeccably made, reasonably priced and ridiculously tasty. And popular — call early or the day's selections may be sold out. They start taking calls around 11 a.m. at 813-374-8940; pick up at 6500 N. Florida Ave. in Tampa.
Whiskey Cake. In another example of inspired improvisation, Whiskey Cake at International Plaza is selling Quarantine Kits. These contain fresh main ingredients like ribeyes or whole chickens, plus staples like eggs and butter and even, on occasion, toilet paper. The contents change from day to day and the price generally ranges from $45-$65 per kit, though there are alternatives like four 4oz. burgers for $8, and for those in dire need of a Moscow Mule, a bottle of vodka or bourbon plus four limes and two ginger beers (or ginger ales) for $25. Hours are 10 a.m.-4 p.m., but call early —  813-535-9955 — because supplies are limited.
And… Kudos to the restaurants Olivia, On Swann and Oak & Ola. They made the difficult decision to close their restaurants during this crisis, but they are partnering to feed their staffs three family meals a week.
Plus, some words of wisdom from Ferrell Alvarez, as quoted in Food & Wine magazine: "I'm hoping that the silver lining to all this madness is that it shakes us all and wakes us up enough to start doing the right thing by each other — you know how during hurricanes, everyone's so nice, and three months later, that all dissolves and we all go back to being assholes? I'm hoping this jostles us — all of us — in the most positive way."
CLEARWATER, DUNEDIN/BELLEAIR BLUFFS
Belleair Market. "Pull up, honk your horn or call ahead with your order at 727-584-3697." That's the word from Belleair Bluffs' beloved corner store, where you can pick up "groceries, beer, wine, cigars, rotisserie chicken, Cuban sandwiches, toilet paper and so much more."
Clear Sky Draught Haus. The big and varied menu at this Dunedin mainstay is available for breakfast, lunch and dinner from 9 a.m.-9 p.m. You can also take away one of the 37 draughts on tap in a to-go cup, and on Sundays you can sip a beverage from the Bloody Mary bar while you're waiting for your takeout brunch order. 727-286-6266.
Dunedin Brewery. It's Pie or Die. That's the name of the takeout menu at Dunedin Brewery, a small but choice list of pizzas and wings and a lineup of Tallboy Six-Packs, 32-oz. Crowlers and 16-oz. Singles, including such tasty brews as Apricot Peach Ale and New Zealand Classic IPA. Call in your order from noon-7 p.m. at 727-736-0606.
The Dunedin Smokehouse. In the mood for some slow-smoked St. Louis ribs and a six-pack of craft beer? You can pick up that and more (sandwiches, salads, sides, sausages — and bottles of wine, too) from the Smokehouse, which is doing takeout from 12-8 p.m. daily, taking orders in person or over the phone at 727-736-2227. 
Frenchy's Saltwater Cafe. Frenchy's Original, Rockaway and South Beach locations are all temporarily closed, but you can still get your Frenchy's fix at Saltwater Cafe (419 Poinsettia Ave., Clearwater), where they're doing curbside and dockside carryout as well as delivery service from noon to sunset. Go grab yourself some grouper nuggets and she crab soup to go! 727-461-6295.
Fusion Street Eatery. This lively, less-than-a-year-old Mexican fusion restaurant in Dunedin is offering dishes like Spicy Shrimp and Sofrito Alfredo and Papas Rellanas (mashed potato balls stuffed with a ground beef ragu, deep fried and served with melted queso) daily from 11 a.m.-9 p.m. for curbside pickup or UberEats/GrubHub delivery. They're also doing free kids' meals, free hand sanitizer, 20% off takeout for first responders, medical professionals and folks in the hospitality industry and lots of other generous things for the community. 727-533-5390.
Island Way Grill. Give yourself an excuse to get some fresh air: Drive or boat over to this Clearwater restaurant's scenic waterfront location and pick from the "Just Caught" menu and lots of other delicious options. Takeout is available from 12-9 daily, and there's also a new market featuring fresh seafood, cheese, meats, wine, and liquor. Curbside and dockside pickup orders must be called in and paid for over the phone using credit cards. 727-461-6617.
Lenny's. The Clearwater legend that is Lenny's is doing takeout breakfast and lunch, as well as staples and supplies (like do-it-yourself mimosa kits and hand-crafted hand sanitizer) from 8 a.m.-1:30 p.m.. You know you need some of that biscuits and gravy! 727-799-0402.
The Restorative. Named the #1 restaurant in Tampa Bay by Creative Loafing critic Jon Palmer Claridge, the little Dunedin powerhouse is showing its creativity during the crisis by shifting to takeout only and a new name, The Temporary (which is, hopefully, temporary). The takeout menu changes themes regularly; the current Japanese-themed lineup features yummy-sounding items like yaki udon noodles, braised lamb and mushrooms and bacon meatballs with ginger and tamari jus. Call 727-223-1705 to place orders, Tuesday-Saturday from 5-8 p.m.
Seaweed Grill. The excellent steaks, seafood and sushi at this popular Belleair Bluffs spot are now available for pickup (or local delivery) from noon-9 p.m. daily — everything from firecracker shrimp to filet mignon to Florida roll. There's also a Fresh Market where you can pick up fresh steaks, seafood and produce plus must-have items like, you guessed it, toilet paper. Note that curbside orders must be called in and paid for over the phone using credit cards to comply with social distancing. 727-584-1700.
GULFPORT
A Friend Who Bakes. A wonderful little bakery run by the delightful Brittney and Travis (they're known for their scones), it's currently open from 8 a.m.-noon, Wednesday-Sunday. Stop by early; the goodies sell out fast.
Golden Dinosaurs Vegan Deli. "100 % vegan. 200% delicious." That's their tagline at Golden Dinosaur, and it's the truth; delicious sandwiches, breakfast and brunch items, from seitan cheesesteaks to tofu scramble. Pickup or delivery, open noon-7 p.m. 727-873-6901. (Ir you're in the hospitality industry, ask about the 20% discount.)
Habana Cafe. The landmark restaurant on Gulfport Boulevard is serving up its popular Cuban cuisine for pickup and UberEats delivery — and that includes the sangria!  727-321-8855.
Mid Peninsula Seafood Market & Restaurant. The 49th Street destination for seafood fans has a big menu (shrimp & fish combos, grouper sandwiches, soups, salads and more — and don't forget the cornpuppies!), and it's all available for pickup from 11 a.m.-9 p.m. Call 727-327-8309 or 727-328-8309.
Neptune Grill. Greek specialties like chicken souvlaki and spinach pie along with staples like burgers and crabcakes (as well as six-packs of beer or bottles of wine), ready for curbside delivery at the scenic corner of Beach & Shore from noon-8 p.m. Call 727-623-4823; credit card payment will be taken over the phone at time of order. (Also available for delivery by UberEats.)
O'Maddy's. You might not be able to sing karaoke at this uber-popular waterfront hangout at the moment, but you can still pick up an order of their delicious food, from Irish Chips to a Mahi Reuben. 11 a.m.-8 p.m. Call (727) 323-8643 or follow the link to order online.
Pia's Trattoria.  [UPDATE: Pia's announced on Facebook on 3/30 that they have decided to close for the duration of the crisis. It had become more and more difficult to procure the fresh, high-quality products their menu depended upon (some of them Italian imports) and management had grown more and more uncomfortable about jeopardizing the health of staff and their families. "We are looking forward to the day when we can return to our regular business and serve our wonderful community," said the Facebook statement. "Until then, we and our staff wish you all the best and hope to see you back again when things turn around."
Siri's Gourmet Burgers & Pizza. Terrific burgers, excellent pizza, and they're open for takeout and delivery. Call 727-258-4949.
Smokin' J's Real Texas BBQ. You may know it from its rooftop inflatables at Christmas-time, or for its delic