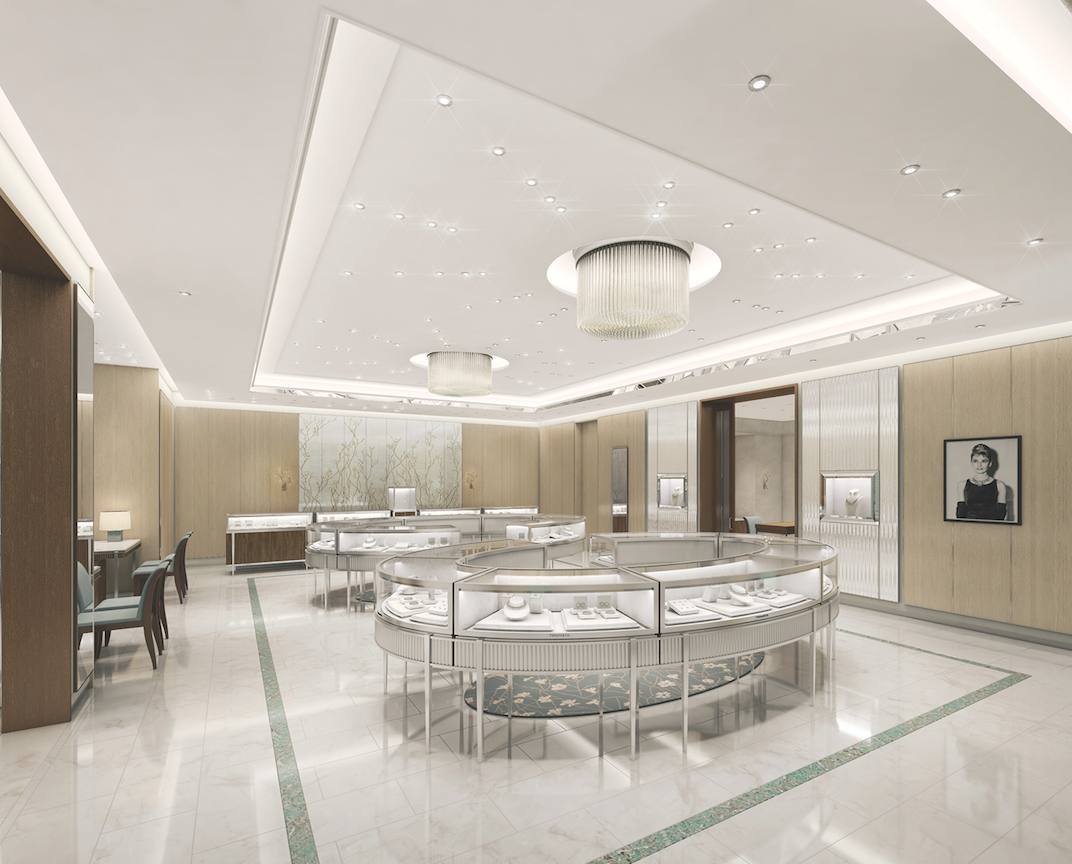 "Tiffany & Co. focus on being consumer-centric and deliver the best service experience possible."
Much like the iconic brand's signature blue box that is kept hidden until moments before being presented to mark a milestone, herald a holiday or celebrate a special occasion, the new location of Tampa's Tiffany & Co. store was masked for months until it was time for it to shine.
One of the original tenants International Plaza introduced to the Tampa Bay area in 2001, the Tiffany & Co. store is still part of that high-end retail venue, but it recently relocated to a more central, and highly visible, 4,110-square-foot site that places it within view of the volumes of shoppers who visit daily.
Tiffany & Co. Opens Doors
The big reveal happened on July 11 when the doors to the newest Tiffany & Co. store opened to the public, affording the first glimpse of a dazzling decor created exclusively for the firm recognized as the world's premier jeweler and America's house of design.
A broader color palette, elaborate light fixtures and more intimate salon-like spaces now greet guests. Displaced is the former traditional approach to retail, replaced by a more contemporary look and layout.
"The major redesign we've made to our store provides our clients with the most up-to-date reflection of the House of Tiffany, offering our renowned product quality, craftsmanship and style in a beautiful new environment," according to Alexandra Winokur, vice president of Tiffany & Co. Defined by three specialty areas identified as Fine Jewelry, Fashion and Private Sales, the new store also allows Tiffany to showcase more of its high quality, handcrafted products than before.
The inviting interior combines clean lines with a simplified design that incorporates a more balanced sense of symmetry and proportion. Luxurious materials found throughout on floors, walls and ceilings include marble, cerused walnut paneling and crystal chandeliers. Curved glass counters create a more intimate, personalized customer service experience. Plush chairs and couches upholstered in shades of pale and peacock blue combine comfort and flair. And the entrance's granite façade pays homage to the Fifth Avenue flagship Tiffany & Co. store.
"It made sense for us to evolve our store and to be where there is more visibility and exposure within International Plaza. This store has a fresh look that feels bigger, brighter and grander. It is a modern prototype store for us," said Jonathan Bruckner, Southeast market vice president of Tiffany & Co. and the first director of the original Tampa Tiffany & Co. store. "When you see the new features and brand elements that are woven into the design and the way the consumer navigates through the store, it is quite impressive."
From its humble start as a "stationery and fancy goods" store that opened in New York in 1837, Tiffany & Co. has remained dedicated to designing, and defining, an American style that embraces simplicity, harmony and clarity. Its designers routinely draw inspiration from nature while using precious metals and gemstones sourced from nature to create accessories that are timeless and timely.
Tiffany's Strives to Enhance Personal Interaction
In addition to developing a stunning new retail showcase for its stylish jewelry, watches and more, the brand strives to enhance that personal interaction and connection it cultivates with its valued clientele. "We want to focus on being consumer-centric and deliver the best service experience possible," Bruckner added.
The evolution of the shopping experience is just one example of how the company ranks as the world's premier jeweler. Innovation has been an integral part of its identity as well. Consider the namesake Tiffany® Setting introduced in 1886 that redefined how engagement ring diamonds are mounted, elevating the stones above the band rather then setting them in bezels flush with the band. Currently celebrating its 130th anniversary, that re-imagining remains the standard among today's romantics, making it a popular setting of choice for engagement rings.
There's been considerable outside-of-the-blue-box corporate thinking over the years that has helped this long-standing, global brand continue to remain elegant and relevant while creating popular lines of cutting-edge designs for its proprietary collections.
May marked the debut of the newest design line, the Tiffany HardWear fashion gold collection that is personified by none other than Lady Gaga, a superstar singer, songwriter and actress who became the latest famous face in Tiffany's Legendary Style campaign.
Images of Lady Gaga filmed against a Tiffany Blue® backdrop introduced the "fiercely feminine and fearlessly authentic" pieces in a print advertising campaign and a spot that aired during the worldwide broadcast of Super Bowl LI.
In addition to HardWear's bold bracelets, earrings and necklaces, the new Tampa store also features jewels with rare colored diamonds, like the Tiffany Yellow Diamonds, plus the latest interpretations of signature collections, Tiffany T, Tiffany Victoria™, Tiffany Bow and Tiffany Infinity.
"I love Tiffany HardWear because it's different and elegant—but it's not what you would expect of elegance. That's like me I think—I'm a bit different," Lady Gaga says during the 60-second promotion. "To me, Tiffany is definitive and iconic, yet continues to push and evolve with the times."
Tiffany & Co. Tampa Store Location: 813.351.8800.