Some fancy fare has made its way to the bottom floor of the Progress Plaza building in downtown St. Petersburg. Let's all give a round of applause to The Mill, a 4,000-square-foot restaurant with a "made in house, from scratch" way of cooking.
Just shy of one year old, this standout establishment is earning rave reviews for its complex and unique menu. The Mill offers seafood, steaks, vegetable dishes as well as game meats. The most popular dishes include the Sweet Pea Hummus, Watermelon Bruschetta, Cheese and Charcuterie, Frog Legs, Blue Crab Croquettes, Wild Boar Ribs, Diver Scallops, Fish and Grits, Pork Tomahawk Chop, and Yellowfin Tuna. Plus, the talented team makes all the charcuterie in house — octopus bacon, lengua rillettes, pickled shrimp, smoked salmon, lamb bacon, duck breast bacon. There's also a strong focus on craft cocktails and locally brewed beers.
"My team sources the best local and national products to showcase our love of food," Chef and Managing Partner Ted Dorsey explains. "We like to not over manipulate food, which is done all too often in other establishments. My biggest food philosophy is cook with love from the heart. This is my form of art, and we display it on a plate for our customers to enjoy. The best part of my job is seeing the look on my guests faces after eating each dish. It's priceless."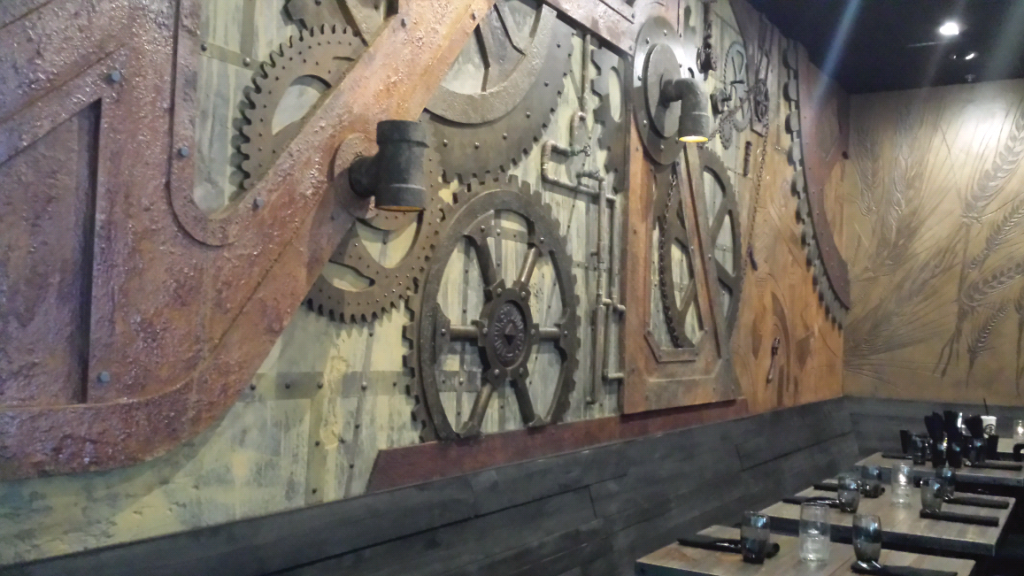 Whether you grab a spot at the inside bar, at one of the inside tables or outside facing Central Avenue, you're in for a full experience, starting with the ambiance. Every stunning décor selection was brought to life, thanks to two talented local artists, Istvan Torok and Michael Peart. The bar and table tops were sourced from local wood from an old St. Pete barn. Michael built all the furniture using old mill parts, and Istvan designed the mural and wall artwork using an old-age technique called Sgraffito. Even the bathrooms were not overlooked. An antique tub is used as a sink in the women's room and an old tractor tire and an old kitchen pot for the sink basin sits in the men's room.
But what's even more fantastic about this place is the way it all began. Dorsey explains, "After opening many restaurants for other owners, I knew it was time to do my own restaurant. One day while looking at another space with a group of guys, I met my now business partner, Jason Griffin. We passed each other our cards and The Mill was born. For years I was searching for the 'me' of the front of the house and finally I found him. Combined, we have opened almost 70 restaurants. The Mill was a concept we always wanted to do. That's what makes The Mill unique. Jason and I are both from here so we wanted to build a restaurant built by locals for locals." Well done, Dorsey, well done.
No reservations or call-ahead seating. Valet parking available.
Central Avenue, St. Petersburg | 727.317.3930 | themilldtsp.com
The Mill's – Swet Pea Hummus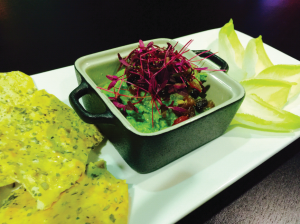 4 oz. sweet peas
2 oz. chick peas
1 oz. tahini
1 Tbsp. lemon juice
2 Tbsp. cumin
1 Tbsp. chili powder
Salt and pepper to taste
1 oz. honey
Directions:
Place sweet peas and chick peas in robot coupe and puree. Add tahini, lemon juice, cumin, chili powder, and salt and pepper to taste. Finish with honey and puree until smooth. Chill and serve with complimentary dukkah, mustard, crispy lavash, and endive leaves as you chose. Serves 4.
Photos courtsy of B. Lively Images