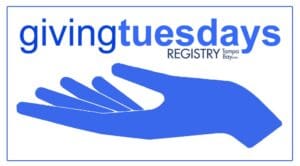 I can think of few more delightful ways to spend a Saturday evening than dining under the stars in downtown Tampa's beautiful Curtis Hixon Waterfront Park, knowing that your tickets support a vital non-profit.
That's The Table in the Park, a community dinner on Sat., Nov. 20, in support of the MacDonald Training Center, Inc. (MTC), an organization committed to "shattering barriers and opening doors to opportunities for people with all disabilities." Proceeds from this year's "Table" will support eMerge Career Collaborative, MTC's innovative post-secondary vocational education opportunity for people with disabilities.
The evening begins with an outdoor reception for VIP guests at 6 pm, with signature cocktails. All guests are invited to a beer/wine reception at 6:30, followed by a three-course dinner. The menu is a nod to Tampa's Latin and Italian heritage: Ropa Vieja or Chicken and Cheese Ravioli in Cream Sauce, with vegetarian options as well, and red and white wine pairings. With COVID protocols in mind, tables will be spaced to allow guests the ability to dine and interact with others as they choose in this beautiful outdoor setting. There will be music and entertainment throughout the evening.
And there's a bonus: The Table in the Park will be held in conjunction with the opening of Tampa's annual holiday events at Curtis Hixon, including the ice rink, outdoor movies and Winter Village.
Most importantly, as these video interviews from MTC's website show, students like Nick and Genevieve (below) are benefiting greatly from the eMerge program.
TABLE IN THE PARK, Sat. Nov. 20: To reserve a table (available for groups of 2, 4, 6, 8 and 10), RSVP by Mon. Nov. 15 at MTC's Table in the Park website, where you'll be also be asked to select your dinner choice. For more info on the event, email bmcabee@macdonaldcenter.org or call 813-870-1300×252. For more info on MTC and the eMerge program, go to macdonaldcenter.org.