A story from duPont REGISTRY Tampa Bay's annual Home Design Issue. Cover photo from Michelle Miller Design.
Beware of trends.
That may seem counter-intuitive in a story about what's new in the world of interior design, but it's worth remembering. Fads can quickly fade, leaving your perfectly trendy decor looking decidedly passé. That's the trick of it — creating interiors that are contempor ary, comfortable and reflective of your current lifestyle but that will also retain their good looks for years to come.
Today's homeowners may be doing more homework, tuning in to HDTV for the latest decorating ideas or going on-line in search of custom doorknobs, but a designer can help pull all that research together.
Staying Power
"Clients do have a stronger point of view today," says Michelle Miller, principal designer of Michelle Miller Design in Madeira Beach. "But they still lean on us to create very thoughtful design that is classic and stands the test of time. We know what is coming and going, but we also know what stays."
Whether they're in the market for designer lines of furniture, limited edition wallpapers, imported glass light fixtures or solid core doors, clients' wish lists are definitely growing more discerning.
"It's very exciting to see clients really appreciating and acknowledging fine craftsmanship, such as custom millwork and quality hand-made furnishings," said Miller. "A home that has fine architectural finishes will maintain its longevity and timelessness."
Defining details can add dramatic impact. Tray and coffered ceilings, for instance, can ramp up an otherwise flat, featureless surface.
"Our firm specializes in creating thought-provoking statement ceilings," said Miller. "We balance architectural elements with lighting to create the perfect harmony to add interest to a space."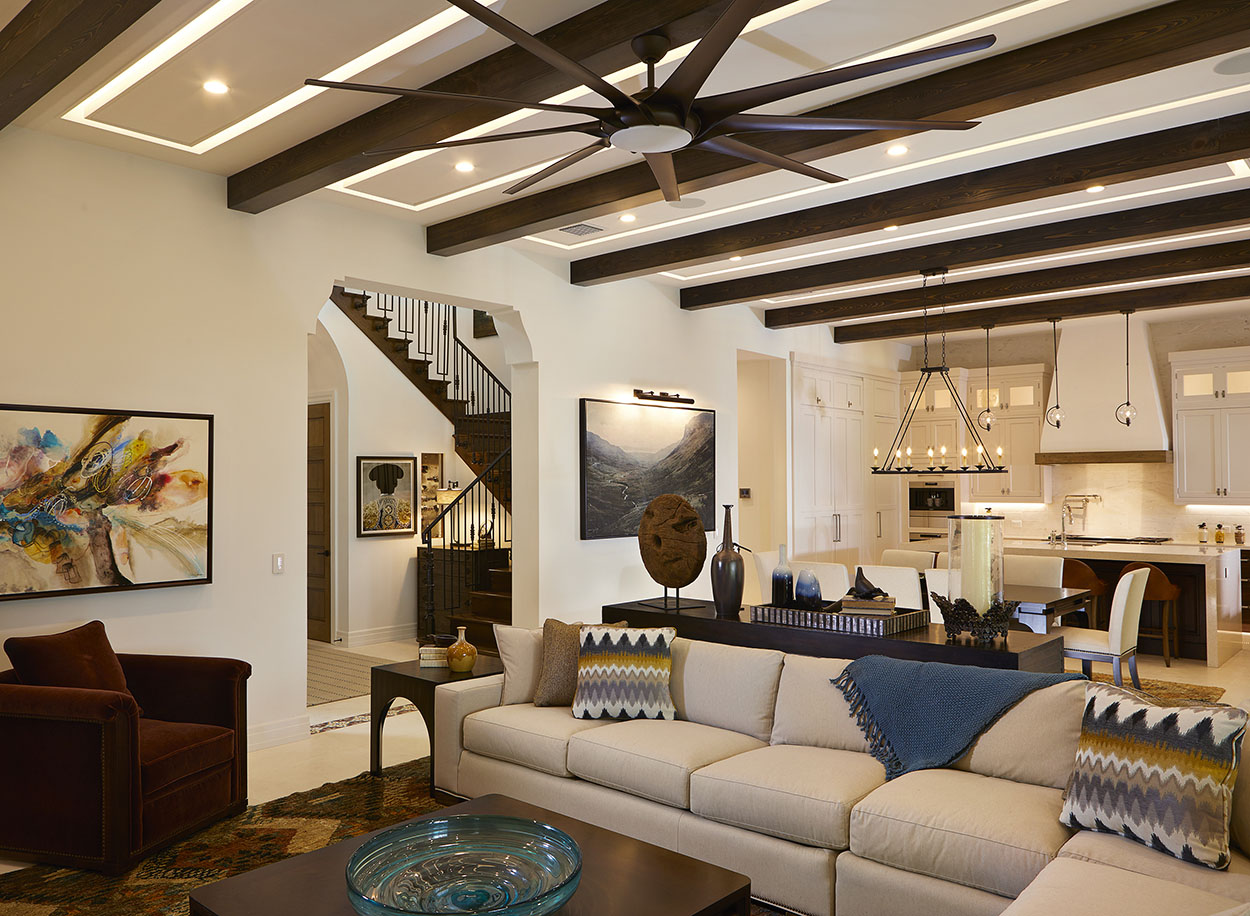 Plaster walls, too provide superior insulation and soundproofing. "There is definitely a trend toward appreciating skilled labor," Miller observed. "As an example, we are starting to see clients return to plaster walls versus drywall. It's a more labor-intensive process, but it's such a higher quality finish and look."
Italian porcelain tile on floors or shower walls is both rich-looking and resilient.
"Porcelain is a big trend due to its durability and the resemblance to natural stone," she added. "Investment in better-quality materials lends itself to a more upscale look."
And the happiest trend of all?
"Color is back! It is so nice and refreshing to see color back in home décor."
We Are the World
Increased consciousness of the world outside the home is another trend affecting interior design. Engineering home environments that benefit the environment or contribute to an occupant's health andwellness are increasingly common requests, said Jaime Rogers, senior partner with the Tampa-based DOXA Design Group. Selecting building materials made from sustainable sources or incorporating air cleansing technology throughout the living areas are now part of the creative design process.
Travel is another influence, leading people to crave the same level of luxury they enjoy abroad when they return home. Think steam showers, or curtains that open or lights that automatically turn on as guests enter and exit rooms.
"Our clients are well-traveled and stay in fantastic hotels around the world. We can create those same experiences that they get from a high-end hotel," said Rogers.
Sometimes those far-flung trips also provide entrée to local artisans whose works will become part of the home decor. Rogers connects with local artists in destinations already on her clients' itineraries. Meetings are set up and discoveries are made. The buyers acquire original art that Rogers displays to optimally showcase the imported paintings, woven rugs or other handcrafted items.
"I have lined up galleries for the client to visit while they were in South Africa. We help them to curate their collections so that they have their fingerprints throughout the house. This is their story told through the wooden bowls, beads or sculptures they bring back," she said.
Key to any room's composition is the lighting, which Rogers refers to as jewelry, and the rugs, which she compares to shoes.
"Ground-up or indirect lighting, rather than single-source lighting, helps to create a mood," she said. As for floors? A 100 percent solution-dyed, acrylic yarn rug can be a significant investment, but it is one that will last and look good far longer than less expensive versions. But stick with area rugs, she advises.
"There is no wall-to-wall carpeting any more. Why pay for hardwood floors only to cover them up?" Rogers said.
Pizzazz with Purpose
Color, texture and functionality — all are coming to the forefront. Grays continue to be a mainstay in many homes, but rich jewel tones are joining the party, according to Suzan Decker Ross, CEO of Decker Ross Interiors, Inc. in Clearwater. But be discerning before covering entire rooms in emerald, eggplant and navy blue, she cautions.
"Painting one area is fine, but don't go crazy, especially when what is painted may cost a lot of money to replace," she said. "Stay neutral with all of the permanent aspects within the house."
Today there's even a whole different feel to the materials being employed. Texture is adding raised detailing to wall treatments; embroidery adds depth to accent pillows; and decorative patterns formed by inlays of shells, woods and gems introduce dimension to tables, cabinets, credenzas and other furnishings.
"Texture really adds a lot of pizzazz. We are even seeing texture in glass lighting fixtures that feature fused glass," Ross said.
When it comes to bathrooms, out with the boring beiges and grays of the past and in with highly graphic geometric patterns on floors, walls and showers.
Kitchens continue to be a focal point for social gatherings as well as family meals. So it only makes sense to increase seating and accommodate all who crowd into a kitchen whenever something is cooking.
"Large islands with a cooktop stove that invites others to gather, and longer islands placed parallel to the kitchen within an open floor plan, are making it easier than ever to entertain while preparing meals," she said.
Finally, it's the homeowner's vision that will always take precedence when shaping a home's interior. But, oh! What a difference a pro makes!