When legendary quarterback Tom Brady signed his two-year contract with the Buccaneers in March, the entire Bay area did a collective touchdown dance for joy.
But in true Brady fashion, the athlete didn't stop there: TB12 Performance and Recovery Center, his passion project, opened its doors to a welcoming reception in Tampa in September.
TB12 — as in, Tom Brady #12 — is a wellness brand created by Brady and his trainer of nearly two decades, Alex Guerrero (pictured working out with Brady and below). Brady's 2017 book The TB12 Method: How to Do What You Love, Better and for Longer establishes the 12 principles of the quarterback's philosophy, including functional fitness, holistic training, healthy nutrition, hydration and — perhaps most of all — lengthening and softening of muscles before and after physical activity, which Brady refers to as pliability.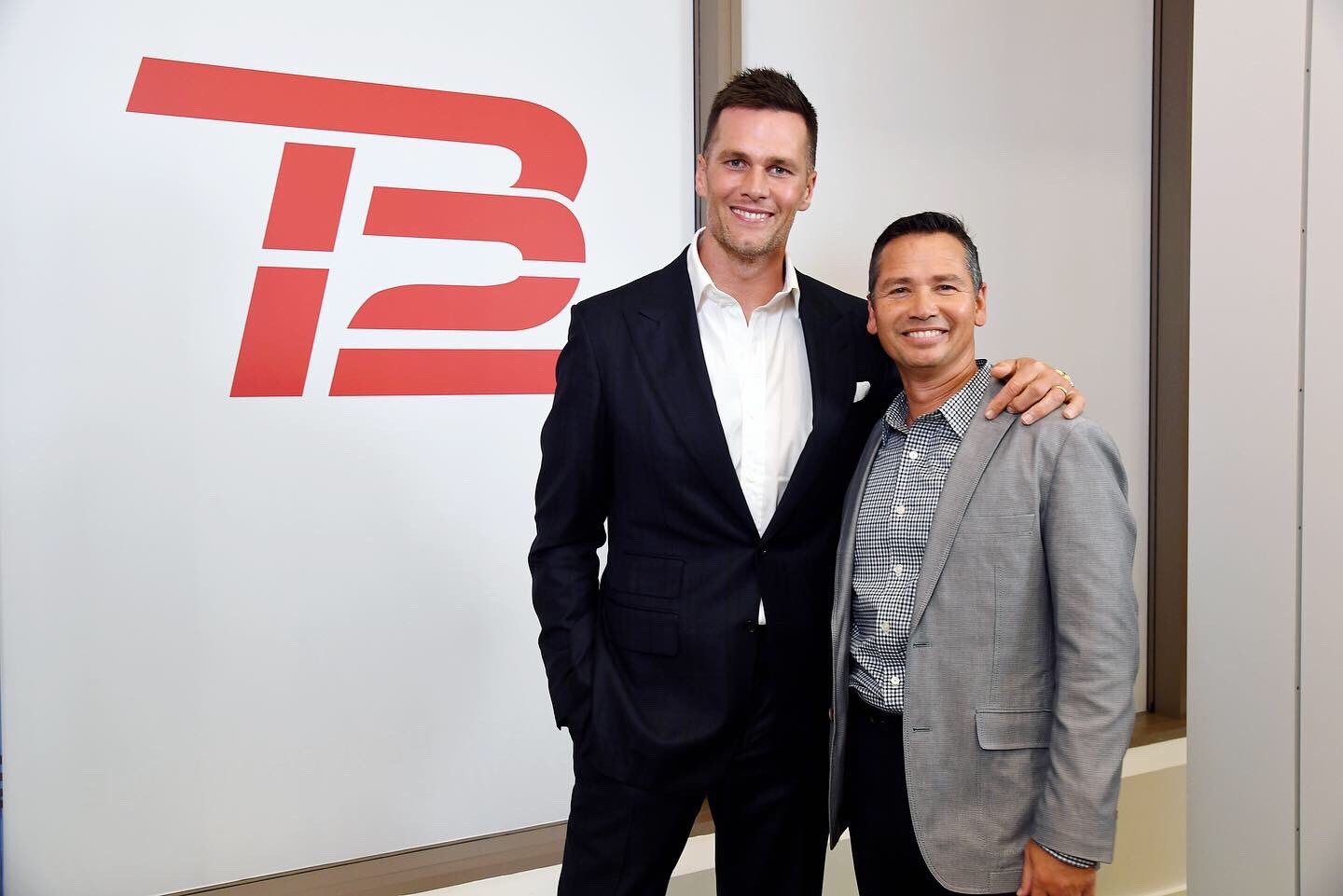 Overall wellness is the future of fitness, and Brady knows that finding the proper balance among these elements is vital to a person's long-term well-being.
TB12 mirrors the health and wellness work Brady and Guerrero have done their entire careers. Their Performance and Recovery Centers in Foxboro, Boston and now Tampa offer one-on-one sessions with body coaches for athletes and non-athletes alike.
Recently I spoke with Brian Hart, a TB12 Body Coach who journeyed from New England to Tampa with the ex-Patriot.
"We conduct one-on-one sessions with all clients in the center," says Hart, who has been part of Brady's team off the field for the past five years. "TB12 Tampa hosts personalized sessions, injury assessment, rehabilitation, sport performance training and nutrition consultation. We establish and train recovery techniques and cognitive fitness."
Each TB12 client gets an individual plan based on their specific needs. During an initial consult with a certified TB12 Body Coach ($200 for a 90-minute session), clients can expect a mobility test, hands-on deep-force pliability work, an introduction to functional strength and conditioning that will work best for your body's needs, and nutrition and hydration coaching.
The Performance and Recovery Center also hosts a retail space where customers can browse through an array of functional fitness gear, nutrition products, supplements and TB12 apparel. Brady and Guerrero are big fans of simple accessories such as vibrating foam rollers, resistance bands and jump ropes.
Hart tells me the main message they want to put out there is that they can "see anybody, help anybody, make them comfortable and give them hope."
Professional athlete? TB12 can work with you. Never played a sport in your life? TB12 can help you, too. Whether you are dealing with an old nagging injury or looking to prevent one from happening in the first place, the Sports and Recovery Center is there to assist.
If TB12's Performance and Recovery Center in Tampa is not an option for you, coaches are meeting with clients in virtual sessions as well. Many products can also be purchased online for those looking to spice up their home gym. Even Publix has jumped on board and is now offering TB12 protein powders, electrolytes and supplements for sale. Catering to clients of all ages and abilities, TB12 hopes to help people take control of their health from the inside out.
"We want to let people know they can get better," says Hart.
Can the TB12 approach to health and wellness truly transform an individual? How about an entire team?
Bruised, battered and beaten as we may be, Brady brings an optimistic outlook and potential for true transformation.
TB12 Performance and Recovery Center, Midtown Professional Center, 4809 N. Armenia Ave., Unit 240, Tampa, tb12sports.com.