The Clearwater Marine Aquarium is a rescue and rehabilitation facility for all species of aquatic life, providing shelter for animals that would be unable to survive outside of captivity. From African White Pelicans to River Otters and, of course, dolphins— the Clearwater Marine Aquarium has saved countless lives. The aquarium aims to educate the public through programs such as "Trainer for a Day". I love sealife! I know a friend who recently went on a dana point whale watching trip and I'm definitely going to get myself booked onto a trip! Just last week, I was honored to be a part of this program and learned what it really takes to work at the aquarium.
Monitoring animal health is all in a days work at the Clearwater Marine Aquarium.
I learned it is very important to monitor dolphins' breathing at least once every hour. This only takes about five minutes and is a fairly simple task. Each time the dolphin emerges from the water and takes a breath, it must be noted. This is imperative because dolphins tend to hide their illnesses, and often times trainers don't realize they're sick until it's too late. Normal breathing is between five and twenty breaths per session. During this session, I helped monitor Nicholas, one of the resident dolphins. He took ten breaths in the five minutes I observed him, which is within the normal range.
What's on the menu for animals at Clearwater Marine Aquarium?
I was then tasked with measuring the amount of fish each animal would receive later that day. Different species have different feeding requirements, so all the fish must be weighed out prior to feeding. The animal care specialists must ensure the fish are not damaged. The bucket used to measure the weight of the fish must then be scrubbed and sanitized thoroughly to remove any scales that may have fallen. Upon inspection from the Health Department, if any scales were found the aquarium would immediately be shut down, so this chore is of extreme importance.
I worked with Ricky the Pelican, famous for his role as "Rufus" in the movie Dolphin Tale. After being moved to his new enclosure, two of the aquarium's expert trainers worked with him on a few exercise behaviors. These behaviors included flying from one side of the enclosure to the other, as well as from one trainer to the other. I was asked to reward Ricky with a delicious fish, and although his long bill looked a bit intimidating, it actually feels very similar to a newspaper!
I also got to work with an adorable North American River Otter named Walle. I learned that river otters like Walle are found throughout North America in rivers, streams, lakes, and ponds. They are very inquisitive, and often appear to take a childlike enjoyment in sliding around on muddy banks. In the wild, river otters regularly consume fish, frogs, and crayfish. Since Walle lives in captivity, he also enjoys eating Jello! I got to observe Walle playing with bubbles as his enrichment activity. This is yet another example of the otter's playful nature.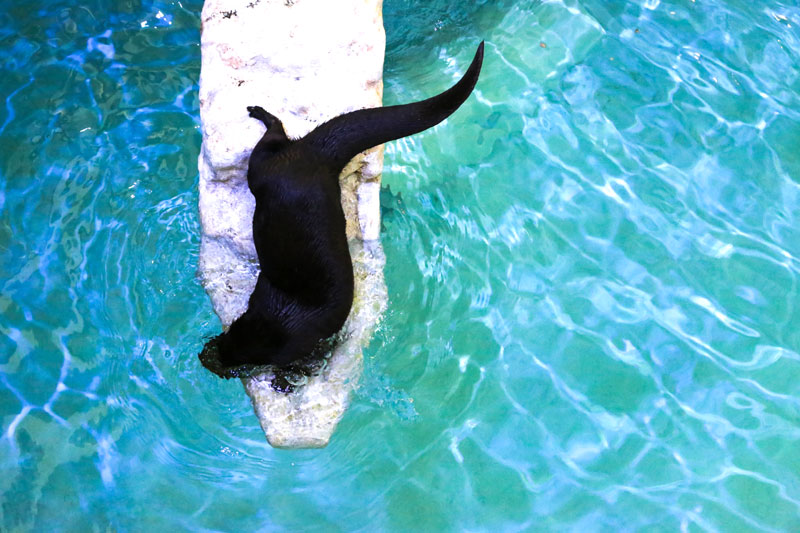 Working with Hope the dolphin at the Clearwater Marine Aquarium.
My favorite training experience of the day was my session with Hope the Dolphin. Hope's trainer asked her for numerous behaviors, which included waving with her fin, swimming on her back, displaying her tail fin and jumping out of the water. Any time Hope would perform a behavior correctly, her trainer would blow the whistle and give her a treat. The whistle is used as a bridge, to help the trainer tell Hope when she has performed a behavior correctly. If Hope performs a behavior incorrectly, the trainer does not blow the whistle and no reward is given. This is positive reinforcement, which trainers at Clearwater Marine Aquarium apply to all of their animals.
The Clearwater Marine Aquarium – on a mission to rescue, rehabilitate and release.
Clearwater Marine Aquarium's primary mission is always to rescue, rehabilitate and release. However, if animals for any reason cannot be released back into the wild they will always have a home at the aquarium. Since Hope was found when she was very young, she has become one of the permanent residents of the aquarium. Although children as young as ten may become a Trainer for a Day, I believe that no matter how old a person is, anyone can appreciate and learn from this amazing experience. I, for one, am eighteen years old and had a "whale of a good time!"
The Clearwater Marine Aquarium was established in 1972 and has been saving animals in need ever since. You can support them by volunteering or adopting an animal.
For more ways to get involved, visit cmaquarium.org or call 727.441.1790
Trainer for a day at the Clearwater Marine Aquarium.