U is for Unplugged: Acoustic, jazz, classical — it's all here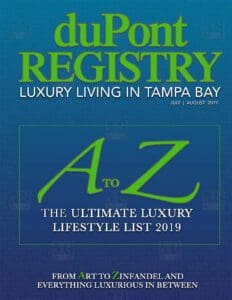 A to Z: The Ultimate Luxury Lifestyles List is duPont Registry Tampa Bay's annual compendium of the best our region has to offer. Each year we choose a different set of categories and then select businesses that are top-of-the-line in each category. This year: Art to Zinfandel (and everything luxurious in between).
"Unplugged" traditionally means "electric music played on acoustic instruments." But if you're looking for music that's unplugged right from the get-go, consider these two cherished venues on St. Pete's Central Avenue: the Hideaway Cafe and Recording Studio, a home for original folk, indie, jazz and more since 2009, and Craftsman House, a gallery that doubles as a cozy performance space for acts like John Gorka and David Wilcox. If you'd like to get really up close and personal with the artists, go to a concert in someone's home or host one yourself during the annual Listening Room Festival, which culminates in a group showcase at the Palladium that's one of the best musical events of the year. (The Palladium's Side Door Cabaret is also a prime venue for acoustic and jazz.) And we can't forget the most gloriously unplugged sound-makers of them all: the members of the world-class Florida Orchestra and Palladium Chamber Players and the singers of Opera Tampa and the St. Petersburg Opera Company, who regularly remind us of the amazing power of the unvarnished human voice.