(You know the tune) "Five passengers set sail that day for a three hour tour, a three hour tour."
Let's see how much I can wring out of the Gilligan's Island reference. On Tuesday, five of us "set sail" — not on a "tiny ship," but a 40-foot Tiara Coupe with twin diesel engines. Our "captain brave and sure" was Mike Fusek, who had invited me and three other pickleball pals out on his boat for stops at two waterside restaurants.
I anointed him curator of this week's Friday Food Fight, and Captain Mike chose chicken wings.
Our destinations: The Getaway, on the St. Pete side of Gandy Boulevard, and Tiki Docks, at Maximo Marina in far-south St. Pete.
The crew, besides me and the Skipper: Max, Dan and Daryl. Geezers all, save for Cap, a mere 52 years.
We boarded at 11 a.m. at Snell Isle Marina and immediately huddled inside the air-conditioned cabin. The mercury was already in the low 90s, so this was not shaping up to be a wind-in-your-hair day.
I asked the Captain what the water temperature was. He checked a gauge and replied: 95.8. So no diving off the boat only to land in a salt-water sauna.
We set sail for my first (and probably last) nautical Food Fight under bright sun and pillowy clouds.
THE GETAWAY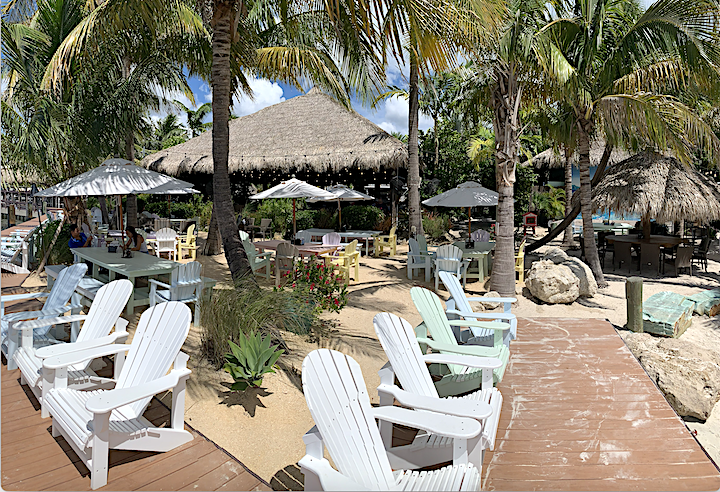 It was a short jaunt over smooth waters to this sprawling complex — a pretty fair facsimile of a tropical paradise — with no indoor seating. We found a table under a capacious thatched-roof structure with a lovely view of Old Tampa Bay.
The excursion was the first time the five of us had been around each other away from the courts, so it was surprising — and refreshing — that we talked very little about pickleball. Injuries, ailments, test results (inevitable geezer topics), real estate and money monopolized the banter.
I was on my own with the wings, so ordered a basket of 8 ($19) with mango barbecue sauce on the side, and a Coke ($4).
I'm pleased to report that the heat was noticeable but not suffocating.
Appearance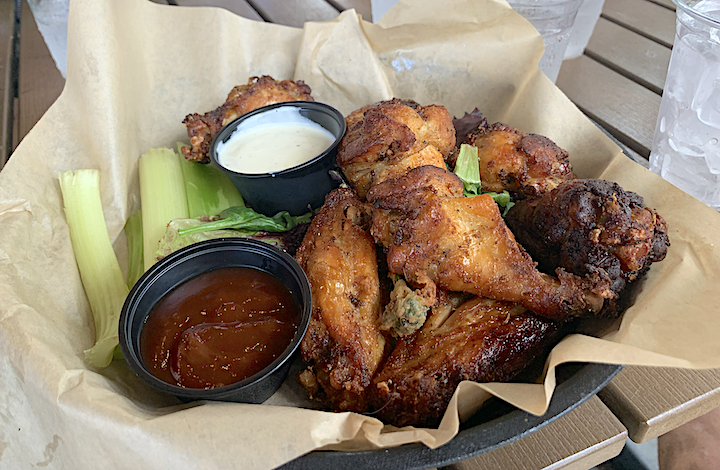 A respectable basket of wings — flats and drumettes — joined by chilled celery sticks, ranch dressing and the sauce.
Texture and Taste
These medium-sized morsels had an appropriately chewy outer crust, but were on the dry side and came up a little short on smoke. They were the kind of wings that are perfectly serviceable as an accompaniment to a lively group conversation. I ate only three because I knew my second lunch was coming up.
Then a faux pas. When our server bussed the table, she nonchalantly cleared my basket. "Um, can I get a box for those?" I asked in a neutral tone. She brought me one.
We boarded the boat, hustled into the cabin and the Skipper pointed us south. The voyage was longer than the first leg — probably 40 minutes.
TIKI DOCKS
The pickleball pals sauntered along the decking like Reservoir Dogs. An intimidating group.
Tiki Docks, like its competition, is a large complex, although mostly paved and therefore less paradisiacal. Not too much of a view either. We commandeered a table in a large tiki structure. An ample breeze and heavy industrial fans set napkins to flying.
I ordered 8-piece wings ($15.99), with Hawaiian BBQ sauce, and a root beer ($3.25). Max and Dan, not being double-lunch types, went the dessert route with Key Lime Pie ($8.50).
Appearance
The wings were clumped together and looked mighty sticky. That's because, amid the spirited conversation, I forgot to ask for the sauce on the side. I picked one up. Yup, mighty sticky. We're gonna need a bigger box of napkins.
Texture and Taste
These jumbos really grabbed my attention. Plump and juicy, they had a distinctive char and a just-off-the-grill flavor that restaurants rarely achieve. I liked the sweet coating well enough but wish I could've tried them naked. I ate three and greedily boxed up the remainder to take home. (Yesterday afternoon I gobbled down three while standing at the kitchen counter.)
And the Winner of the Nautical Chicken Wings Battle Is …
Tiki Docks.
A fairly easy choice. Their wings were exemplary. However, I give the nod to The Getaway for atmosphere and scenery.
But the real winner? The trip itself. And the boat. And the company. Many thanks to Mike for captaining and curating.
If you've read this far, thank you. To those readers who know boating or are good counters: I'm aware there was one skipper and four passengers who set sail that day for what turned out to be a five-hour tour. Chalk it up to creative license. I couldn't get the Gilligan's Island theme out of my head.