Believe it or not, the Tampa Museum of Art has been around in various incarnations (and under various names) since 1920. In observance of that milestone, the museum is publishing a centennial history book, due out next year (full disclosure: I helped edit it), and holding a series of exhibitions highlighting works from its permanent collection. The current show, which bears the same title as the book, is a survey of art objects both familiar to museum regulars (Mabel Poblet Pujol's kinetic wall sculpture Simplemente Bellas, a detail of which is pictured at top; Ralph Goings's hyper-realistic Collins Diner, detail above) and some not so, including objects from the museum's renowned antiquities collections. Curator Joanna Robotham groups works thematically rather than chronologically, suggesting parallels that are at once playful and illuminating. She told me at Thursday's press preview that it was fun putting the show together; you can feel it. Through 3/15/2020, tampamuseum.org. 
From the moment he rocked the theater world with his one-man Off-Broadway show Mambo Mouth in 1991, John Leguizamo was a star, going on to an award-winning career on stage and screen powered by his chameleonic acting, anarchic sense of humor and disarming candor about his life as a Latino artist. His newest show, Latin History for Morons, was inspired by the near total absence of Latinos from his son's American history texts, which he aims to remedy with an irreverent, rapid-fire breakdown of "the 3,000 years between the Mayans and Pitbull." Sunday 11/17, 7 p.m., strazcenter.org.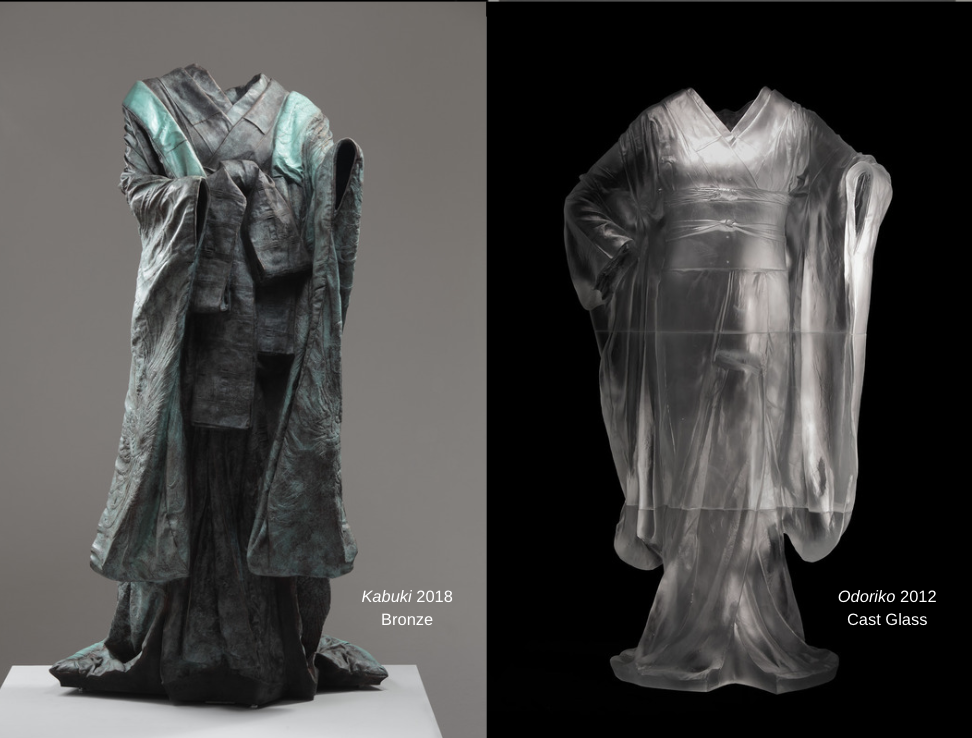 The multi-talented Karen Lamonte, a visiting artist at the Imagine Museum in St. Petersburg, developed the haunting bronze, ceramic and cast glass sculptures in Floating World during a residency in Kyoto, Japan, where she studied all aspects of the kimono. Two events this weekend offer chances to meet her, but tickets are limited so be sure to check ahead. Japanese-themed reception with the artist: Sat. 11/16, 6-9 p.m. (free for members, $35 for non-members). Champagne brunch and book signing: Sun. 11/17, 11 a.m.-12:30 p.m. (members $45 /non-members $55, includes Karen LaMonte's book Nocturne, limited to 50 guests). imaginemuseum.com.
4. Symphony in Lights & Santa Tree Lighting at the Shops at Wiregrass
Santa, apparently eager to get his holiday shopping done early, makes an appearance Saturday night as part of the opening celebration of the popular Symphony in Lights event at Wesley Chapel's Shops at Wiregrass. The light show, which is choreographed to music featuring the Trans-Siberian Orchestra, premieres at 5 p.m., and Santa visits from 7-9:30 p.m. Light shows will continue nightly on the hour from 6-9 p.m. through December 31.
5. Pinocchio at St Pete Opera
I will make no comments about the timeliness of a tale about the perils of lying (wait, I just did). But everyone's favorite nose-growing puppet will, no lie, entertain audiences of all ages in this St. Petersburg Opera Family Series production, a one-hour adaptation of the beloved children's novel utilizing music from Mozart, Offenbach, Verdi and Donizetti – with easily understood lyrics in English. Sat. 11/16 at 2 p.m. Also Fri. 11/ 22 at 7 p.m. and Sat. 11/23 at 2 p.m. Opera Central, 2145 1st Ave. S., St. Petersburg, stpeteopera.org.
What, all those new-car-wrapped-in-a-big-bow TV ads haven't made you want to run screaming from the living room yet? On the contrary, you want to see all the cars and overdose on that new-car smell? Well, hit the Tampa Convention Center this weekend: 2020 Chevys and Subarus and Kias, Hondas and Toyotas and Rams, Land Rovers and BMWs and Lexuses (Lexi?) and many, many more brands, ready to be touched, test-driven and sniffed. Look for a display of exotic motorcars from our friends at the duPont REGISTRY auto magazine, too. And watch for Howard Walker's Weekend Wheels post later today; he's visiting the show and will report back on the cars and trucks not to miss.  Fri. 11/15, Noon-10 p.m.; Sat. 11/16, 10 a.m.-10 p.m.; Sun. 11/17, 10 a.m.-6 p.m., autoshowtampa.com.
The fairy-tale princesses are mad as hell and they're not gonna take it anymore! In this popular musical revue, which played Orlando and Tampa before moving to successful runs Off-Broadway and in regional theaters, is reprised in a new production by mad Theatre of Tampa at the Straz's Jaeb Theater. Described by the New York Times as "a musical comedy for grownups," it stars a disgruntled Snow White and a  raft of her fed-up, Disney-fied storybook cohorts explaining why princessing ain't all it's cracked up to be in songs like "Without the Guy" and "All I Wanna Do Is Eat." Fri.-Sat. 11/15-16, 7:30 p.m.; Sun. 11/17, 2 p.m.; Thurs.-Sat. 11/21-23, 7:30 p.m., Sun. 11/24, 2 p.m. Buy tickets at strazcenter.org.
8-10: THREE SHOWS YOU HAVE TO SEE THIS WEEKEND BEFORE THEY CLOSE
These two theater productions and one art exhibition are all closing Sunday. Heed your FOMO and go!
8. Ordinary Days at Stageworks: Fri. at 8 p.m.; Sat. at 3 & 8 p.m.; Sunday at 3 p.m.
9. Shakespeare in the City's The Taming of the Shrew in St. Pete's Williams Park: Fri.-Sun. at 7:30 p.m.
10. Painter Nathan Beard's Drawing Water at Brooker Creek Preserve Environmental Education Center, Tarpon Springs: Closes Sunday at 3 p.m.; call 727-934-2680 for information.