Whether you're into cars and football, art and theater, food & concerts, or all of the above. Registry Tampa Bay has you covered with all the best hometown events right here.
Thursday
Art on Film – An Evening with Lonnie Holley
Museum of Fine Arts, DTSP
MFA begins a new season of  very special cultural offerings. Up first, a screening of Thumbs Up for Mother Universe: Stories from the Life of Lonnie Holley. This 58-minute documentary film by George King covers the life and work of Alabama visual artist and musician Lonnie Holley over the course of 22 years. An enthralling conversation between Lonnie Holley and George King will immediately follow the screening.
Thursday, September 7th @6pm
Find ore information HERE.
Preview/Opening – Every Brilliant Thing by Duncan Macmillan & Jonny Donahoe
The Off Central, St. Pete
It's the poignant and at times, hilarious true story of one man's lifelong quest to prove to his mother that life is worth living. There are interactive audience components that add to the intimate nature of the story. It's simply a lovely piece that I highly recommend.
Thursday, September 7th – September 17th
Find tickets, performance times, and more information HERE.
Friday
Bucs Beach Bash
Rumfish Beach Resort by Tradewinds, St. Pete Beach
It's a weekend long party honoring the opening of the NFL season and the Buc's season in particular. Have some fun in the sun and party like a pirate with live concerts from Grammy nominated artist David Nail, Austin Snell. and Dylan Marlow. The weekend will be packed with fun beach activities, contests, cornhole tournaments, a Kids Zone and a special Buccaneers vs. Vikings Watch Party on Sunday.  These upstart young Bucs just may surprise a few people this season. Join in on the festivities this opening weekend at the Tradewinds. General admission is free but special weekend VIP packages are available.
Friday, September 8th – Sunday, September 10th
Find event schedules and more information HERE.
New Tampa Performing Arts Center's Fall Festival
New Tampa Performing Arts Center, Tampa
It's the inaugural Fall Festival for Tampa Bay's newest performing arts venue. The community is invited to enjoy a three-day celebration with a diverse collection of Bay area artists. There are many great family friendly activities to enjoy like multiple performances from artists of theater, music, dance, etc., along with interactive activities like an orchestra instrument "petting zoo." So much to do, and the event is free and open to the public.
Friday, September 8th – Sunday, September 10th
Find event schedules and more information HERE.
Saturday
Corsa Car Rally
Midtown Tampa, Tampa
Vroooom. Vrooooom – The sound of elite autos. Every Second Saturday in Midtown Tampa, the machines take to the streets. Rev your engines for the monthly Corsa Car Rally as a showcase of South Florida's finest luxury and sports cars. You'll be in awe as you enjoy the performance of some of the world's most sought after automobiles.
Saturday, September 9th @11am – 3pm
Find more information HERE.
23rd Annual I Like it Hot! Festival
LargoEvent Center, Largo
Ok, spice fanatics, this is the event you've been waiting for. It's literally the hottest event this weekend and after almost a quarter century, there's a reason it's so popular. Come check out all the sauces, salsas, seasonings, and rubs ranging from mild burn to third level of hell. There will be free samples, food trucks, kitchen wares & gadgets and more. Multiple competitions including a jalapeño pepper eating contest, will spark the weekends festivities.  Come satisfy your spice vice this weekend! Free admission
Saturday, September 9th @10am – 5pm & Sunday, September 10th @11am – 4pm
Find more information HERE.
Opening- Things My Mother Taught Me by Katherine DiSavino
Early Bird Dinner Theater, Clearwater
This comedy from the author of Nana's Naughty Knickers, takes a generational look at relationships through the eyes of couple Olivia and Gabe – moving into their first apartment together and having to deal with all 4 parents descending on them under the guise of helpfulness.  It's a funny and touching look at love and relationships. You get a full meal at these productions and they are quite good! It's the perfect dinner and a show.
Saturday, September 9th – October 22nd
Find Tickets, performance schedules, and more information HERE.
The Heat is On
Art Lofts of St. Petersburg @ Florida Craft Art, DTSP
As part of Second Saturday Art Walk, The Heat is On holds it's opening reception at  the second floor Art Lofts studios above Florida Craft Art. This unique exhibition is actually a show featuring wax – or the ancient medium, "encaustic", which means "to burn in." Beeswax and heat are used to create luminous layered art. Demos will be held and the studios will be open for browsing. Then hop on the trolley and hit as many of the 40 plus venues open for Second Saturday as you can! Free and open to the public
Saturday, September 10th @5pm – 9pm
Find more information HERE.
Florida Highwaymen: The Next Generation – Ray McLendon
The Woodson African American Museum, St. Pete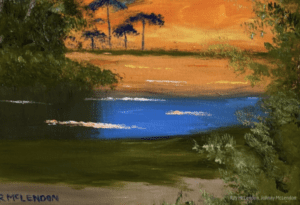 Here is another great Second Saturday offering happening at the Woodson. Ray McClendon, son of one of the original Florida Highwaymen, Roy McLendon, carries on the legacy of renowned Florida landscape art. Meet Ray during the opening reception and hear his stories of life on the road with his father and what carrying on the legacy of the Florida Highwaymen means to him.
Saturday, September 9th @5pm – 9pm
Find more information HERE.
**Concert Corner**
1964 – The Tribute
Duke Energy Center for the Arts @ The Mahaffey
Beatle fan here. I think 1964 is the best tribute band I've heard for the Fab Four. You'll love them.
Friday, September 8th @ 8p
Find tickets and more information HERE.
Godsmack
MidFlorida Credit Union Amphitheatre
Saturday, September 9th @7pm
Find tickets and more information HERE.
**Special Registry Spotlight Event**
The Registry Spotlight honors a special collaboration commemorating the heroes of 9/11. What could be more worthy than that?
9/11 Tribute Events Including Dinner, Film, Talkback & Sculpture Dedication
ArtsXchange & Urban Stillhouse, St. Pete
It will be a very special weekend of events at Urban Stillhouse and the ArtsXchange – collaborating to host a very special weekend commemorating the heroes of 9/11. Saturday (ticketed), will feature a special dinner followed by a Sunscreen Film Festival screening of the movie, 12 Strong,  a film about the special forces Horse Soldiers team that served in Afghanistan post 9/11. There will also be a talkbalk/Q&A with members of the Horse Soldiers and a Special Ops veteran. Sunday (Free to the public), will feature the dedication and special ceremony related to the beautiful Rise Monument at the ArtsXchange. It's sure to be a very special and moving schedule of events.
Saturday, September 9th  & Sunday, September 10th
Find tickets, event schedules, and more information HERE.
Have fun and stay safe out there!
Cindy
Send your events to: cstovall5@gmail.com