As the holiday season
really
revs up, we have some more ways for you to make memories with family, friends and loved ones. That's what it's all about, after all! So, mark your calendars and paint Tampa Bay red and green (or blue and silver). However you celebrate, let us help you find your own holiday JOY.
Thursday
Arts Annual – The Party REDUX   The Gallery at Creative Pinellas, Largo
Everyone gets a do-over. When the recent tropical storm knocked out plans for Creative Pinellas' biggest party and fund raiser of the year, Barbara St. Clair and team decided that the PARTY IS BACK ON. The Arts Annual exhibit is truly amazing and features work from your favorite Pinellas County artists, filling all the galleries. There will be great food, a cash bar and live entertainment against the backdrop of the spectacular holiday lights displays at the Florida Botanical Gardens right on the same site. It's a perfect celebratory night out. I'll be in attendance and hope to see you there. December 15th @6-9pm Tickets and more information here
Opening – Holiday Sparkle The St. Petersburg Opera Company Opera Central (2145 1st Ave N), St. Pete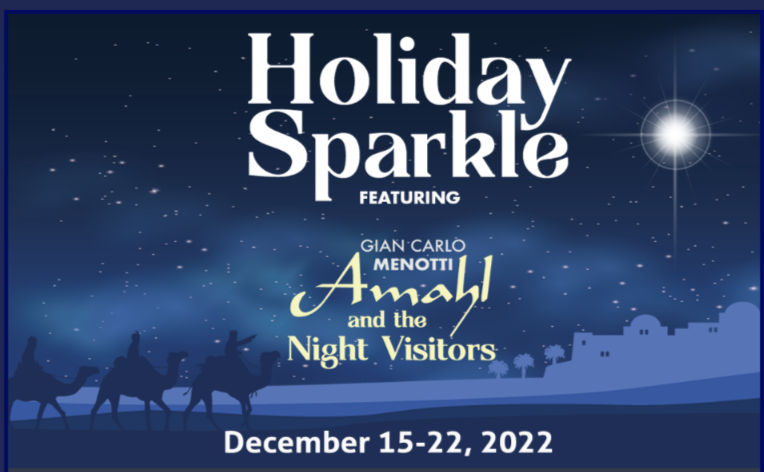 A fully staged production of Gian Carlo Meotti's Amahl and the Night Visitors awaits you accompanied by a 20-piece orchestra. It's a delightful one-act in English, suitable for all ages.  And that's just the first part. The second part of the program features SPO's world-class singers performing an array of holiday music. December 15
th
– 22
nd
  Find Tickets, scheduled performances and more information
here.
Opening – It's A Wonderful Life An American Stage Pop-Up Event Multiple Venues Throughout St. Pete & Gulfport
I love pop-ups – pop-up restaurants, pop-up markets. They're just so much fun. Now American Stage has adapted the concept for holiday theater with a reimagined production of
It's a Wonderful Life
, starring the one and only Matt McGee. It's a one-man, story-telling format that will "pop-up" at a number of venues over the coming week, and right up to Christmas Eve. I can't think of a more delightful holiday evening than one spent with Matt on stage. December 15th – 24th Venues, dates, times and more information
here.
Last Weekend – Miracle on South Division Street by Tom Dudzick Early Bird Dinner Theatre, Clearwater
Early bird dining is a thing here in Florida, we know. But it becomes a pretty cool holiday plan when you can get dinner AND a great show for only $45. It's the last weekend to catch the hilarious Christmas play, Miracle on South Division Street. Crazy families and miracles in Buffalo are the only spoilers you'll get here. You'll love it. Now through December 18
th
@4-8pm Tickets and more information
here.
Cirque Musica Holiday Wonderland Yeungling Center, Tampa
is a must-see holiday event to usher in the magic of the season. Wonderland is an all-new musical journey that will transport audiences to a magical land far away for a fun-filled holiday-themed show experience they will never forget. Be dazzled by the acrobats, aerialists, hilarious hijinks, and holiday cheer. The show blends the spellbinding grace and daredevil athleticism of today's greatest circus performers with a musical mix of timeless seasonal favorites. December 15 @7pm Tickets and information
here.
Friday
93.3 FLZ's Jingle Ball: Backstreet Boys, Black Eyed Peas, Big Time Rush, & More Amalie Arena, Tampa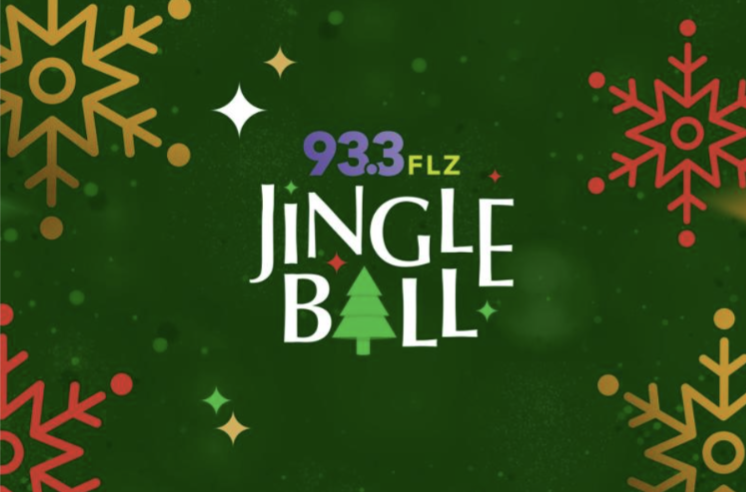 93.3 FLZ Jingle Ball 2022 is part of the national iHeartRadio Jingle Ball Tour Presented by Capitol One, the season's biggest annual holiday music event that captures the music and holiday spirit of the iHeartRadio app with performances by some pretty big name artists. Making it's way to the Tampa Bay area on Friday evening, it's sure to be a memorably rockin' holiday concert. December 16th @7pm Tickets and more information
here.
Saturday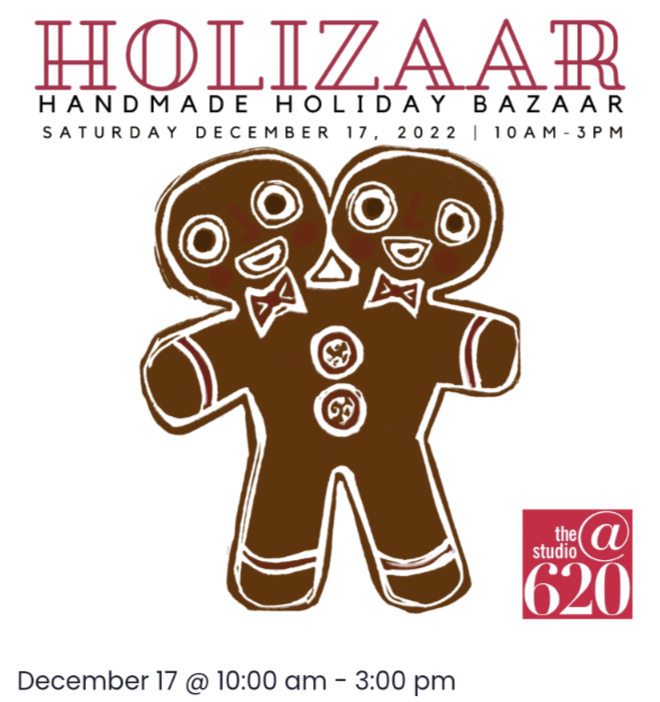 15th Annual Holizaar – Handmade Holiday Bazaar The Studio @620, St. Pete
It's another great crafty tradition at @620, where you can snap up the holiday wares of over 30 of your favorite local makers. Jewelry, home & holiday decor, fine art, and even some delicious holiday muchies. Grab something with some flair and funk for your fun-loving Christmas listers. Free to the public. December 17th @10am-3pm More information
here.
Paws on Parade Station Square Park, Clearwater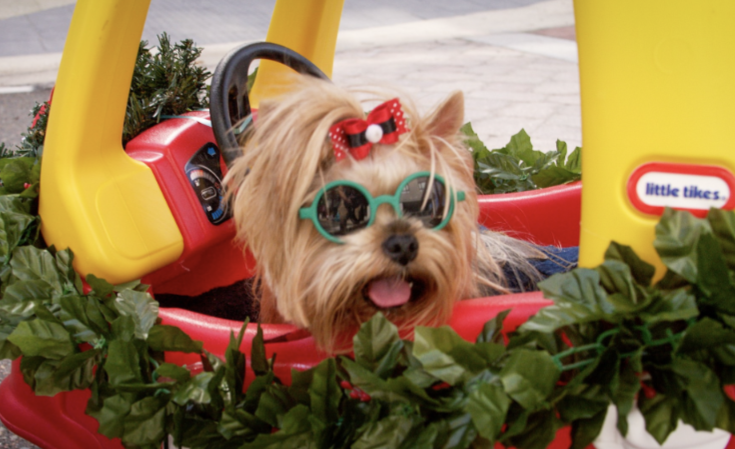 Even our furry friends love the holidays, and we love to show them off, so what could be better than a holiday parade of pets? Join in or watch our four-legged loves prance, dance, and shine in their fabulous (and often hilarious), holiday costumes down Cleveland Street. Family photos with Santa, costume contest, vendors and a post-parade holiday block party will make for an exciting day for EVERY member of your family. December 17
th
@11am Free to the public. More information and Clearwater holiday event guide
here.
Annual Crystal Beach Christmas Golf Cart Parade Live Oak Park, Palm Harbor
Boat parades, shmoat parades. (JK, go to those too). But, lighted golf carts demand equal time. They are literally the way to go – at least here in Florida. These open motorized buggies provide transport for what seems like half the population. It's only right that they get all decked out for the holidays and have a parade too. The lovely setting in Live Oak Park and on Crystal Beach on the water makes it truly worth checking out. There will be contests, prizes and photos with Santa available for spectators. December 17
th
@7pm (be there by 6:30 for best spots). Free to the public More information
here.
Sunday
Inaugural Event – Winter in the Wood Seminole Park, Kenwood
The Artist Enclave of Kenwood, a premier artist community in Tampa Bay, hosts the inaugural
Winter in the Wood
– a winter festival featuring exhibits and performances by enclave artists, family friendly activities, a visit from Santa (3-4:30), yummy goodies, live music, and the opportunity to buy some of the coolest gifts you'll give this season by your favorite local makers and creators. Bring a chair and blanket with you and hang out with friends and neighbors in the park. December 18
th
@2-7pm More information
here.