As the Summer swelter approaches, great weekend events here in Tampa Bay have not slowed one bit! New theater, film, music, art, and family fun await you in the coming days, so wear something light, put on your shades, and get out there!
Thursday
Highlights from Gaspar! The Musical by Bill Leavengood
Floridian Social, St. Pete
Enjoy this happy hour style concert featuring highlights of the score of Bill Leavengood's production of  Gaspar! The Musical. Leavengood, though nationally renowned, is known for turning our local lore and citizens into great works of art for the stage. Previous popular works include musicals about Webb City, Crossing the Bay, and some 20 other plays and musicals on a host of subjects from politics to Oz. Currently Leavengood is conducting acting classes titled Shotgun Meisner at The Off Central Theater– the next cohort begins in July.
May 25th @ 6pm – 7:30pm Admission is FREE. RSVP here.
New Artist Coffee Canister Series Reception
Woodfield Gallery, St. Pete
Kahwa Coffee and St. Pete Arts Alliance are excited to announce Frederick "Rootman" Woods as the third artist in the art wrapped coffee canister series! Join us to celebrate the launch of the third artist wrap at a special event on Thursday at Woodfield Fine Art.  Meet the artist, purchase a canister and have it signed by Rootman himself. Enjoy refreshments and see other works of art created by Rootman.
May 25th @6pm – 8pm More information here.
Steve Hackman's Beethoven x Coldplay – The Florida Orchestra
The Mahaffey Theater – Duke Energy Center, DTSP
Innovation in musical events now includes concerts featuring a "mash-up" of two completely different styles, artists, or genres of music. This is the theme of Thursday night's Beethoven x Coldplay at the Mahaffey Theater. Conductor and creator, Steve Hackman, melds the music of  Beethoven's Eroica Symphony with the melodies and lyrics of Coldplay for this perfect modern pairing. Vocalists join your Florida Orchestra in a genre-bending performance that features some of Coldplay's best known songs, including Fix You, Paradise, and  The Scientist.
May 25th @ 8pm. Tickets and more information here.
Friday
**Featured Event** The Doobie Brothers 50th Anniversary Tour
The Mahaffey Theater – Duke Energy Center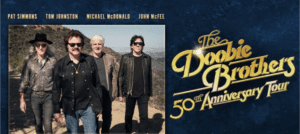 I'll admit the 50 year part has me a bit unnerved, as I have been a fan since the 70s, but the R&R Hall of Fame Doobies are timeless – as is my fandom (and my not-so-secret crush on Michael McDonald). So, I'll see you down at the Mahaffey on Friday evening where we'll surely hear classic hits like China Grove, Minute by Minute, Listen to the Music, What a Fool Believes, and so many more.  It's my Featured Event of the Weekend and that's why The Mahaffey gets two shout outs this week.
May 26th @ 8pm. Tickets and more information here.
HBO Original: Simple as Water – Tampa Premier
University Mall, Tampa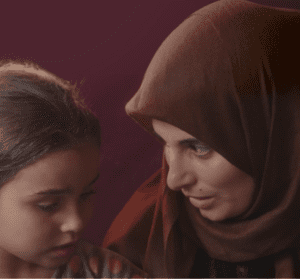 From event release: "TAMPA BAY FILM SOCIETY Presents: "SIMPLE AS WATER" – TAMPA PREMIERE
In the presence of OSCAR-WINNING DIRECTOR "Megan Mylan"
SHORTLISTED FOR THE 94TH ACADEMY AWARDS
"We are very happy and honored to present to you this exclusive screening of "simple as water" in the presence of director & producer Megan Mylan, followed by a Q&A session right after the screening so make sure to stay after the show."
May 26th 7pm – 9pm. Tickets and more information here.
Saturday
Witch Invasion at The Ale and the Witch
The Ale and the Witch, DTSP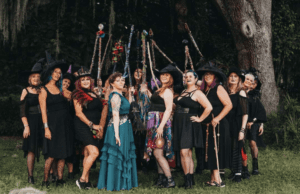 By now, most everyone is familiar with this downtown hotspot for great local music, craft beer, cider, kombucha, meade, and just hangin' with friends in the courtyard. This Saturday is special as the "Witch" marks the halfway point to All Hallow's Eve with an extra special event featuring the Island Witches Dance Troupe performing for you in the beer garden. The performance begins at 7, followed by live music by Livewire, a Grateful Dead tribute band. Dancing may resume again at 8:30pm. It's a perfect evening downtown with friends.
May 27th @ 7pm More information here.
Saturday & Sunday
Sunset Music Festival
Raymond James Stadium, Tampa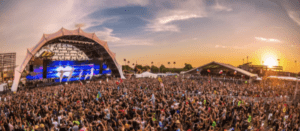 Multiple acts, performed on multiple stages over 2 days, the Sunset music fest features very new and contemporary music by several dozen of your favorite artists. You can purchase single day or weekend passes, VIP available and afterparties as well. This falls on the epic scale, so make a plan and have a blast.
May 27th & 28th. Tickets, performance schedules, and more information here.
St. Armand's Fine Art Festival
St. Armands Circle, Sarasota
A little road trip south to St. Armand's is never a bad idea, especially on a holiday weekend when a big art festival is going on. Pack up the fam and enjoy the famous circle transform into a huge outdoor gallery featuring fine art and crafts from artisans throughout Florida and across the country. Every genre of making will be represented and there will be talk backs and demos as well.
Sculpture – jewelry- painting – photography – glass – ceramics – mixed-media – metalwork
May 27th & 28th  @10am – 6pm (Sat) 11am – 6pm ( Sun) Free to the public
More information here.
Sunday
What's the Price Video Premier Party – The Black Honkeys
Belheimer Capitol Theatre, Clearwater
If you're familiar at all with the local music scene, you know The Black Honkeys. Their special blend of soul, R&B and funk has kept audiences coming back for more through the years. Now the celebration is on for the release of their new music video, What's the Price, produced by Grammy winner, Rook Flair of J.U.S.T.I.C.E. League. The Black Honkeys will put on a live performance immediately after the video premier. Be a part of it!
May 28th @ 6pm – 9pm. Tickets and more information here. (Limited VIP tix)
Wednesday
Preview: Disgraced by Ayad Ashtar
American Stage, St. Pete
This Pulitzer Prize winning play tells the story of Amir Kapoor, a successful Pakistani-American lawyer who is rapidly moving up the corporate ladder while distancing himself from his cultural roots. Emily, his wife, an artist, uses Islam to influence her work. When the couple hosts a dinner party, what starts out as a friendly conversation escalates into something far more revealing that changes their lives forever. Previews are Wednesday and Thursday before opening night on Friday the 2nd.
May 31st – June 25th. Tickets, performance schedules and more information here.
Have fun and stay safe out there!
Cindy
Please send your events to cstovall5@gmail.com