Happy Easter weekend, everybunny!! Fill your baskets, and then fill your calendar with all the "eggcellent" Tampa Bay events and family activities. Registry Tampa Bay has your optimum weekend experience in mind. Enjoy! (end of puns, promise)
Friday
Pier 60 Sugar Sand Festival

Pier 60, Clearwater Beach
Pier 60 Sugar Sand Festival is a 17-day sand sculpting festival that pays tribute to Tampa Bay's two most valuable assets: our sugar sands and our sunsets! Head to the beach and enjoy FREE activities for all ages, including a children's play area, street performers, artisans, live entertainment, fireworks, sand sculpting classes, speed sand demonstrations and the master sand sculpting competition. The showcase of the Sugar Sand Festival is the main attraction — The Sugar Sand Walk Exhibit. This ticketed exhibit can only be seen once a year, and no two years are alike. Stroll through a 21,000 square-foot tent filled with sand sculpted art crafted by world-class sculptors using Clearwater's internationally famous sugar sand. These aren't sandcastles — they're premiere works of art. Don't forget your camera!
April 7th – 24th Find more information here.
Opening Reception – Painted Pathways Have No Obstacles – The Art of David McCauley
The Woodfield Gallery, St. Pete
Visit Woodfield Fine Art Gallery for the opening reception for the spotlight exhibit of the works of local artist David McCauley. The exhibit will be displayed through May 5th, 2023, and we will be open until 9 for the opening reception on Friday, April 7th, and also on Saturday, April 8th for St. Petersburg ArtWalk. We are proud to be able to offer the works of this internationally collected multi-talented artist in a solo-exhibit setting. Many new pieces will be available for the first time.
April 7th @5-9pm Find more information here.
Saturday
2nd Annual Egg-Stravaganza Easter Market
Shops of the Alley at Bellaire Bluffs, Indian Rocks Rd., Belleair Bluffs
How about shopping and celebrating Easter at the same time? Spreading the Easter love all around Tampa Bay, the Shops of the Alley invite you to join them on April 8th for an Easter extravaganza market. They will be featuring vendors , food and beverages, Easter egg hunt for kids and adults and a guest appearance by the one and only Easter Bunny.
April 8th @10am-3pm More information here.
Shop and celebrate Easter too! 
Gulfport's Fun in the Sun Day
Recreation Center, Gulfport
Here's a great family friendly event in anticipation of Easter. Right on beautiful Boca Ciega Bay. You and the kids (8 and under), will enjoy an Easter egg hunt, lots of other kids activities, basket raffles, live music and delicious food. Join families, friends, and neighbors in one of Tampa Bay's coolest cities.
April 8th@10am – 12:pm  Find more information here. 
Move St. Pete! St. Petersburg Dance Festival
Dance Linkages In Collaboration w/ The Studio@620
Mahaffey Theater Plaza, St. Pete (Duke Energy Center for the Performing Arts), St. Pete
Please join in for an afternoon of gorgeous site-specific dance performances and interactive follow-along movement activities outside on the Plaza at the Mahaffey Theater! Choreographers include Alexander Jones (Project Alchemy), Paula Nuñez (Tampa City Ballet), Elsa Valbuena, Katurah Robinson, Mary Williford-Shade, Mary Durant, Sadie Lehmker, Bliss Kohlmyer and Andee Scott. The dances will be placed in multiple locations on the Plaza and will be performed in rotation throughout the three-hour event. In between performances, interactive movement experiences will provide the audience with opportunities to follow-along and participate in country line dancing and African dance, among other activities.
April 8th @11:30am-2:30pm  More information, social media links and website can be found here.
2nd Saturday Reception for Jane Bunker's Exhibit: A Brighter Path for Woodson Warriors
The Woodson African American Museum, St. Pete
The exhibit was opened in March, but at this official reception, you'll have a chance to meet the artist, Jane Bunker, a huge supporter of the Woodson and all the work they do to provide scholarships to their Woodson Warriors. All proceeds of her beautiful work go to the cause, so BUY ART! The floral motifs are perfect for bringing Springtime into your home. Refreshments will be served.
April 8th @5-8pm  Find more information here.
Saturday & Sunday
St. Pete Spring Festival
The Pier, DTSP
Two fun-filled family days await you at the Pier this weekend. Bounce houses, interactive games, arts & crafts and a massive Easter egg hunt on Sunday (12 and under), where over 20,000 – yes 20,000 – eggs will be hidden throughout the festival grounds. Egg finding areas will be divided by age group to give all a fair shot at the fun. Let's not forget the Easter Bunny, who will make an appearance and bring along all his food truck buddies to feed you delicious goodies.
April 8th & 9th @11am-7pm (5pm on Sunday). Find more information here.
Easter Sunday
King Charles Easter Brunch
The Don CeSar Resort, St. Pete Beach
There are certainly many Easter brunches to choose from this weekend, but with Easter AND a coronation coming up, brunch in the King Charles Ballroom in the "Pink Palace" is an experience everyone should have. Enjoy views of the Gulf of Mexico, luxury amenities, and a number of completely renovated areas and rooms. The brunch features some of the most delicious bites to be found in the bay area. It's a splurge, but you deserve it!
April 9th @10:30am-3pm Find tickets and more information here.
Easter Brunch Buffet
Channelside Dr., Tampa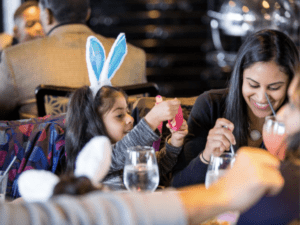 Maybe you'd like to be out on the water for Easter  – How about a bunch cruise?  This Easter, hop on board Yacht StarShip for a family-friendly brunch cruise with an elegant touch! Dine on a delicious brunch buffet while taking in the sights of Tampa Bay's beautiful waterfront. Your cruise includes a delightful buffet, reserved table, DJ entertainment, and a special appearance by the Easter Bunny for family pictures!
April 9th  2 seatings: @10:30 (boarding) Cruise is 11am – 1pm
Late brunch boards @2pm Cruise 2:30-4pm. Find reservations and more information here.
Wednesday
Palladium Chamber Series – Mile-End Trio
The Palladium Theater, St. Pete
We're extending your weekend because The Palladium Chamber Series is something very special. The music is just so beautiful and IMHO,        rivals such concerts in NYC or aanywhere great chamber music is played. The Mile-End Trio is a crowd favorite at the palladium performing        works by Debussy and Tchaikovsky. The trio has returned each year since 2018 and are at the core of what makes this series so special.            Treat yourself and think of as an Easter gift to you.
April 12th @7:30pm Find tickets and more information here.
Have fun, my friends – stay safe.
Cindy
Submit events to cstovall5@gmail.com