This time of year, it gets especially difficult to curate just ten events happening in Tampa Bay for the Weekend Top 10. There is just so much great stuff to do! Hopefully, in the tradition of Indiana Jones, I have chosen wisely.
Thursday
Nate Najar's Jazz Holiday
The Palladium, St. Pete
It's always a great time when Nate Najar is on stage playing your very favorite jazzy holiday music. He and his band have been doing it for 15 years and counting! Special guests, vocalist Daniela Soledade, Adrian Cunningham, and Dmitry Baevsky will bring a memorable musical experience to your holidays. A don't miss in my book.
December 8th @7:30pm Tickets and more information here.
Opening Night- The Year of Extraordinary Travel by Becca McCoy
Studio Grand Central, St. Pete
In her new self- created solo show, Becca McCoy shares quips, reflections, and stunning photographic imagery from her very special year of world travel. It's great to have Becca back to perform here after three long years – she always brings it, delighting her audiences. Another local fave, the talented Vickie Daignault, occupies the director's chair. To celebrate the opening, there will be a reception and champagne toast at 7:15pm before the show begins at 8pm.
December 8th – December 18th @8pm with Sunday matinees @3pm
Tickets, dates, and more information here.
Friday
40th Annual Boley Centers' Jingle Bell Run
The Pier Approach, St. Pete
This is one event that you literally attend "with bells on," (and Santa hats). It's the 40th year for this waterfront 5k run that so many have made an un-skippable part of their holiday traditions. Sign up to run or simply cheer on you friends and neighbors. There will be musicians and food trucks lining the route, along with a glow zone and snow. Leashed pets are welcome. December 9th @7:30pm Sign up and other information here.
Holiday Lighted Boat Parade
Barbara Gilberg Park, South Pasadena
In the Tampa Bay area, there is no shortage of lighted boat parades, many happening this weekend. If you love this bright and beautiful holiday tradition, check the chamber of commerce website in your waterfront community to plan to attend one or all of them. It really is a beautiful sight.
Spotlighting beautiful Boca Ciega Bay, South Pasadena co-hosts with Marine Max to bring you a lighted boat parade featuring many enthusiasts putting their best holiday foot forward to win some $5000 in cash awards in two categories.
December 9th @6:30pm More information here.
The Florida Orchestra – Holiday Pops (Fri – Sun)
3 Venues – Straz, Mahaffey, Ruth Eckerd Hall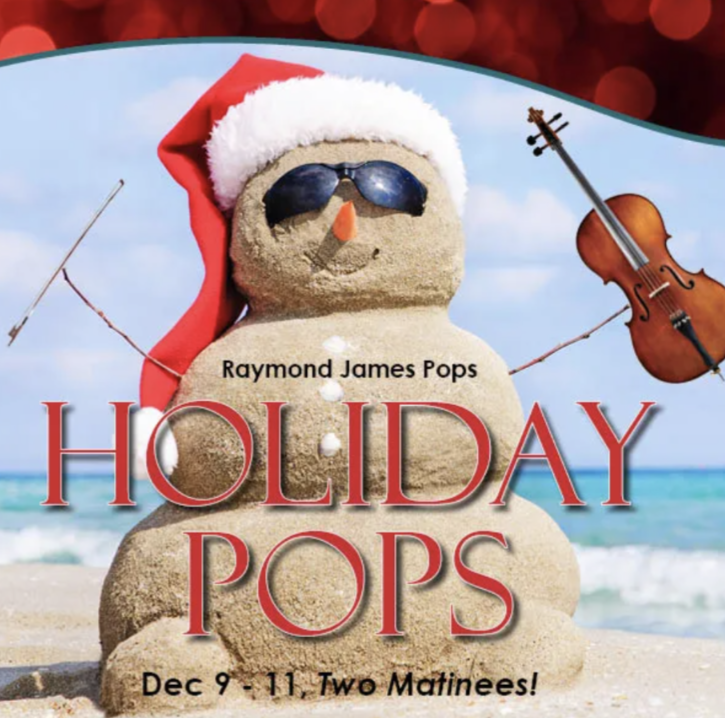 Our very own Florida Orchestra, a premier organization by any standard throughout the US, brings us their annual holiday music extravaganza over three days, and at three different venues across Tampa Bay. They're performing all of Santa's favorites, sure to delight the entire family. It's TFO's most popular concert of the year and a very merry musical tradition.
December 9th – 11th Find complete program information, tickets, maps, and times here.
Saturday
Merry Beach Market & Holiday Festival
Madeira Beach
It isn't everywhere you can celebrate the holidays on the beach, you know. So come on down to the beach to holiday shop on the Gulf from over 130 vendors, enjoy live entertainment, and lots of goodies to choose from. You'll also have a prime vantage point to see the MB Lighted Boat Parade, and the lighting of the Madeira Beach Christmas tree. There will be photo opps with Santa for the kids and some real snow to frolic in.
December 10th @2-8pm Tickets and more information here.
Old Fashioned Christmas & Holiday Parade
Downtown, Dunedin
Dunedin is such a charming community, that a parade and festival along Main St. will surely satisfy all your dreams of a perfect old fashioned Christmas. Activities include carriage rides, train rides, snow slide, kids crafts, storytelling, face painting, and live street performances. The whole family will love it. December 10th @4pm Free to the public.
More information here.
49th Annual Christmas Parade
Park Blvd, Pinellas Park
Since 1972, the Pinellas Park Christmas Parade has been a part of the lives of this and surrounding communities. Now new generations bring their children to this festive symbol of Christmas. It starts on 58th St. and moves eastbound on Park Blvd.
December 10th @6-8:30pm (seating available at 4:30pm) More information here.
Sunday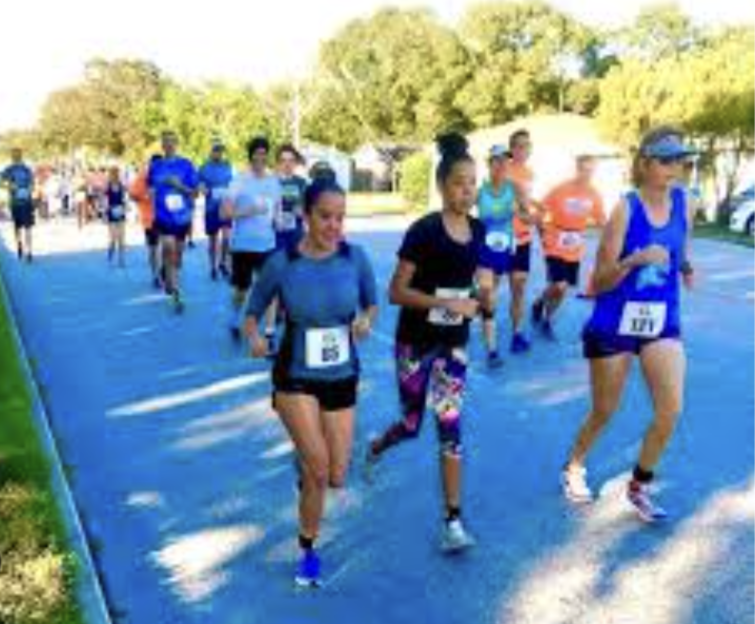 8th Annual Chase the Dreidel – Congregation B'nai Israel
58th St N & The Pinellas Trail, West St. Pete
Giving Hannukah some equal time, the question is, can you keep up with a giant, life-sized dreidel spinning down the 5k (chip-timed) route? Find out on Sunday if you join in on the run. Or just watch, cheer on the runners (and the dreidel), and go to the after party too. The Festival of Lights (Hannukah) officially begins on December 18th, 2022.
December 11th @4pm (After party and latke dinner follows)
Find more details or sign up here.
Old Northeast Candlelight Tour of Homes
Old Northeast, St. Pete
The Historic Old Northeast Neighborhood Association hosts this much anticipated holiday walking tour of some of the areas most lovely homes – all decked out for your viewing pleasure. This year boasts a vintage theme circa 1920s when most of these homes were built. Homeowners and tour guides will wear period attire, play music popular a century ago in the roaring 20s. Food trucks will be found on the tour route too. Buy your tickets before Sunday to save $5.
December 11th @ 3-8pm Get Tickets and more information here.
Have a wonderful weekend and stay safe out there.
Cindy
Share your events: cstovall5@gmail.com