Celebrate Independence Day all weekend long with music, theater, barbecue, hot dogs, and, of course, fireworks!! Check out all that Tampa Bay has to offer, including our #SpotLightEvent of the week!
Thursday
Ongoing – Same Time Next Year by Bernard Slade
Early Bird Dinner Theater, Clearwater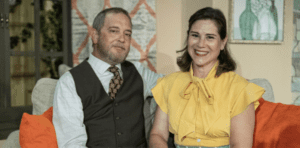 Dinner and a show for $45. As my Grandma Fanny would say, "such a deal." And, I love this story – 2 married strangers meet while away from home and continue to meet for one weekend each year for decades. You travel through the 60s and 70s with George & Doris – all the history seen through the lens and lives of two improbable yet profoundly bonded lovers. You'll love it.
Runs through July 30th  Tickets performance times and more information here.
***Spotlight Event(s)***
Registry Tampa Bay salutes the opening of our area's newest state of the art music venue in Clearwater and Ruth Eckerd Hall for lining up all the great free concerts! Cheers to our Spotlight Event9s) of the week. Four events for the price of one
Grand Opening Weekend – The Sound
Coachman Park, Clearwater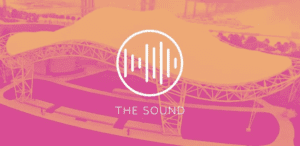 Cheap Trick christened the brand spanking new music venue last night, and now our very own Black Honkeys take the stage tonight for a raucous holiday concert celebrating, not just Independence Day, but culture and diversity as Pride month comes to a close. But that's just the beginning. See below for the slate of opening weekend concerts, culminating in Fireworks and the Florida Orchestra on Tuesday. If you're ready to celebrate, come on down to one or all the nights of premiere entertainment!
Thursday, June 29th @ 6pm Black Honkeys More information here.
Friday, June 30th – Colbie Caillat & Gavin DeGraw
Sunday, July 2nd – Peter Frampton
Tuesday, July 4th – Florida Orchestra & Fireworks!
More information here.
Friday
Vintage Marche July Market
34th Street S, St. Pete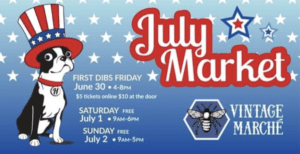 Tampa Bay's largest monthly vintage market is back with thousands of square feet of treasures including great outdoor decor for you holiday gatherings. You'll also find antiques, furnishings, jewelry, clothing, and so much more. "First Dibs Friday" is a special sneak peek day from 4-8pm, and the market is open through the weekend – but only on the first weekend of each month, so don't miss it!
Friday (4-8pm), Saturday (9am-6pm), & Sunday (9am-5pm), June 30th- July 2nd
More information here.
Carson Kressley – Queer-E-Okee
The Palladium, St. Pete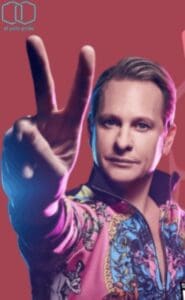 The Queer Eye for the Straight Guy Alum comes to town on the final day of Pride month for a fun night with local queer artists and musicians to bring us a good old fashioned sing-a-long to some epic anthems and pop culture classics.  The audience will sing along to lyrics projected onto the big screen on stage. it's sure to be a hilarious, love-filled evening.
Friday, June 30th @7pm with an early VIP Meet & Greet. Tickets and more information here.
Alicia Keys – Alicia: Keys to the Summer Tour
Amalie Arena, Tampa
In a weekend full of prime music options, Tampa comes in hot with Alicia – Keys to the Summer Tour. The soulful songstress brings the power of her the vocal chords and her keyboards to our area Friday night, just the 3rd night of the tour. It follows her sold out and critically acclaimed previous world tour, and for the first time, Keys performs in a 360 degree format in the round. " I desribe it as a celebration of freddom and self-liberation,' says Keys. It's sure to be as visually compelling as it is musically.
Oh, and by the way, if The Cure id more your style, they play the Area on Thursday.
Friday, June 30th @8pm  Tickets and more information here.
Saturday
2nd Annual BBQ & Jazz Event
Tropicana Field Lot #4, St. Pete
Saturday Shoppes brings you another great event for the holiday weekend with every bit of delicious food, great shopping, and jazz music you can handle. Grab your favorite people and meet at the Trop for and afternoon of holiday fun.  Support local businesses and have a blast.
Saturday, July 1st @12pm – 5pm More information here.
July Fireworks VIP Celebration
Safety Harbor Resort & Spa, Safety Harbor
Enjoy live music, a barbecue buffet, two-hour open bar, and VIP seating on the waterfront terrace for an exclusive view of the live fireworks show. It's the perfect way to celebrate the holiday weekend in the most beautiful surroundings.
Saturday, July 1st @ 5:30pm – 10:30pm  Tickets and more information here.
Boom by the Bay
Julian B. Lake Riverfront Park, Tampa
Not all fireworks are on the 4th, obviously. On Saturday, Boom by the Bay is Back! This year's festivities include a pickleball tourny,
apple pie bake-off, kids zone activities, with fireworks lighting up the skies at dusk. Fun for the whole family
Saturday, July 1st @4pm  Fireworks at dusk
Sunday
Hot Dog Eating Contest
The Floridian Social, St. Pete
What says Summer or Independence Day better than a good 'ole hot dog eating contest? Floridian Social scores again in the quest for the coolest events in their venue.Brace yourself for a jaw-dropping display of speed, skill, and gastronomic prowess as contenders converge to conquer mountains of delectable hot dogs. With the electrifying beats of DJ Hogie fueling the atmosphere, the event will be nothing short of legendary.
Only the mightiest hot dog warrior will seize victory and claim the coveted title of Hot Dog Eating Champion, along with a mind-blowing prize of $500! Whether you're a fearless competitor or an enthusiastic spectator, this thrilling summer spectacle promises an unforgettable experience. Don't miss out on this blazing-hot extravaganza that will ignite your senses and leave you craving for more!
Sunday, July 2nd  – Doors open at 4 PM | Contest at 5 PM | Winner gets $500 | Advance tickets $5 | 21+
More information here.
Tuesday, July 4th – Independence Day!
Here are some great options for Fireworks viewing around the Bay area:
Tampa –
1.The Heights District Fourth of July Celebration @ Armature Works 3pm – 10pm
2.5th Annual Star Spangled Sparkman @ Sparkman Wharf, Channelside 4pm
3.Busch Gardens fireworks at nightfall
4. Temple Terrace 48th Annual fireworks display 6pm – 10pm
St. Pete –
The Fourth St. Pete @ The Pier. The great tradition at Spa Beach at the Pier approach continues. 4pm – 10pm
Clearwater –
As already mentioned, The Florida Orchestra will be at Coachman park at the new Sound music venue with fireworks to follow.
Safety Harbor-
Fourth of July Fireworks @ Waterfront park 9pm
New Port Richey–
Starkey market Fourth of July Extravaganza @ Starkey market 4pm – 10pm
Largo-
Fouth of July Fireworks @ Largo Central Park 6pm
Have fun and stay safe out there!
Cindy
Send your events to: cstovall5@gmail.com