Food, toys, music, art, baseball – Summer's sizzling events in Tampa Bay can't be beat. Check out the best of the best this weekend including the #SpotlightEvent of the week.
Thursday
Rock the Park
Curtis Hixon Park, Tampa
Rock the Park Tampa is a free monthly music series showcasing Central Florida's music talent of all genres. It is held at Tampa's Curtis Hixon Waterfront Park on the first Thursday of each month. For 12 years, the Tampa Downtown Partnership & Brokenmold Entertainment have been producing this series. This week's lineup:
Performers::GoldenEra, The Headtones, Filthy Royalty
Food by JAM DISH (authentic Jamaican)
Brought to you in part by: Tampa Downtown Partnership & Brokenmold Entertainment
Thursday, July 6th @6:30 pm  More information here.
Concert Corner
Three big concerts this weekend at two big venues appeal to multiple musical tastes. Here's what's up:
Match Box 20 @MidFlorida Credit Union Ampitheatre –   Rob Thomas still at the helm of this turn-of-the-millenium foursome, makes this a hot ticket. Their new album, Where the Light Goes, is featured along with their biggest hits.
Saturday, July 8th @7:30pm
Tickets Here
Foreigner @ MidFlorida Credit Union Ampitheatre – It's back to the 70s for you with one of the most popular bands of the decade. It's billed as "The Historic Farewell Tour," so see them now before they fade into music history.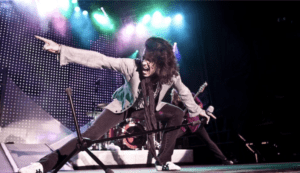 Sunday, July 9th @7pm
Tickets Here
Luke Combs World Tour @Raymond James Stadium – The Forever After All Country Music superstar comes to town for two dates this weekend. The newly released album Gettin' Old is featured. Special guests Riley Green and Lainey Wilson, Flatland Cavalry, and Brett Cobb open for Combs.
Friday & Saturday, July 7th & 8th
Tickets Here
Friday
First Friday Art Walk
Beach Blvd, Gulfport
Visit Gulfport Art Walk every First Friday. We're excited to see new work from some of our area's most talented artists.
Making its debut as a premiere art walk in Pinellas County in 1993, Gulfport's First Friday Art Walk welcomes the region's most innovative artists for a showcase of creativity and community among the vibrant restaurants and storefronts along scenic Beach Boulevard.
Hosted by the Gulfport Merchants, who want your family to have an entertaining night on the town while enjoying  locally owned businesses, restaurants, and the arts.
Friday, July 7th @5pm – 9pm  More information here.
Tampa Bay Rays vs. Atlanta Braves
Tropicana Field, St. Pete
Just this week, our Rays were toppled from the top spot in they've held in baseball's standings since the season opened. This weekend, the team that took over that #1 spot, the Atlanta Braves, comes to town. It's a big showdown and the boys in blue need our support. Tickets start at only $10, so get out to the Trop and cheer the Rays back into MLB's top spot.
Friday @6:40pm (games on Saturday & Sunday too) Tickets and more information here.
***Spotlight Event of the Weekend***
Nearly half century of bringing the best in local music at a mind-blowingly unique locale, puts the Blueberry Patch in the #SpotlightEvent this week.
46th Anniversary & Open Mic Featuring Rebekah Pulley
The Blueberry Patch, Gulfport
If you've never been to the Blueberry Patch, you're in for the funkiest tie-dyed experience of your life. The 46th Anniversary of peace, love, & blueberries is as good a time as any. Come and celebrate with an evening of excellent Music, Spoken word, and maybe even some comedy, or come on out to just have a groovy time with all your closest friends.
Open Mic Night is hosted by Miguel Lantigua, so get signed up through him. but make sure to arrive early to sign up, as this event fills up fast. Doors open at 7, the first musician starts at 8pm, and the open mic will go till 10, and then the featured artist Rebekah Pulley will be playing for the last hour. All participants will receive a voucher for future events ($5 value) at the Blueberry Patch. Open acoustic jams are encouraged after the open mic until closing.
Friday, July 7th @7pm – Midnight More information here.
Saturday
2nd Annual R&B and Seafood Festival
Grand Villa, St. Pete
Seafood, live Rhythm & Blues, and great shopping from local vendors – what a great Saturday afternoon plan! Saturday Shoppes is all about supporting local business and bringing fun and unique events to our community. Bring friends and family and enjoy.
Saturday, July 8th @2pm – 6pm. More information here.
Opening Reception: Psychedelic Members Show
The Morean ArtsCenter, St. Pete
It's time to bring out the lava lamps and the bell bottoms: the Morean is going Psychedelic this summer. Member artists have submitted ONE work of art in any medium with the theme of Psychedelic. Think 1960s-70s, bright colors and patterns, or any way you'd like to interpret the theme. You're invited to see what our members have come up with!
Saturday, July 8th @5pm – 8pm More information here. (Show runs through July 24th)
Instant Nostalgia: Photographs by Harvey
The Studio @620, St. Pete
A selection of photographs from local photographer Harvey will be presented during Second Saturday Art Walk on July 8, 2023 from 5-9PM. Known for placing nude figures in popular, iconic settings, Harvey's black and white photographs are intended to make people smile. "The more you smile, the longer you live," the photographer said recently. This exhibition will have updated new original works in addition to some of his better known pieces. Please note, because of the nudity contained in these photos, this event is intended for adults over the age of 18. Admission is free. Free Admission
Saturday July 8th 5PM – 9PM  More information here.
Sunday
Tampa Toy Con
Florida State Fair, Tampa
It's everything your kids (or the kid in YOU), could possibly dream of – dozens of toy lines from vintage to today. There will be multiple gaming tables, including retro systems and games. There will also be comics and artists – almost 200 tables of all your favorite "stuff." Only the Fairgrounds could hold it all! What a great Sunday, Funday family activity.
Sunday, July 9th @9am – 4pm More information here.
Second Sunday Market & Art Walk
Armature Works, Tampa
Spend your Sunday strolling through the Gathering event space, perusing the carefully curated, local market of artisanal makers and merchants selling handmade goods, jewelry, apothecary, candles, apparel, and more. After shopping the boutique-style market, step outside underneath the Western awning for the monthly Art Walk. Featuring art from local and regional artists, guests can enjoy live paintings and purchase unique, one-of-a-kind art.
Sunday, July 9th @11am – 3pm More information here.
Have fun and stay safe out there!
Cindy
Submit your events to: cstovall5@gmail.com