Whether you're into ballet or ferris wheels and cotton candy, we've got you (and Mom) covered in your Weekend Top 10. Enjoy a memorable Mother's Day weekend in Tampa Bay with our specially curated list of the coolest events from all over the area. Look for our "Featured Event" of the week and enjoy.
Thursday
7th Annual Tampa Fringe Festival
Multiple Venues in Tampa & Ybor City
Grab Mom and let her Fringe flag fly. This fringiest of festivals is back for a 7th year with 34 different shows and over 100 individual events…phew. That's a lot of entertainment packed into five days. Tampa Fringe is an international festival of indie performance – from stand-up and improv, to theatre and dance, to weird performance art. Ticket costs are kept reasonable, so you can enjoy as many offerings as you possibly can. Special kids Fringe events are scheduled for Saturday and Sunday from 11am – 2pm.
Runs through May 14th. Tickets, performance and event schedules, locations, and more information here.
Newly Opened – Alice
Jobsite Theater @ The Jaeb – Straz Center, Tampa
An exceptional night of innovative theater is alway a perfect Mother's Day gift! Following the success of 2021's Jobsite-produced Shockheaded Peter, the company presents ALICE, a new, homegrown production based on the works of Lewis Carroll. Featuring music by Jobsite's resident composer, Jeremy Douglass, this cabaret spectacle will combine live music, visual art, puppetry, aerial and circus arts, plus plenty of good old fashioned theater magic for an uncategorizable evening audiences surely will be talking about for many years to come.
May 10th through June 4th. Tickets, performance schedule, and more information here.
Opening – The Revenge of the Space Pandas by David Mamet
The Off-Central Theatre, St. Pete.
(or Binky Rudich and the Two-Speed Clock)
Binky Rudich, his friend Viv, and his almost human sheep Bob tinker with a two-speed clock with the idea that, as Binky says, "Time on Earth moves at the same speed all the time, but there is another speed, a slower speed, and if we could find it, everything would stand still on Earth and we would spin off." And they do! To Crestview, Fourth World in the Goolagong System, ruled by George Topax and guarded by the Great Space Pandas. The excitement really begins when the Supreme Ruler commands that Bob be brought to him, never again to leave Goolagong, and he steals the two-speed clock just to make sure. Only a very serious playwright could produce such an insane
DIrected by Education Program Director, Katie Calahan.
May 11th through May 21st. Tickets and more information here.
*Early Warning!*
The Psychedelic Furs in Concert with Evan Dando
Nancy & David Bilheimer Capitol Theatre, Clearwater
Another cool gift idea for Mom – This concert is scheduled for May 18th (next week), but tickets are going fast, so I wanted to give you a heads up. Born out of the UK rock scene and led by vocalist and songwriter Richard Butler, and his bass-wielding brother Tim, the Furs quickly developed as one of the premiere bands at college and alternative radio scoring a multitude of major hits with Love My Way, Pretty In Pink, Heaven, The Ghost In You and Heartbreak Beat.
Evan Dando rose to fame as the frontman and songwriter of the Boston pop-punk band The Lemonheads. The Lemonheads have released 10 studio albums and have created hits such as Into Your Arms, The Outdoor Type and If I Could Talk I'd Tell You. Dando has also embraced a successful solo career and was inducted into the Boston Music Awards Hall of Fame in 2015.
May 18th @8pm (Doors open at 7). Tickets and more information here.
Friday
MacDill AFB Carnival
MacDill AFB, Tampa
A special weekend for military families and all with base access, the MacDill Carnival transforms the base into a wonderland of family fun – 18 free rides, food trucks, a midway with games of skill. There will also be a beer garden, DJ and Karaoke, as well as live bands. It's all the best of your childhood memories ready to share with a new generation of carnival goers.
May 12th & 13th @10am – 8pm.   More information here.
Saturday
Inaugural Chalk Art Festival
The Deuces on 22nd St. S, St. Pete
Pinellas Diaspora Arts Project, (PDAP) is hosting the inaugural Tampa Bay Chalk Festival on Saturday.
The sidewalks of 22nd street between 7th Avenue South and 9th Avenue South on the historic Deuces will be transformed into a kaleidoscope of colorful squares as professionals, beginners, and everyone in between are invited to register to take part as artist or viewer.
Come see the streets transformed into works of art. It's pretty amazing to see.
May 13th @ 8am
. More information
here
.
Both Sides of the Bay Cabaret
Multiple Venues St. Pete and Tampa
This is the first collaborative cabaret produced by Think Tank Theatre, partnering with freeFall and Stageworks Theatres to bring us two evenings of premier entertainment. Bring Mom and enjoy and evening of musical performances from every genre of music by talented local performers – this Saturday at freeFall and next Saturday at Stageworks.
May 13th @ 7pm. Tickets and more information here.
Sunday – Mother's Day
There are a number of great brunches (Tradewinds has a lovely one), weekend art walks and markets (Armature Works has a special Mother's Day theme this weekend)), and other classic Mother's day fare. Here are a few more ideas 'outside the box,' for a memorable day for Mom.
*FEATURED EVENT* Raymond James POPS in the Park! The Florida Orchestra
Julian B. Lane Riverfront Park, Tampa
Take Mom to this very special event. Pack a blanket and picnic for free music under the stars. Perfect for date night or family time, featuring film scores, Broadway hits and symphonic favorites. It's bee a Florida Orchestra tradition for almost 30 years. Chelsea Gallo conducts.
Be sure to bring your non-perishable goods for Tampa Bay Harvest's annual food drive at all parks concerts.
May 14 @7:45pm.  Tickets and more information here.
Melissa Etheridge in Concert
Ruth Eckerd hall, Clearwater
Concert tickets are always a great Mother's Day gift. Academy Award and multi-GRAMMY® Award-winner Melissa Etheridge returns to Ruth Eckerd Hall! Melissa Etheridge stormed onto the American rock scene in 1988 with the release of her critically acclaimed self-titled debut album. Her popularity grew around such memorable originals as "Bring Me Some Water," "No Souvenirs", "Come To My Window" and "Ain't It Heavy". Known for her confessional lyrics and raspy, smoky vocals, Etheridge has remained one of America's favorite female singer-songwriters for more than two decades. As a performer and songwriter, Etheridge has shown herself to be an artist who has never allowed "inconvenient truths" to keep her down. Don't miss Melissa Etheridge's return to Clearwater only at Ruth Eckerd Hall!
May 14th @7:30pm (Doors open @6:30pm). Tickets and more information here.
Sleeping Beauty – Ballet Academy of St. Petersburg
The Palladium, St. Pete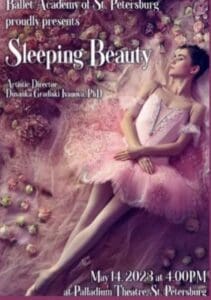 The Sleeping Beauty ballet, composed by the famous Tchaikovsky and choreographed by Marius Pepipa, is the ultimate romantic ballet, an enchanting tale based on one of the most beloved fairy tales of all time.
The Sleeping Beauty ballet focuses on conflict between good (personified by the Lilac Fairy) and evil (the witch Carabosse), with the repeated use of two musical themes representing each of the forces. The ballet consists of a prologue and three acts.
May 14th @4pm  Tickets and more information here.
Have Fun and stay safe out there!
Cindy