The Wearin' of the Green returns to Tampa Bay this weekend, but there is also great new theater, fresh flowers in a waterfront museum, an artist enclave tour, and several massive community sales you definitely don't want to miss! Here are my top 10 choices for things to enjoy this weekend in Tampa Bay. Enjoy!
Thursday and Beyond
Opening – Art in Bloom 2023
Museum of Fine Arts, St. Pete
For over two decades, this annual right of Spring has brought thousands of visitors to the MFA to view the fresh floral interpretations of great art designed by invited florists, garden and ikebana club members, and artists. Full disclosure, I have participated for many of those years. Some 50 elaborately designed arrangements adorn the galleries and have a visual impact that brings increasing numbers of visitors to the museum each year. There are accompanying events like tonight's "Flowers After Hours" reception, a luncheon with keynote at the Vinoy and "Conversations With the Designers" on Sunday where visitors can speak one on one with the creators of the arrangements. It's truly a beautiful 4-day event. Don't miss it.
March 16th – 19th Tickets, museum hours and more information here.
Misery – By William Goldman, adapted from the novel by Stephen King
Shimberg Playhouse, Straz Center, Tampa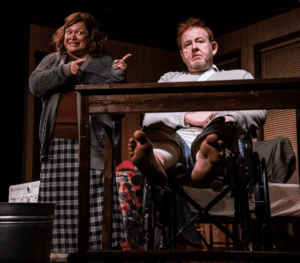 Jobsite theater at the Shimberg has opened Misery this week – the classic and highly disturbing story based on the Stephen King novel. What's most chilling about this one is it's total feasiblility. A romance novelist is rescued by Annie, his "number one fan" and then held prisoner in her home until he agrees to bring her favorite character, Misery, back to life. All I can say is keep your sledgehammers to yourself… Producing Artistic Director, David Jenkins stars with his partner on stage, and in life, Summer Bohnenkamp. Jump on this one. Tickets are going fast.
March 15th – April 9th Tickets, performance schedule and more information here.
Friday – St. Patrick's Day
Paddy Fest St. Pete
Williams Park, DTSP
Jameson Irish Whiskey is partnering with the City of St. Pete to bring you what is being billed as "the largest ever" St. Patrick's day celebration in St. Pete history! It's an all-day party outside in Williams Park with tons of Celtic-centered activities, great food, and a vendor market.
Here's what you can expect:
Irish food – corned beef & cabbage, fish 'n chips, etc – Live Irish music (including world champion Dunedin Pipe Band) and dancers – yard games – food trucks – multiple TVs to watch March Madness Basketball. They've thought of everything! Admission is $5 and includes a free green beer. Limited VIP tickets are available. Proceeds benefit Ocean Aid 360.
March 17th @10am-10pm Tickets and more information here.
River 'O Green Fest
Curtis Hixon Waterfront Park, Tampa
Originally scheduled for Saturday, the festival is now on for Friday, St. Patrick's Day. Head downtown for a fun family festival of live music, kids activities, food trucks, and plenty 'o beer. The coolest part? Seeing the mighty Hillsborough River turned the brightest shade of green in honor of the day. Get your SPD celebration on with this family friendly community event. Free to the public
March 17th @4pm – 10pm  More information here.
**Bonus** Right next door to Curtis Hixon is Four Green Fields, a wonderful Irish pub where you'll find truly authentic bites like Celtic Eggs, Shepherd's Skins, and Reuben Rolls. It's a hidden gem, so check it out.
Safety Harbor's 3rd Friday Street Celebration (Pet Friendly)
Downtown, Safety Harbor
This much-loved Dog-Friendly monthly community event has been reimagined to benefit the Safety Harbor business community.
Nine blocks of Main St. will come together to showcase the restaurants, bars, shops and nonprofits in this vibrant community.
The street is wet-zoned so that you can purchase and enjoy alcoholic beverages from your favorite establishment within the event footprint and stroll along nine blocks of Main St. which is alive with entertainment, activities and shops open late.
March 17th @6pm-10pm More information
here
.
Opening Night – All Shook Up
St. Petersburg City Theatre, St. Pete
Elvis and the Bard – together at last! The music of Elvis comes alive in All Shook Up!. Inspired by Shakespeare's Twelfth Night, All Shook Up follows a small Midwestern town that is thrown into a frenzy with the arrival of Chad, a good-looking, motorcycle-riding roustabout, who rides from town to town with a guitar on his back, blue suede shoes on his feet, and a song in his heart.
March 17th – 26th Tickets, performance times and more information here. Support Community Theater!
Saturday – Rummage Sale Saturday
Historic Old Northeast Annual Yard Sale
Old Northeast Neighborhood, St. Pete
If you're familiar with the Old Northeast, you know that the homes are beautiful, and the annual yard sale is off the chain. The Historic Old Northeast Neighborhood Association organizes this highly anticipated annual sale open to the public (Only HONNA members can be sellers). You will surely find many treasures that you simply must have and take home. Over 30 homes are currently signed up for your one-stop treasure hunting. There are no set hours listed, but get there early for the best finds.
March 18th All Day Get more information and a list of participating homes here.
35th Annual Eckerd College SAR Marine Yard Sale
Eckerd College, St. Pete
Calling all boat lovers!! The 35th Annual Marine Yard Sale to benefit Eckerd College Search and Rescue (EC-SAR) is a community event with a good cause—funding the student-volunteer maritime search and rescue team. Find great prices on used sailboats, powerboats, electronic equipment and motors! Peruse hundreds of secondhand offerings and meet the team of highly trained volunteer students and alumni who provide maritime search and rescue to Eckerd College and the Tampa Bay–area boating community.
Location: Eckerd College Waterfront Free to the public
March 18th @9am-12pm More information here.
Artsy Rummage Sale
St. Pete Artworks, Grand Central District, St. Pete
Artists have "stuff." This is just the nature of the beast. But every once in a while, like this Saturday, they get together to sell their supplies and work to make room for the new "stuff" needed to move their creative pursuits forward. The Gulf Coast Artist's Alliance hosts this artsy rummage sale and annual fundraiser featuring gently used arts and crafts supplies, artwork,prints, books, frames, fabric, jewelry, displays, equipment, and more. This program is produced with the support of the NEA (National Endowment for the Arts) through Creative Pinellas, and the Pinellas County Board of County Commissioners.
March 18th @ 10am-3pm . More information here.
Saturday & Sunday
Artist Enclave of Historic Kenwood – Annual Artist Studio Tour
Kenwood Neighborhood, St. Pete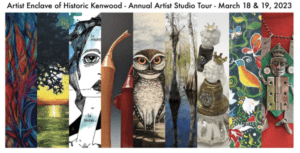 This tour is free, self-guided, and open to the public. See local artists at work in their studios & get the chance to purchase original art!
Enjoy two days exploring the art & culture-filled neighborhood of Historic Kenwood where artists live and work.
Throughout Historic Kenwood, more than 30 artists will be presenting their artwork at 21 stops and let you get a glimpse of their creative process in their homes and studios. You will experience a variety of work ranging from emerging artists to internationally recognized professionals – from visual artists to musical performers.
March 18th & 19th @10am – 5pm each day
More information and studios location map here.
Sunday – Bonus Event
17th Annual Taste of South Tampa
Tampa Garden Club, Tampa
Join your friends and neighbors for a day fun in the sun while enjoying food and beverage samples from South Tampa's best restaurants, live entertainment, beer garden, games, prizes & more! ​Enjoy this tasty experience as you indulge in an afternoon tasting 25+ local Tampa restaurants. The Taste of South Tampa, presented by Older Lundy Koch & Martino, is an annual event hosted by the South Tampa Chamber. This is a cash-free event. Purchase tickets to get your goodies.
March 19th @1-4pm.  Purchase tickets and get more information
here
.
Have fun and stay safe out there!
Cindy
Send your events to cstovall5@gmail.com