Think of it as a weekend of transition. It's your last chance to see four must-sees, but there's also new art everywhere — openings, auctions, even art wars. And… Tampa Theatre's back!
Color Riot! Illuminating, exhilarating show of Navajo textiles rooted in a time from 1875 to 1910 when Navajo weavers began experimenting with color and form. Their work remains dazzling, and influential, today. Through Sunday, Museum of Fine Arts, St. Petersburg, mfastpete.org.
"The Office" Murder Mystery Tour. Even if you're not up on your Office trivia, you'll still have a great time at this very funny outdoor whodunnit. The ever-inappropriate Michael Scott leads audience groups on a quest through "Scranton" (aka downtown Clearwater) to solve the mystery of the Scranton Strangler, encountering various Office reprobates along the way. Through Sunday, various times. Bilheimer Capitol Theatre, Clearwater, rutheckerdhall.org.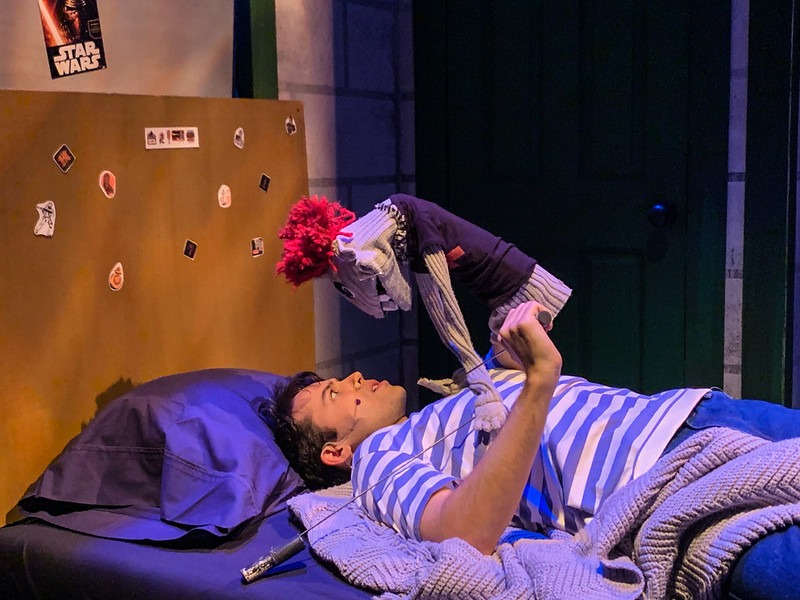 Hand to God. In a year that has seen many tour de force performances in area theater productions, Nick Hoop's virtuoso turn as shy Jason and the demonic hand puppet who possesses him is perhaps the most astonishing of all — equal parts hilarious and horrific. And the rest of Jobsite's solid cast ain't too shabby, either, with director David Jenkins finding both the tenderness and the threat inherent in Robert Askins's Tony-nominated play. Through Sunday, Jobsite at the Jaeb, Straz Center, Tampa, jobsitetheater.org.
Leslie Neumann at The Hermitage. It's not exactly a closing — just the "closing reception" for landscape artist Leslie Neumann's show in the lobby gallery of the downtown St. Pete apartment tower The Hermitage. The building's partnership with the Morean Arts Center has yielded some stunning shows for residents and visitors — none moreso than this one, in which Neumann's paintings seem to glow from within, ablaze with mystery and vibrant color. It will be up through Mar. 28, but you might want to check it out before everything's sold. Closing reception: Thurs., Mar. 11, 5-7 p.m., The Hermitage, 151 7th St. S., St. Petersburg.
Tampa Theatre reopens. And they're doing so with a bang, kicking back into in-person movie-viewing mode with Anthony Hopkins's sure-to-be-Oscar-nominated turn in The Father as an elderly man losing his grip on reality, with Olivia Colman as his increasingly concerned daughter. Mask requirements, social-distancing measures and a new concessions app are among the safety protocols the movie palace has instituted. The Father, Thurs. March 11, 7:30 p.m. Screenings continue through March 21, tampatheatre.org.
Woodson Warriors Scholarship Auction. We've covered artist Jane Bunker's crusade to raise scholarship funds for Black students in Pinellas since 2019, when she raised over $40,000 by auctioning off 20 of her paintings in partnership with the Dr. G. Carter Woodson African American Museum. This year's auction is virtual, with silent bidding going on now and a live event taking place Sunday Mar. 14 from 5-6:30 p.m. Free registration at woodsonwarriors.home.qtego.net. More details about auction items (including works by four other participating artists) in this Tampa Bay Talks interview.
"Artists for Conservation International Exhibit of Nature in Art" at the James Museum. Stunningly realistic depictions of wildlife are a staple of the James's collections, and you can expect more such head-turners in this annual juried exhibition, which has a message to send as well. Sixty paintings and sculptures will celebrate nature and spotlight conservation opportunities, telling stories of natural diversity that is being lost and the human factors affecting it. March 13-May 23, The James Museum of Western and Wildlife Art, jamesmuseum.org.
Art Wars: "Battle for the Burg" and the Guerrilla Art Market at Bayboro Brewing. Eight of St. Pete's top artists — many of them responsible for some of St. Pete's favorite murals — will duke it out Saturday night in teams of two, each team painting a huge wall and competing for votes of the audience. The monthly Guerrilla Art Market will also be taking place on site that evening, showcasing and promoting the work of local artists. Sat., March 13. Art Wars, 6-9 p.m. Art Market, 5-10 p.m. Bayboro Brewing, 2390 5th Ave. S., St. Petersburg. facebook.com/guerrillaartmarket.
"Chef's Special" at Florida Museum of Photographic Art. Portraits by local photographers of the chefs, owners and food gurus of Tampa Bay. A tribute to the resilience of the restaurant community, which has faced so many hardships during the pandemic, as well a chance to see the faces behind your favorite dishes. Through April 11 in the Community Gallery at FMoPA, 400 N. Ashley Drive, Tampa, fmopa.org.
"Serenity" from The Florida Orchestra. Doesn't that sound like just the ticket for these turbulent times? TFO promises "precious moments of beauty and peace" in its "Serenity" program, including Richter's On the Nature of Daylight, an oboe concerto by Albinoni, and two works which, while beautiful in the extreme, carry wrenching associations: Samuel Barber's Adagio for Strings, used memorably in the soundtrack for the Vietnam war film Platoon, and Ahmed Alabaca's Across the Calm Waters of Heaven – A Piece for Peace, written after the mass shooting in San Bernardino, Calif., in 2015, to capture "the inextinguishable spark of human goodness." Sat. Mar. 13, 2 & 8 p.m. Sun. Mar. 14, 2 p.m. Also this weekend: Mozart's Serenade for Winds on Saturday and Sunday at 5 p.m. the.floridaorchestra.org.