Weekend Top Ten 4/9-11: Wrestlers, Shakespeare, Latin jazz & ancient history
Are you ready to rumble? Take your choice between Henry V or Wrestlemania, Rays vs. Yankees or burgers vs. burgers, jazz or classical or Bernstein on Broadway. Or… why not try 'em all?
Antioch Reclaimed at MFA. History both ancient and recent informs this exhibition of rare mosaics unearthed in what was the site of Antioch, a Greco-Roman city in ancient Syria founded in 300 BC. The MFA purchased the mosaics from  Princeton University one year prior to the museum opening to the public 56 years ago, making them the first shipment of art to arrive in the MFA's loading dock. Thanks to loans from the Princeton Archives, the exhibition will also include vintage photographs, letters, telegrams, journals and newly discovered film footage that shows the excavation in progress. "When you step into the galleries," says MFA Senior Curator of Early Western Art Michael Bennett, "you will see the beauty of the art, but you'll also experience what it was like during that ancient time, and in that historical moment of archeological discovery." 4/10-8/22, mfastpete.org.
Henry V at Jobsite. "We few, we happy few, we band of brothers…" King Henry's speech to his troops may be the most famous (and most-quoted) part of Henry V, Shakespeare's rousing history play, but it's the almost-as-famous prologue, in which the Chorus longs for 'a muse of fire" that could conjure up battlefields "within this wooden O," that powers Jobsite's adaptation. With an ensemble of seven fine actors led by Adam Workman in the title role, director David Jenkins plans to fill the "metal O" of the Jaeb with a "tight, taut, and tidy re-imagining" of the show augmented by high-def video and "a blistering industrial score" by Jeremy Douglass. Through 4/25, jobsitetheater.org 
WrestleMania 37. Local legends Titus O'Neil and Hulk Hogan host pro wrestling's biggest event of the year this weekend at Raymond James Stadium, streaming live on Peacock. Headline attractions include a Triple Threat Match between Edge, Daniel Bryan and current WWE Universal Champion Roman Reigns (a Tampa resident); WWE Champion Bobby Lashley vs. Drew McIntyre; and SmackDown Women's Champion Sasha Banks vs. Bianca Belair. 4/10-11, 8 p.m., raymondjamesstadium.com. To hear more about Titus O'Neil and Wrestlemania, watch our interview with him on "Giving Back with Zack."
Second Saturday ArtWalk. St. Pete's Central Arts District, EDGE District, Grand Central District, Warehouse Arts District and downtown Waterfront Arts District invite you to visit their studios and galleries on Saturday at various times throughout the day. Of special note: the reception (5-9 p.m.) for You Good? at the Tully-Levine Gallery in the Warehouse Arts District's ArtsXchange. Sixteen WADA member artists were commissioned to give their interpretation of the phrase "You good?" as part of a campaign to draw attention to mental health issues. 4/10, various times, stpeteartsalliance.org/artwalk.
Rays Home Opener Weekend. Let's just put the last four games behind us and focus on the positive, shall we? Our American League champs are back home in the Trop, ready to raise some banners and (hopefully) beat some Yanks! Friday afternoon's opener is sold out, and the two-person "pods" are gone for the rest of the three-game series on Saturday and Sunday, but there are several other ticketing options available both days. And you can watch on Bally Sports Sun or listen at WDAE 620 AM/95.3 FM. 4/9 at 3:10 p.m.; 4/10-11 at 1:10 p.m., raysbaseball.com.
La Lucha livestreamed from The Palladium. St. Pete's invaluable performance venue is packing the weekend with music, starting Friday night with the latest in its Palladium Live! streaming series, a performance by the Florida-based jazz trio La Lucha. Joined by clarinetist/saxophonist Ken Peplowski and trumpeter James Suggs, the much-loved trio will be playing a Latin-infused mix of jazz standards, "twisted arrangements of pop songs" and original compositions. 4/9, 8 p.m. For information on how to watch via mandolin.com, go to mypalladium.org.
Tampa Bay Symphony live at The Palladium. Music Director Mark Sforzini and the mega-talented volunteer musicians of the Tampa Bay Symphony return to the Palladium for a limited-seating, no-intermission concert featuring Tchaikovsky's Serenade for String Orchestra in C Major and Richard Strauss's Suite in B-flat for wind instruments. Sun. 4/11, 2 p.m.; Tues., 4/13, 8 p.m., Hough Hall, The Palladium, mypalladium.org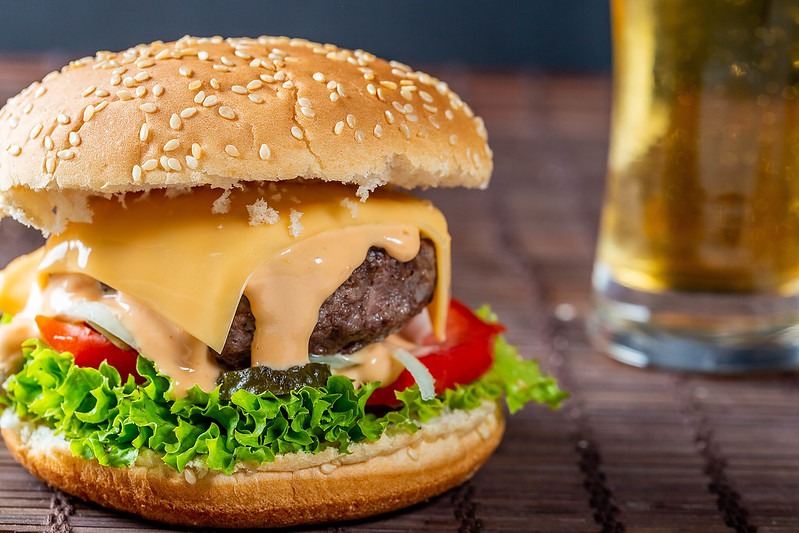 Pasco County Beer & Burger Festival. Nothing says springtime like a cookout and beer, but be forewarned: This event is open only to the first 2,000 guests to arrive, and masks and social distancing are highly recommended. Attendees get to vote on the best beer and burger in Tampa Bay, though only adults 21+ with ID can partake in the Craft Beer Sampling from 12-3 p.m. 4/10, 12-8 p.m., Land O' Lakes Heritage Park. $15. Kids under 12 get in for free.
Oscar shorts at Tampa Theatre. You've still got time to catch up with this year's Oscar-nominated shorts, which — as fans already know — are often among the year's best Oscar-nominated movies, period. Make a weekend of it at Tampa Theatre, where you can see the documentary shorts on Saturday night at 7:30, and the live action and animated shorts on Sunday at 3 and 6:30, respectively. And if you haven't seen the exquisite Best Picture nominee Minari, you can catch that on Saturday at 3:45.  4/10-11, tampatheatre.org.
Bernstein's New York at freeFall. This was previewed in last week's Top Ten, but now that I've seen it I want to give a special shout-out to freeFall's latest drive-in theater production. Two terrific performers, Julia Rifino and Emanuel Carrero, sing and dance their way through Leonard Bernstein's NY-centric musical oeuvre, including not just West Side Story but several numbers from Wonderful Town and On the Town and novelties like the maestro's own "I Hate Music." The on-stage action is augmented by video effects (we see band members in front of iconic backdrops like the Brooklyn Bridge) and vintage images of Bernstein, friends and family. And while we opted for listening via headphones inside our car, which muddied the sound a bit (the better option would probably have been the car radio), the joy and charisma of Rifino and Carrero came through loud and clear. Think of Bernstein's New York as the next best thing to visiting the world's most exhilarating, exasperating, wonderful town. Wednesdays-Saturdays through 5/9. All performances at 8 p.m.  freefalltheatre.com.