As my friend Tim says, "If you're bored in Tampa Bay, you have no one to blame but yourself!" It's a great weekend for theater, art, music, and family fun. You'll be amazed at the talent right here in our back yard. So get out there and have a blast!
Thursday And Beyond
Wall-E at Movies in the Park
North Straub Park, DTSP
What a wonderful tradition Preserve the 'Burg has created. Each Thursday, through the Summer months, bring your chairs, blam=nkets and picnics to North Straub Park and hang out with friends and neighbors to enjoy classic movies. Disney Pixar's Wall-E opens the season on Earth Day, so some special activities are planned in partnership with the city's Office of Sustainability and Resilience starting with live music by Gent Treadly. Movie starts at dusk. Bring the fam!
April 20th @6:30pm. Free – donation suggested. More information here.
3 Day Event – Opera Cowgirls, LIVE! – St. Pete Opera
Tampa Theater, Tampa and 2 Other Venues
Grand Ole Opry meets grand opera in a marvelous mashup of opera, bluegrass, and country. What clever people we have creating and bringing innovative art and music to Tampa Bay. The credits at huge national venues are too long to list for the Cowgirls, but trust me, it's impressive. This very special event happens over three night at three separate venues in Tampa and St. Pete (also at Opera Central on Friday and The Floridian Social on Saturday). This is going to be a great show and totally unique. Ye haw!
April 20th – 23rd @7:30pm, 8pm and 3pm respectively. Tickets and more information here.
Anastasia The Musical – PCCA
Grand Theatre – Gibbs High School
Here's an opportunity to see great theater at a fraction of the ticket price. The Pinellas County Center for the Arts, aka PCCA, opened its big Spring stage show last night and it only lasts until Saturday, so get your tickets now. Anastasia is the true story of a young woman who claimed to be Czar Nicholas ll's daughter, spared from assassination at the hands of the Bolsheviks during the Russian Revolution. These theater students are incredibly talented and will have you thinking you are in a professional theater.
Runs through April 21st. Tickets and more information here. (search PCCA)
Spring Awakening – The Musical
Eckerd College Theatre
Like PCCA, Eckerd College boasts a prolific and very successful theater program – this one on the college level. Blockbuster musical, Spring Awakening opened last night and runs through Saturday only. Again, for what you get, tickets are a bargain. It's a chance to see great theater without breaking the bank. Spring Awakening is a coming of age story, set in two time periods. The score is classic by now and the story provacative, funny, and tragic. Directed by Gavin Hawk who directed American Idiot earlier this season at American Stage.
Runs through April 21st. Tickets (also available at the door), performance schedule and more information here.
Friday
18th Annual Tampa Bay Caribbean Carnival
Perry Harvey Sr. Park, Tampa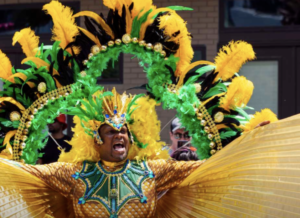 The Annual Tampa Bay Caribbean Carnival has taken place since 2005 by Tampa Caribbean Festival Inc., a 501-C3 organization. With multiculturalism being the central focus, they continue to preserve and enhance the cultural and historical legacy of the Caribbean. check out the amazing live music, special performances and great food. You'll love it
April 21st-23rd  Tickets, schedules and more information here.
Spring for the Arts
Nova 535, St. Pete
Come on down to Nova 535 for a party that will touch your heart and revive your faith in the goodness we all possess. Once again, Creative Clay hosts the event of their fundraising year for the benefit of member artists and their families living with disabilities. Equality and Inclusion through art is what it's all about and Creative Clay works toward that mission every day.
April 21st @6-9pm Tickets and more information here.
Saturday
Tarpon Springs Sponge Dock Craft Festival
Sponge Docks, Tarpon Springs
Get ready to explore the craft festival that's taking over the docks of the historic Greek town of Tarpon Springs. This exciting event showcases thousands of unique and creative creations from both local and visiting fine artists and crafters.
As you wander through the festival, you'll discover one-of-a-kind restaurants, bakeries, boutiques, and shops that promise to provide a full day of discovery and creativity for visitors of all ages. With so much to see and do, this free, weekend-long event is the perfect destination for anyone looking for a fun-filled day of artistic inspiration.
April 22nd & 23rd @10am. Free admission. More information here.
48th Annual Mainsail Art Festival
Vinoy Park, DTSP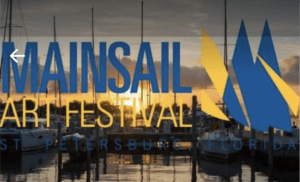 Ranked one of the top 14 art festivals in the country, Mainsail has been going strong for almost half a century in DTSP. I myself have a number of items from glass sculptures to a cutting board with beautiful inlaid detail that are all over 20 years old. It's two full days of strolling by the Bay, viewing amazing art and listening to great live entertainment. Can you think of anything better than taking part in a cherished Tampa Bay tradition? I thought not. This show is juried so root for your favorite local artists.
April 22nd @9am-6pm & 23rd @10am-5pm  More information here.
22nd Annual Classic VW Car Show
Pier 60, Clearwater Beach
Here's an event where bugs are welcome! Part of the Pier 60 Sugar Sand Festival, the classic VW car show is coming your way! Take a drive down memory lane and check out some amazing vintage rides. It's a last chance to check out all the amazing sand sculptures before they disappear.
April 21st @10am  More information here.
Sunday
Dog Day at the Rays with Dog Moms of Tampa Bay
Tropicana Field
Join the Dog Moms of Tampa Bay and the Tampa Bay Rays at Dog Day at the Rays at Tropicana Field. The Rays take on the Chicago White Sox and for just $35 (no service fees) you get a seat for you and your puppy pal in the GTE Financial Party Deck and a Dog Day at the Rays-themed item. $5 from EVERY ticket sold will be donated to Safe Paws Animal Rescue in St. Petersburg.
NOTE: Each ticket is for one human and their pup. Fans with two or more dogs must have an additional adult "owner" accompanying the additional canine. You must sign a waiver stating that your dog's vaccinations from a licensed veterinarian are current. All dogs must be leashed (no retractable leashes) and licensed.
April 23rd @ 1:40pm  More information here. (DM Dog Moms for tickets – they are limited)
Monday
BONUS EVENT!
Motown Mondays
The Floridian Social, St. Pete
I don't know about you, but this Motown lover is very excited about the prospect of a regular Motown night in the "Burg. Well done!
Monday nights will now be a night styled with soul, jazz, rhythm, and blues featuring A.J. Hall. Doors open at 7pm (Same as showtime) 21+
Free event, but reserve your spot on Eventbrite.
April 24th @7pm-11pm.  More information here.
Have fun and stay safe out there.
Cindy
Send your events to: cstovall5@gmail.com