There's that moment in pretty much every Star Trek episode where Captain Kirk calls on his trusty helmsman, Lieutenant Sulu to go to warp speed. 
Then, in a blink of an eye, streaks of incandescent light flash by, there's the surge of unrelenting forward momentum, and generally all hell breaks loose.
This is precisely the same sensation you get from standing on the accelerator of an all-electric Rimac Nevera and feeling the insane 1,914-horsepower thrust. Only add to it the mild discomfort of your eyeballs being squeezed back into their sockets and your internal organs compressing against your ribcage.
If you could get your fearless passenger to active the stopwatch button on your iPhone, you'd see that standstill to 60mph acceleration would take an insane 1.85 seconds. That's quicker than a Formula One racecar.
Keep your right foot planted and you'd pass the 100mph mark in, yikes, 4.3 seconds and, if you were feeling really brave, you'd keep going until the speedo was showing 258mph. Which is the official top speed of this Croatian-built cruise missile, making it the world's fastest production electric hypercar.
So at this point you must be thinking this is some weird one-off, thinly-disguised racecar. Not so. Walk into your neighborhood Rimac showroom – there are three in Florida – and write a check for roughly $2.45 million, and you could be experiencing the kind of adrenaline rush normally reserved for riders of the Vomatron on Daytona Beach. 
But don't dally; Rimac is building 150 Neveras – 50 a year – with over a third already sold. 
Not familiar with Rimac? It's the creation of Croatian visionary, Mate Rimac. From humble beginnings, the 34-year-old  now supplies the electric propulsion know-how to the likes of Aston Martin, Jaguar, Koenigsegg, Pininfarina and Porsche which owns 24 per cent of the company. 
So cash-rich is the engineer that last year he was able to buy a chunk of Bugatti from the Volkswagen Group. 
The flagship of his fast-evolving brand is this astonishing Nevera electric hypercar, which I spent an equally-astonishing morning piloting around West Palm Beach. If you were driving along Highway 710 a few weeks back and saw a lightning flash of white going past at hugely-illegal speeds, that was me. Apologies. 
For the Nevera, Rimac has designed, developed and engineered everything in-house at his rapidly-expanding campus on the outskirts of Zagreb, Croatia. 
That includes the I-beam-stiff carbon-fiber monocoque body structure, the 120-kilowatt-hour battery pack, and quartet of electric motors. Plus the mind-numbingly complex software that runs it all.
Despite its insane performance and technical wonderment, the Nevera was always intended to be an "everyday" hypercar you could drive to work, or take to dinner. Not that you'd want to hand to keys to the kid working the valet-park line. 
Pop the switch to open the high-lifting butterfly doors with their cut-outs in the roof, and you simply step in and lower yourself into the lovely, hip-hugging bucket seat. Getting in to a hypercar has never been easier.
The cabin itself is more functional than fancy, with acres of bleak, black carbon fiber everywhere. Instrumentation is minimal too, with the touchscreen on the center console looking like something out of a Best Buy open-box sale. 
All the major controls are taken care of by the three big rotary dials – two in the middle, one to the left of the wheel. Twist them to control the multitude of drive modes, gear selections and torque distribution settings.
And we're off, mixing it with the cut and thrust of mid-morning West Palm traffic, feeling bursts of that outrageous 1,714 pound-feet of torque on the freeway on-ramp.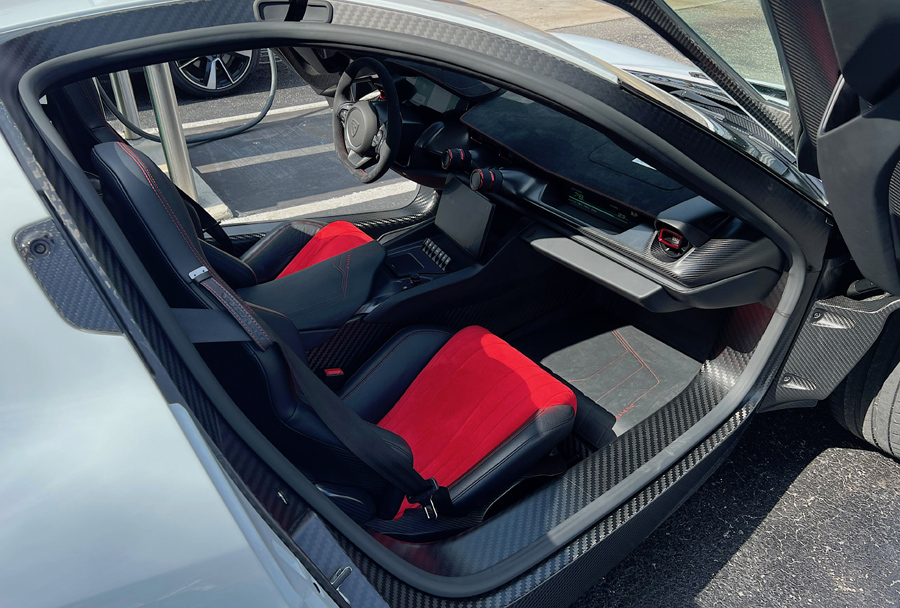 But what is staggering here is how docile, smooth, refined and, yes, relaxed the Nevera can feel. The steering is light and laser-precise, the ride positively Lexus-like and the one-pedal braking a joy.
Then we ease on to Highway 710 and an empty stretch of four-lane blacktop ahead. Slow to walking pace, dial-up Track mode, and hit it. There, in an instant, is that Star Trek warp speed moment courtesy of nigh-on 2,000 horsepower. 
With every Nevera there should be a warning sticker on the dash: Remember to Breathe.