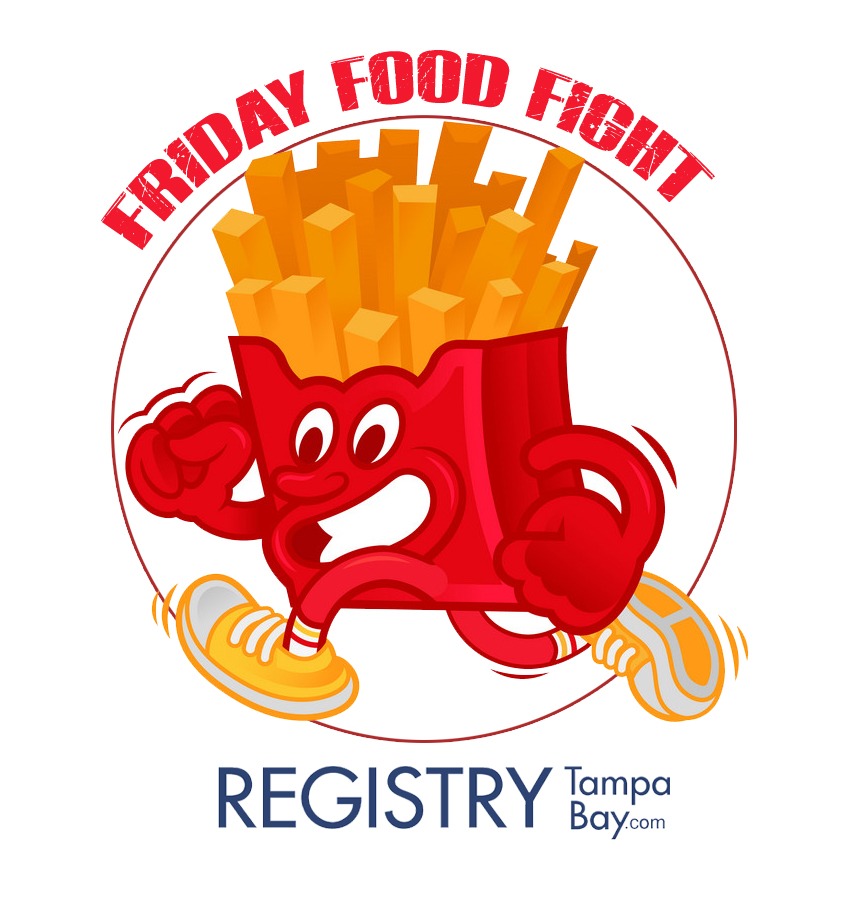 The Croque Madame is the queen — or should I say la reine — of the breakfast sandwich. She boasts the same ingredients as her royal consort, the Croque Monsieur — ham, Gruyère cheese, French-toasted bread — but ups the ante with the addition of a fried egg. The result makes the Egg McMuffin seem a lowly serf by comparison. You just may want to get a note from your doctor before eating more than one.
I didn't obtain such a note, but I did have the immense pleasure of eating the sandwiches. This edition of Friday Food Fight was inspired by the Croque at Sammy + Paco's, the breakfast/lunch spot that opened in May near St. Pete's Historic Kenwood neighborhood. Our usual Fight card — a popular dish by an established restaurant vs. a newcomer's version — is a little blurred this time around, since we chose La Croisette as the opponent. As Beverly's La Croisette, the restaurant was a St. Pete Beach institution for decades, but after Beverly Pedaggi sold the place to Mickael and Natalie Roche it reopened earlier this year as, simply, La Croisette.
So which is the old hand, which is the newbie? Or more to the point, whose Croque Madame deserves the crown?
Read on and see.
[Note: Some say the difference between les croques monsieur et madame is that in the latter the fried egg is placed atop the sandwich, so it resembles a lady's hat. But the egg isn't always placed that way (see Sammy + Paco's), so I'd say the reason for the gendered nomenclature is much simpler: One's got the egg and the other doesn't.]
Criteria:
Crunch: "Croque" translates from French to English as "crunch," so it's an all-important element in the Croque Madame.
Flavor: Do the ingredients meld together well while retaining their individual identities?
Meltiness: Is the cheese hot and sufficiently melted?
Runniness: I believe fried eggs should always be served over easy, but with the Croque the flowing yolk adds just one more measure of deliciousness.
Extras: What are the added touches that make this Croque special?
LA CROISETTE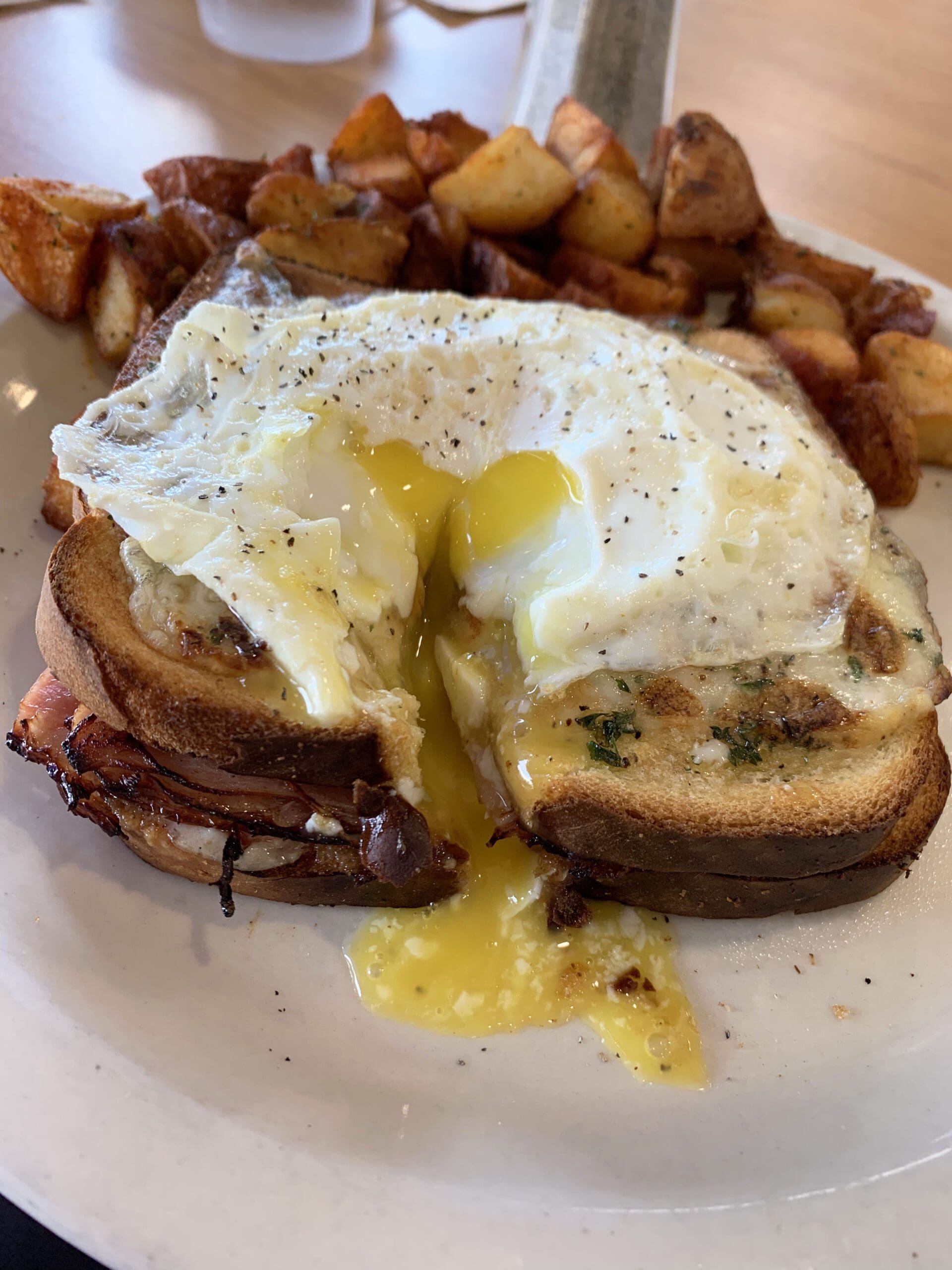 La Croisette's version of the Croque Madame is the familiar one, with the egg perched atop the sandwich. Given that the new owners of the restaurant are French, it makes sense that they're going with the time-honored option.
Crunch: Superbe! Someone knows their way around toasting bread; the crust fairly crackles. You have a choice between white, wheat or rye, but white's the way to go if you want full-on traditional. (There's also a choice between ham or turkey, but go with the jambon for sure.)
Flavor: An herb-flecked bechamel sauce provides just the right mix of savory and sweet.
Meltiness: Thoroughly melted, very tasty Swiss.
Runniness: Yes! The over-easy egg is perfectly cooked to open up the richness of the yolk.
Extras: Gallic charm. Co-owner Natalie Roche is loaded with it; she even complimented me on my lousy high school French.
Caveat: The Croque Madame is on La Croisette's lunch menu only, but since the cafe's lunch hour begins at 11:30 a.m. you can still think of it as a breakfast sandwich. And they serve their delicious pancakes and other breakfast goodies all day.
Price: $10, with choice of side. (I had the home fries; they weren't up to the quality of the sandwich.)
La Croisette, 7401 Gulf Blvd., St. Pete Beach, 727-851-9845, facebook.com/lacroisettestpbeach.
SAMMY + PACO'S
Alex and Kelly Rodriguez named their first two restaurants, Lolita's and Sophia's, after their dogs. With this endeavor, cats Sammy and Paco get a turn in the spotlight. Whichever pets are being name-checked, all of the Rodriguezes' restaurants offer quality ingredients, inventive combinations and a relaxed, friendly vibe. (The couple has a lively catering business, too, so something had to give and, sadly it was Sophia's, which is now closed — sadly because it was a really good Italian restaurant.)
In keeping with the couple's innovative style, their Croque Madame changes things up by putting the egg inside the sandwich instead of on top.
Crunch: Lovely. Not as pronounced as La Croisette's, but just enough to give that toasty feel.
Flavor: The ingredients say it all — not just ham but Rosemary ham; not just one kind of cheese but Gruyère and truffled goat cheese; not mere white bread, but thick brioche — plus French grain mustard and a pour of Hollandaise sauce. Placing the egg at the heart of all this brings everything together in a unified whole, and every forkful (you really don't want to eat this one with your hands) pops with flavor.
Meltiness and runniness: I put these two together because the yolk, the cheese and the sauce all schlurp together beautifully.
Extras: I've named a few, plus it bears mentioning that everything on the menu has that same extra touch of creativity, from Calabrian chili oil and burrata on the Not Your Average Avocado Toast to gruyère grits and chipotle-lime aoli in The Nitty Gritty.
Caveat: The Croque Madame is served only during S+P's weekend brunches. You'll have to wait a while to sample it because the staff is taking a bit of a "cat nap," says Kelly Rodriguez, to rest up from catering numerous events.
Price: $13 (no side)
Sammy + Paco's, 2735 5th Ave. N., St. Petersburg, 727-329-9783, qrco.de/sammyandpacos
AND THE WINNER IS…
These are both excellent renditions of a classic sandwich; you'll be happy with either. But the extra dabs of creativity in Sammy + Paco's version translate into layers of flavor that make it that much better a dish all around. A Queen is crowned!