Y is for Yachts: You're Gonna Need a Bigger Boat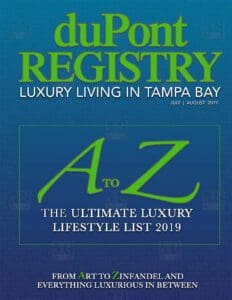 A to Z: The Ultimate Luxury Lifestyles List is duPont Registry Tampa Bay's annual compendium of the best our region has to offer. Each year we choose a different set of categories and then select businesses that are top-of-the-line in each category. This year: Art to Zinfandel (and everything luxurious in between).
Why get a mere yacht when you can get a mega yacht? Like, for instance, Odyssey — the 131-foot, multi-million-dollar boat from Princess Yachts available from Tom George Yacht Group. Did I say boat? It's more like a floating mansion, with five staterooms, dining tables for 10 and 12, salons with plush sofas and surround-sound, LED TVs, an outdoor Jacuzzi, a bathing platform, and timber finishes available in materials like cherry, oak and ebony. Looking for something a little roomier? Head to MarineMax, where they're touting the 155-foot trilevel Ocean Alexander; called a "boat made for boaters," the OA boasts six staterooms and a choice of traditional or contemporary interiors. But if these would be too tight a fit in your boatslip, consider the Regal 42 Grande Coupe from Quality Boats; it's a sleek, handsome 42 feet in hues of "Tahitian Beach White" and "Mediterranean Blue" with walnut flooring, Belgian linens and plenty of other nautical amenities.