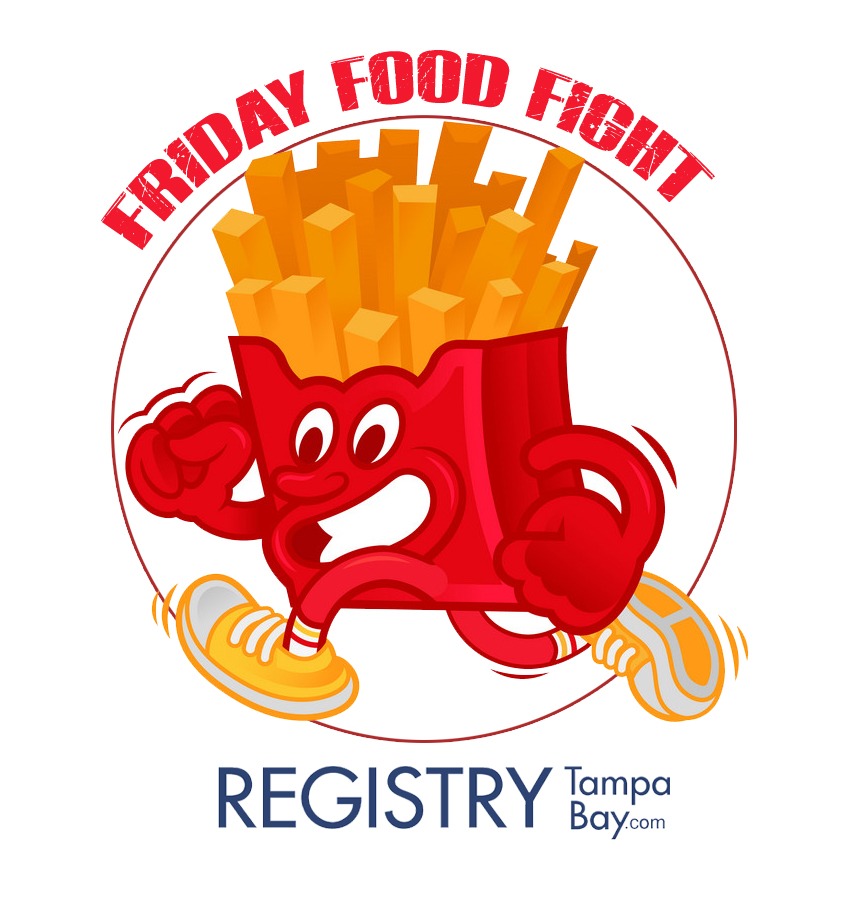 Pretty basic dish, no? But we found some subtle distinctions between the versions at two popular restaurants.
Fish and chips, or fish 'n chips, or fish & chips — however it's spelled, the combo is a menu staple everywhere from British pubs to Florida beach towns. Though it's about as straightforward as a meal as can be — a slab of fried fish accompanied by a pile of fried potatoes — its history is complex. 
The culinary practice of coating fish in flour and frying it in oil is said to have been introduced to Britain by Western Sephardic Jews who immigrated from Holland in the 1600s. But it's not until the 1800s that the dish seems to have achieved wider popularity, with none other than Charles Dickens talking of "fried fish warehouses" in Oliver Twist.
Wikipedia's got lots of other fun info, like the fact that the British government safeguarded fish-and-chips supplies during World Wars I and II. My favorite tidbit is the list of punny names used by UK chip shops, including A Salt and Battery, The Codfather, and one that might require a soothing explanation for younger family members, Frying Nemo. 
But history's not why we're here. We're here to eat right now! And while you might think that something as basic as fish and chips would be pretty much the same wherever you find it, we found some subtle distinctions between what's served at two popular St. Pete restaurants, Stillwaters Tavern on Beach Drive and Tiki Docks in the Skyway Marina District.
Whose fish and chips was a real catch?
Let the chips fall where they may!
TIKI DOCKS
Full disclosure: Having recently moved to the Skyway Marina District, we were happy to discover that Tiki Docks, a sprawling indoor/outdoor restaurant situated right next to the Maximo Marina, was within easy walking distance. Accordingly, we've had a number of chances to try it.
Before our most recent fish 'n chips excursion, the verdict was uneven. A generous shrimp cocktail and tasty mini-crabcakes on our first visit, undrinkable margarita (with volcanic ash or something dribbling down the side) and so-so shrimp fried rice on another. We also attended a big birthday dinner there at which one of our party ordered the fish 'n chips, and the filet was so big that it nearly violated the "Never eat anything bigger than your head" rule (our friend wound up sharing it with her partner). The grandeur of that portion size is what got me thinking that Tiki Docks would be a worthy contender in my fish 'n chips competition.
Also, it's a very pleasant place to be. Opened in 2020 by the Ford's Garage owners in the former location of The Getaway, it has a wide-open feeling, with plenty of outdoor seating, proximity to boat and harbor views, tiki-fied decor (including a dive-bombing shark and a handsy-octopus mural), and a gigantic thatched-roof tiki bar. The big menu goes heavy on beach-bar favorites (tiki rum punch, fish tacos, coconut shrimp) but also offers options for those who prefer burgers, wings or ribs over seafood.
Portion size: Thankfully, our filet was not quite as gargantuan as the serving our friend had at the party, but it was a very generous portion nonetheless.
Batter: The "signature beer batter" on the fish was crisp, not greasy, with an appealing golden sheen. However, it did lose a few adherence points — the coating tended to slide off — and its flavor was OK without being particularly distinctive.
Fish: A fresh, firm, very nice piece of cod.
Chips: Crinkle fries, hot and fresh.
Slaw: The "house-made Hawaiian slaw" is quite tasty, its flavor brightened considerably by chunks of pineapple. 
Beverages: Tiki drinks of all types (including frozen varieties), an overly sweet sangria and a small selection of wine and beer.
Service: Never quite had this experience before — the person at the front desk was so engrossed in her phone that a staffer had to come over and ask if she was OK, startling her into realizing that there were customers waiting. Conversely, when we took seats at the bar and realized it might be a while before we would get a table, we decided just to eat at the bar – and our server couldn't have been more friendly, attentive and efficient. 
STILLWATERS TAVERN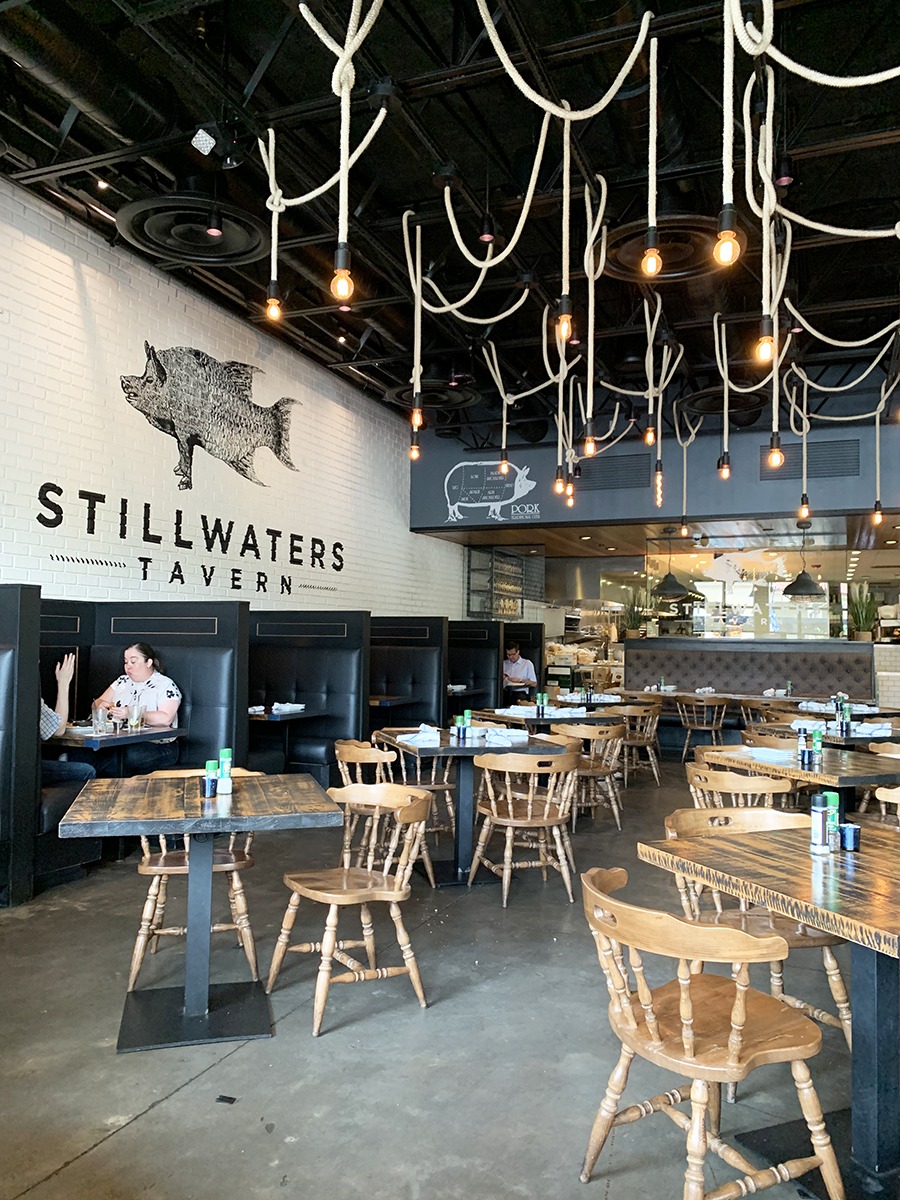 Stillwaters made a splash in 2015 when it opened just a few doors down from Bella Brava on Beach Drive (both are owned by 2B Hospitality) with Top Chef alum Jeffrey Jew as executive chef. Jew has since moved on to open his own restaurant, the wonderful Lingr, but the food and the ambience at Stillwaters are as excellent as ever, making this a go-to for business lunches, festive dinners and post-party cocktails after openings at the Museum of Fine Arts. The decor lives up nicely to the "Modern American Tavern" moniker, all distressed woods, captain's chairs, leather booths and hanging bulbs, and the tables in the wide, covered sidewalk area are prime spots for fresh-air people-watching.
Portion size: More manageable than Tiki Docks' presentation, but not at all skimpy.
Batter: Rather brilliant. Let me add some backstory here: My husband, whenever he orders fish and chips, likes to drench the fish in malt vinegar, a custom favored in Britain and in his home state of Delaware, but which in my opinion (and that of my offended nostrils) invades the table with the smell of dirty socks. But what Stillwaters does is include malt vinegar in the batter, giving it a welcome tang without the unwelcome aroma. There's malt vinegar in the accompanying aioli, too, though it tasted mostly like good ol' tartar sauce to me.
Fish: Moist, flavorful but not overly fishy red snapper.
Fries: Crisp and hot regular-style French fries. 
Slaw: Identified on the online menu as "spicy Asian slaw," it appears on the in-house menu as "Southern slaw." They're the same thing, explained our server, but the 'spicy' part apparently was scaring customers off. Not to worry; it's spicy, but not excessively so and — also not scary — it's a kale slaw, but prepared so the kale is chewy without being tough.
Beverages: Big list of wines, beers and cocktails, several of which are available on tap. I dearly wanted to order my favorite among Stillwaters' on-tap cocktails — the #22 (they're all identified by numbers), a smooth concoction of Buffalo Trace bourbon, cold brew and housemade bourbon bitters — but it seemed a bit much for the middle of the day. The iced tea was good enough, however, to warrant a refill.
Service: The door guy seemed a tad distracted, though not to the degree of Ms. Out-Of-It at Tiki Docks. But our server was great: likable, well-informed and, when he didn't know the answer to a customer question, sought it out from the kitchen. 
So who reeled in the win?
STILLWATERS TAVERN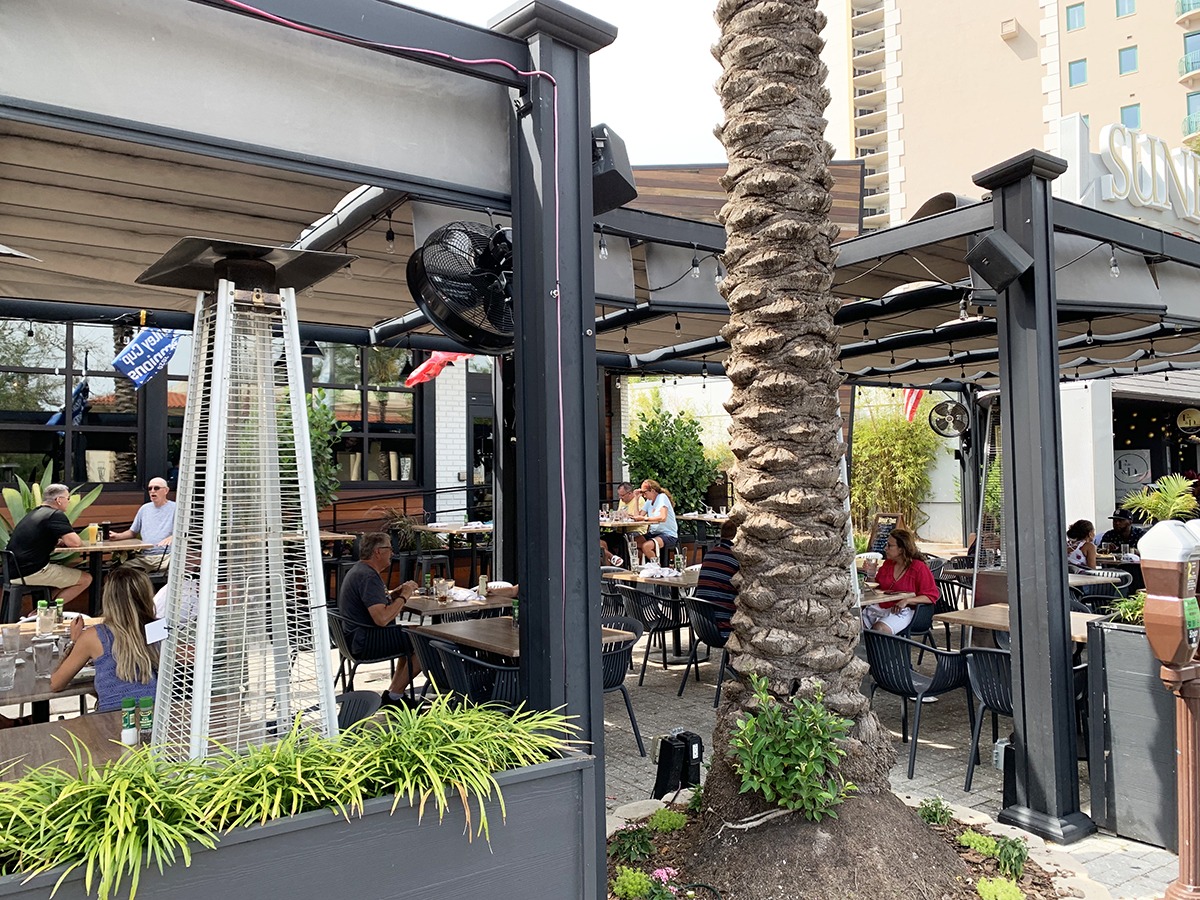 The fish and chips at Tiki Docks was fine, but not remarkable. The Stillwaters version had that something extra which elevated it above the ordinary, as is the case with just about everything on the menu. (My husband had the chicken pot pie, another standard dish taken to the next level.) We'll continue to visit both places, but at Stillwaters we know we're going to like the food as much as the atmosphere.