A story from duPont REGISTRY Tampa Bay's annual Home Design Issue. 
Take an afternoon drive around Tampa Bay, and little monuments to the 1950s and 1960s can be found everywhere: a dentist office with tall windows; a coral-colored condo with a kitschy cursive name; sleek ranch homes with asymmetrical accents. Though recognized for its bungalows and Mediterranean Revival grandeur, Tampa Bay just isn't Tampa Bay without its wide swaths of Mid-Century homes. Houses from the mid-1940s to late 1960s may vary in design, but they share in common an attention to detail and innovative design.
Some are homes of the early post-WWII era. With rounded corners and ocean-liner elegance, these Florida gems were designed before central air and built with jalousie windows and a crawlspace to keep the house cool and ventilated. Some feature bas-reliefs of flamingos or dolphins in the masonry. Others were built during the advent of TV and the space race. They may feature sharp angles and etched boomerang shapes. The '60s slab-built ranch and split-level houses offered spacious floor plans that catered to families.
The best Mid-Century homes "were an embodiment of a hopeful and excited view of a space-age future, which was cosmopolitan and unafraid," effuses Tampa-based architectural designer Mishou Sanchez. "It celebrated the honest beauty of materials and was a fantastic mix of new and old materials." As the fall breezes return, it's a good time to step outside and appreciate these aging, iconic houses, and find out how to restore and furnish them, too.
The Big Boom
Stand-alone suburban homes began to dominate Tampa Bay's landscape in the years right after WWII. The completion of the first Skyway Bridge and Pinellas County's U.S. 19 artery sped the forward drive of progress. Developers courted young vets and their generous mortgages. Northern transplants sought higher temperatures and a lower cost of living.
St. Petersburg alone saw an increase in population of around 47,000 after the war, according to Emily Elwyn, president of the nonprofit Preserve the 'Burg. Many of the developers' names still ring familiar. Former St. Petersburg Times writer Jon Wilson called attention to the builders in segregated neighborhoods of south St. Pete in his Weekly Challenger column: "Though their work was restricted, the names of some of the earliest African-American builders are still remembered, among them Peter P. Perkins, Thomas Kelley Childs, Thomas Hunt and James Boggs."
Some operations were bigger than others. There were the Rutenberg brothers, of course. They tried out their earliest split floor plans in Tampa Bay and other Florida communities, and their corporation, US Home, grew to become the nation's biggest builder in the 1970s.
Bill Payne built under the name of Woodbrook Homes, mainly in Largo. "He had an artistic design plasterer/stucco man who did facades to many of the homes he built," his daughter Christine Poirer explained. "He would also change floor plans to add unusual uses of space, and all the buyers were given their choice of cabinet colors, mica countertops, tile, even bath fixture colors," Poirer said. "They also had a choice of terrazzo flooring colors."
A few miles north, architect Robert Hostetler, a former Pinellas County building director, drove a truck with a cheery sign to his jobs in Clearwater's Skycrest neighborhood. He worked under the name Sunshine Builders, a custom home builder in the '50s and early '60s, said his son Damon. Though many have been modified, the homes in Skycrest still retain that cheer in their design. Front porches with wrought-iron railings and hardwood floors come with some of the early '50s models, and many have lanais with retro broken tile. Bathrooms feature brightly colored tilework and some kitchens were outfitted with solid wood cabinets made of birch or oak. Homes by Hosteteler, Rutenberg and others dot the Jetsons-esque district and feature street names like Meteor, Venus, Saturn and Orion. The neighborhood's name not only reflected the heavens above, but ads touted Skycrest as a whopping 74 feet above sea level.
A Mid-Mod Haven
Though Los Angeles and Miami are renowned for their sleek retro landmarks, Tampa Bay has its own treasure trove of mod.
"Florida MCM, as in California, made a connection between the inside and the outside, and made even small houses seem more spacious," Sanchez said of Florida modern homes.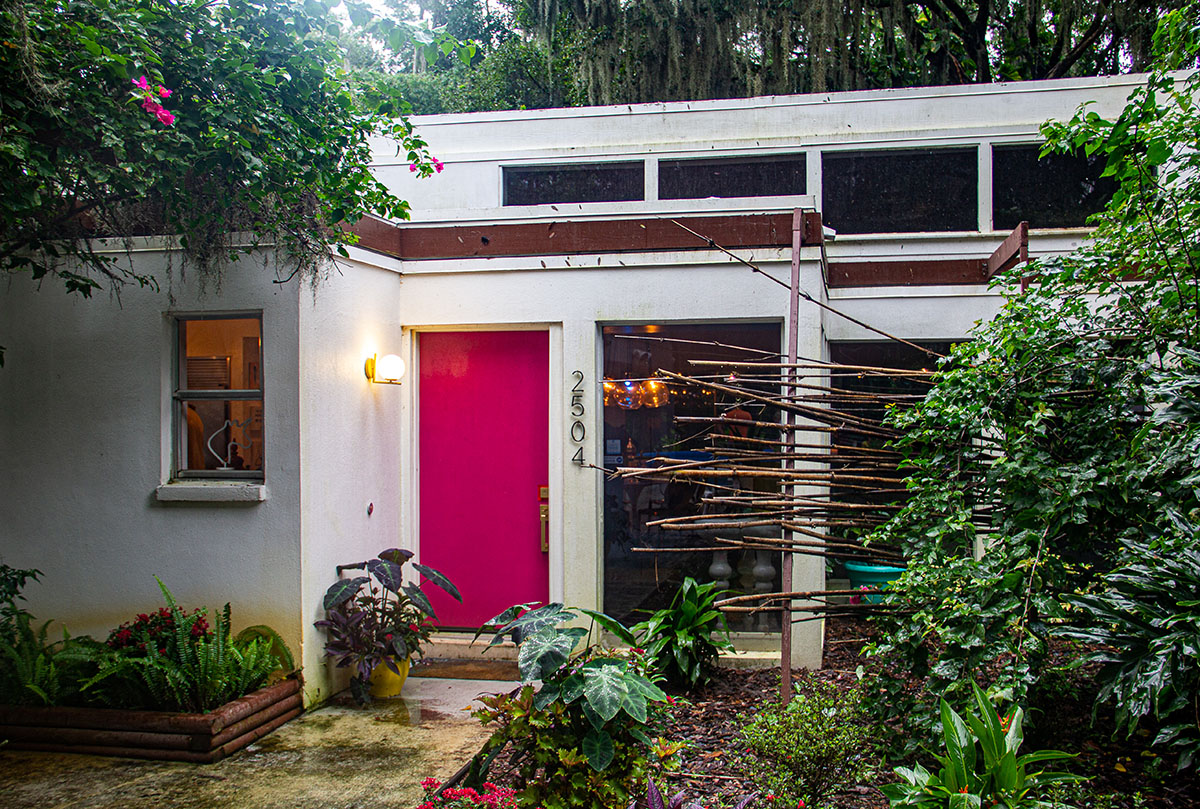 In 2009, Sanchez purchased a foreclosed, abandoned modern designed by Dilma Alvarez. "It didn't have drywall or plumbing, and plants were growing inside, but as soon as I saw the sunlight come into the living room through all the glass and saw all the giant cypress and oak trees, there was no turning back."
Back in South St. Pete, the early 1950s Vision-Aire homes, aka the birdcage houses of Pinellas Point, got their nickname from their airy, cantilevered design and attract drive-bys daily. Thanks to homeowners and Preserve the 'Burg, an effort is underway to get a landmark designation for the special residences
When one of the more distinctive birdcages, which has a roof that resembles the point of a star, went up for sale last year, the house's Zillow page went viral. The lucky closer was NFL Safety Rayshawn Jenkins of the Los Angeles Chargers, who bought the chic dwelling in May 2018 for $420,000 and lives there with Emily Lillard and their son when not on the West Coast. Jenkins grew up in St Petersburg and played for Admiral Farragut's team before manning the defense for the University of Miami. Lillard defended goals for UM's soccer team.
South of the Skyway, a few Bauhaus-inspired beauties by the firm of Ralph Twitchell and Paul Rudolph have survived the bulldozers — the Cocoon House by Twitchell and Rudolph (1948) and Rudolph's Umbrella House (1953), both of which were covered in the March/April 2019 issue of duPont REGISTRY Tampa Bay.
Twitchell and Rudolph mentored a collective of architects known as the Sarasota School. Among their colleagues, Tampa native Mark Hampton (1923-2015) designed stunning residences and commercial buildings throughout Florida. A multiple award-winner, he has been recognized as a premier leader of Florida modernism.
"There's a Hampton beltline between Gandy and Kennedy — most are gone but some hidden treasures of his are still there," related photographer/Mid-Mod archivist Rick Mohler. The Hampton biographer took us on a tour of homes and office buildings by the late architect and a contemporary of his, H. Dean Rowe.
One of our first stops was the 1955 McBath residence in southeast St. Petersburg, the only local Hampton home Mohler hadn't been able to access yet. Caretakers escorted us around the exterior, and Mohler stood agape at the home's intact condition. He kept telling people on the phone, "There was only one change I could see — the front door."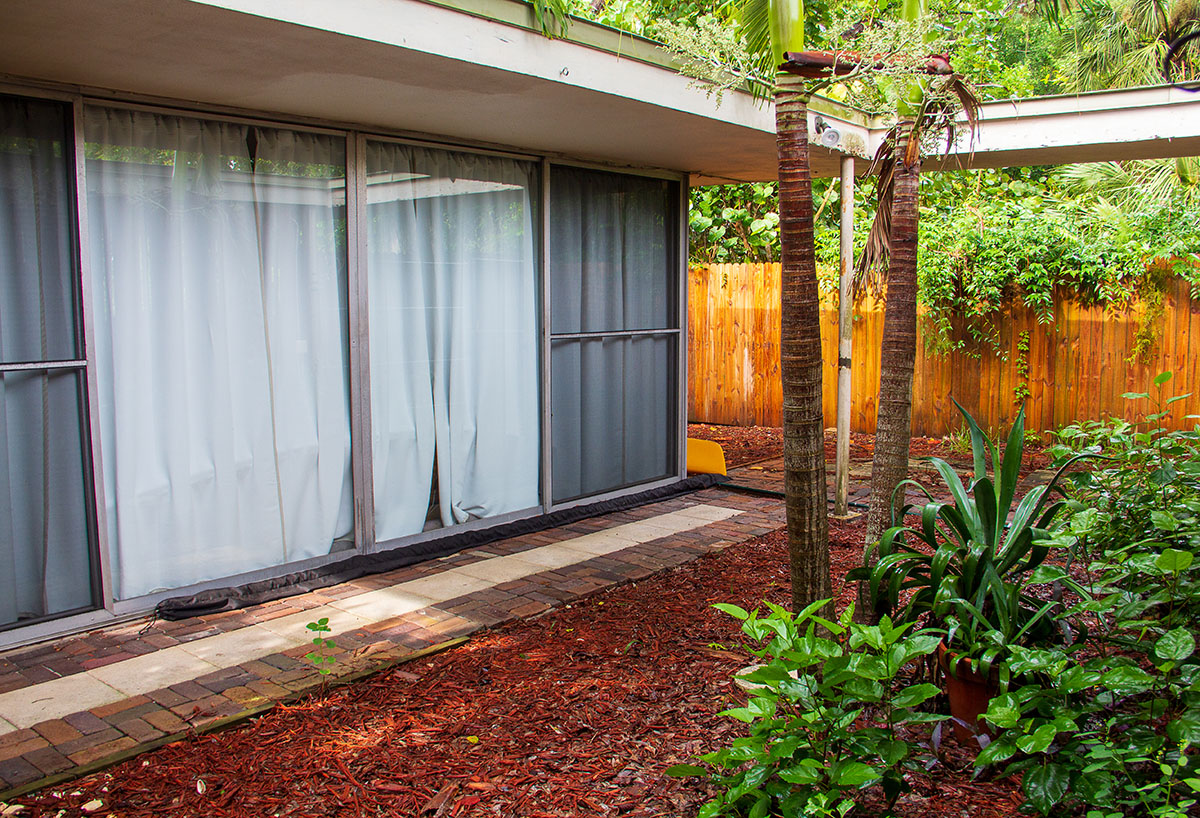 Mohler also taught us how Hampton built his homes with attention to angles of sunlight, or what he called "axes of light." He constructed his beams and windows so they would cast shadows and indirect sunlight.
Though he enforced stringent standards for himself and his workers, Hampton broke his own rules by not opting for a lighter structure of steel or wood when he built his celebrated Horizon House (1963-64) in Carrollwood. The project was a contest entry, presented by the concrete industry to construct a home with, of course, concrete, but it had to measure less than 2,500 square feet and cost less than $25,000 to build. Not only did Hampton win the contest, but he received the National Design Award for the house, owned today by Jim Malek, a retired university administrator, and husband Craig Pugh, a partner in a PR firm based in Chicago and former CEO of Lowry Park Zoo (now Zoo Tampa).
According to architecture professor Jan Hochstim's marvelous compendium, Florida Modern: Residential Architecture 1945-1970 (Rizzoli, 2005), the Horizon House not only represents a heavier structure, but it centered the kitchen instead of the living room and featured a more intricate arrangements of rooms, and somehow, retains Hampton's "typical clarity of geometry." Writes Hochstim: "The precision and mastery of spatial organization in this house provides the delightful sense of order so prevalent in all of his work."
Owners Malek and Pugh met Hampton by happenstance in 2004 through a mutual friend. When Hampton heard about their challenges with renovation, he returned to Florida to help advise on a second-floor master suite.
"Mark hit on an architectural vocabulary that is not only uniquely American but uniquely Florida," Malek said. "The thing that I loved about Mark's designs especially was not just how small the homes actually are, but how grand they feel because of the design."
Remaking Mid-Mod Homes
Though too many Mid-Century homes have been modified beyond recognition or worse yet, demolished, we can do our part to retain the signature hallmarks of the era.
Elwyn of Preserve the 'Burg says her organization can provide guidance on preservation grants and historic designations. She urges people to attend their talks or participate in one of their walking tours to learn more. Coming up in the spring will be the nonprofit's mobile Mid-Century landmark tour.
Contractors like Tampa's Pro Historical can help preserve the original look of a home, and if an area is too damaged, offer a tasteful feature to replace it that doesn't compromise the authenticity of the home. No cheaping out — unlike the house flippers who replace wrought-iron railings with styrofoam Ionic columns (shudder).
Tampa-based remodeler Johnny Ames works with Pro Historical and has expertise on older homes, too. He constructed a wood screen for one home that enhanced the exterior with mod mystique.
Indian Shores-based architect Scott Holmes echoes the aesthetic value of screens.
"Screens are an excellent way to modernize a home with Mid-Century style," says Holmes, whose dad, Dwight, worked with Hampton on the Eckerd headquarters in Largo and the Lykes family homes. The junior Holmes works on major-scale projects such as schools and office complexes, but he says he's available for a screen addition.
Finding the decor from the Mid-Mod era goes a long way to complete the look. "That era of furniture had skinny legs so you could see the polished floor," noted Ames. "You didn't want to have anything interrupting the view of the polished terrazzo or concrete."
The architect Eero Saarinen's famous 1946 Womb Chair is a case in point: a comfy, enveloping chair perched on spindly steel legs.
"My love for MCM all began with the Womb Chair," says Mishou Sanchez. "It was the perfect meld of elegant design, modern fabrication methods and fantastic color."
Furnish Me Vintage in St. Petersburg's EDGE District has the womb chair's Italian cousin, a bold orange-striped, voluptuously stuffed throne designed by Gaetano Pesce. Co-owner Todd Wilson said it was designed to make you feel like you're in your mother's lap. The $4,995 chair comes with a funky spherical ottoman.
Wilson and his wife, co-owner Jackie Williams, opened the store in 2011 and receives original vintage decor by European and American designers. Williams praised her husband's refinishing techniques and efforts to maintain the original look of the piece.
"We used to live in the Disston Heights area of St Petersburg [they live in Treasure Island now] and that's where we were inspired to take on this world of Mid-Century Modern because we had this supercool butterfly-roof house," she recalled. "It was a modest home with a lot of personality, built in 1954." But Williams's love of the era goes beyond nostalgia or kitsch. It's all about the craftsmanship. "You see the quality of the old-growth wood and the style and design that was put into it. This stuff has lasted 60 years already and it's still solid as a rock today."
MCM FYI
Johnny Ames: 813-244-8166
Furnish Me Vintage: 727-898-8740, furnishmevintage.com
Scott Holmes, Holmes Architects: 727-216-6709, holmes-architects.com
MCM in Temple Terrace: templeterracepreservation.com/Temple-Terrace-Architecture
MCM in St. Pete: Re/Max Metro Realtor Elieen Bedinghaus, a mod aficionado, has sold Vision-Aire Birdcage homes in the area and has active listings of other notable retro properties. 727-642-3331
Modern Home Tours (annual self-guided tours): facebook.com/modernhometours
Rick Mohler: @architectureoftampa
Preserve the Burg: preservetheburg.org or find them on Facebook
Pro Historical: 813-376-8323, prohistorical.com
SarasotaMOD Weekend, Nov. 8-10: The Sarasota Architectural Foundation (SAF) presents its annual event featuring architect talks, guided walking tours, trolly tours, visits to famous Sarasota MCM homes, and cocktail parties. sarasotamod.com/2019-event-info