Throughout these holiday shopping days, we've been highlighting shops we've visited in Sarasota — a town that's not only a destination for culture vultures but a treasure trove of one-of-a-kind shops, including Todd Alan, Dream Weaver Collection, Art Uptown Gallery, and Tilden Ross Jewelers. We conclude with the sparkling imagination on display at…
Harry Roa Studio
By turns fluid and angular, beautifully simple and intriguingly complex, the jewelry of Harry Roa is a marriage of geometry and poetry — which might be a good way to describe the marriage of Harry and his wife, Lily.
"He has a mad love for architecture," says Lily of her husband. "All his designs are architectonic; he's always looking at whatever is in his surroundings. As much as I like to think I'm the one who inspires him, I know it's architecture."
His inspiration goes back even further than that, Lily thinks — to the artistic endeavors of his mother, who was a couturier in Tampa's Hyde Park neighborhood, and to the Cuban jeweler in Tampa who taught him the basics of soldering and repairs when he was 18.
"That's where his journey began," says Lily.
From there he moved into the business of manufacturing nameplates, and about 15 years ago began dabbling in his own designs, starting with "sea charms" for boat shows, then moving into craft shows. And as he perfected his art — he's almost completely self-taught — he graduated to juried fine art shows, and after working at a home studio for many years opened on Main Street in Sarasota.
Harry's designs are strikingly inventive in themselves, but Lily adds another dimension: She helps name the pieces and describes them online on the studio's website.
"We throw the names around together," she told me. "He allows me to add the meaningful purpose behind it."
For instance, the sinuous "Soulful" ring —14K gold with a white topaz and diamond accents — is accompanied by this description: "In an era of quick fixes, fast pace, & disposable goods, may 'Soulful' be a reminder to fill your soul space with joy, laughter, moments, memories, & most important, love!'" It's no wonder that, as Lily told me, one Canadian buyer told the Roas she was attracted to their jewelry because of the designs and the descriptions.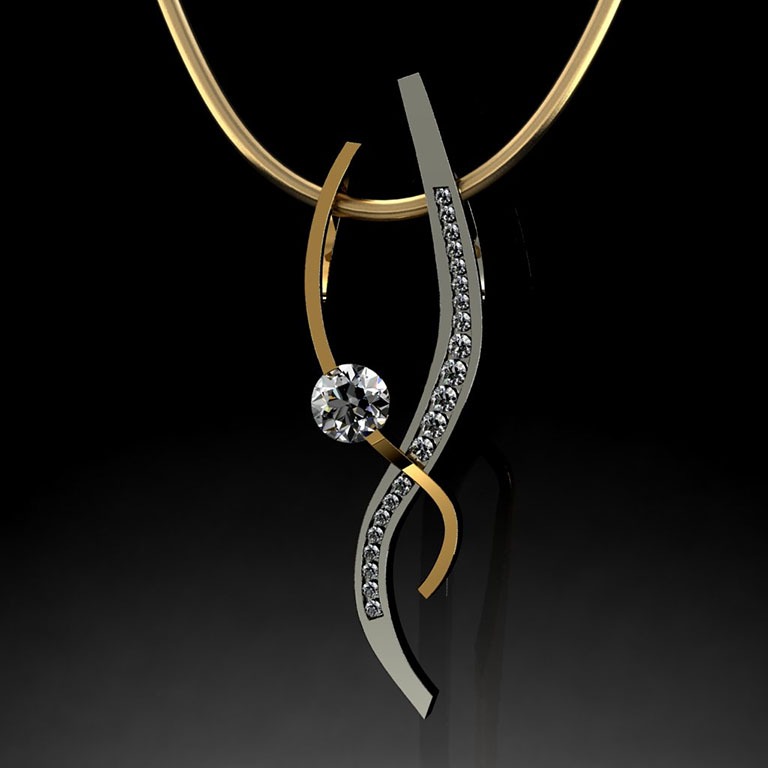 But in at least one instance, it sounds like Harry wrote the description himself. "My Dancing Lily" is a 14K gold slider with a 2.0 ct moissaniteand 1.0 ct in diamonds. The words accompanying it:
"Dancing Lily was inspired by watching my wife Lily on a cold night, dancing by the fire. As I sat and watch[ed], she became one with the flame."
Harry Roa Studio, 1461 Main St., Sarasota, 941-323-1910, harryroagallery.com