As the New Year gets underway, lots of wonderful events do too – from compelling live theater, to your very favorite festivals and arts openings. Let me help you with your resolutions to get out there more and enjoy life in Tampa Bay.
Thursday and Beyond
Opening – Poor People's Art – Panel Discussion and Opening Reception (Thursday & Friday)
USF School of Art & Art History Lecture Hall & USF Contemporary Art Museum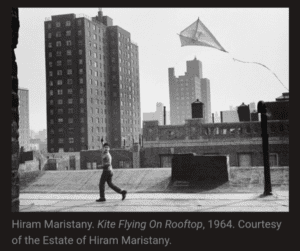 So often, art is the way to illuminate the human condition and raise consciousness in a way that nothing else can. The USF Contemporary Art Museum (CAM) brings us a moving and thought provoking look at the social history of underrepresented and underserved communities in the US since 1968 through an exhibition of photographs, paintings, prints, sculptures and books created by a "radically inclusive company of American artists."
Panel Discussion January 12th @7pm – Tour & Opening Reception January 13th @6:30-9pm
Both Events: Free & Open to the Public More information here.
Opening – Hamlet by William Shakespeare
Jaeb Theater @ The Straz Center, Tampa
Jobsite returns to the Jaeb Theater at The Straz Center for the first offering of 2023 – Hamlet. Four plus centuries later, it is still widely considered the greatest play of all time. The themes, like human nature, are timeless – murder, grief, mistrust, revenge, and a search for the truth. Add the compelling ghost story and true crime edge, and you've got theater that has captured the imaginations of millions throughout history.  Award winning resident-composer Jeremy Douglass provides the powerful score that, along with innovative staging, is sure to enhance everything you know about this classic tale. January 11th – February 5th Tickets, showtimes and more information here.
Opening – Crimes of The Heart by Beth Henley
American Stage, St. Pete
This Pulitzer Prize winning drama, set in the deep South, is another piece that rolls out and examines the broad spectrum of human emotion – family love and dysfunction, jealousy, forbidden romance(s), secrets, and ultimately hope. It's a beautiful three sister saga, expertly told by American Stage, still celebrating its 45th season of professional theater in Tampa Bay. January 11th – February 5th Tickets, times and more information here.
To hear my interview with cast members Rita Cole, Henian Boone and AS communication coordinator, Abby Baker, click here.
Opening – Exit Laughing by Paul Elliot
Catherine Hickman Theater, Gulfport
The Gulfport Community Players have been entertaining us since 1980, and they start 2023 with laughter. This delightful tale of friendship and finding the joy in life, takes a lot of wacky twists and turns – you know, police raids, strippers, oh, and bringing your good friend's ashes along for the adventure – the usual. If you haven't been, Catherine Hickman Theater is a lovely venue with plenty of comfy seating. Grab a bite before the show right next door along downtown Gulfport's waterfront, and you've got the making of a perfect evening. #SupportCommunityTheater
January 12th – 22nd Tickets, showtimes, and more information here.
Friday
41st Annual John's Pass Seafood & Music Festival (3 days)
John's Pass Village & Boardwalk, Madeira Beach
One of the most anticipated culinary festivals each year returns this week to Madeira Beach. The historic John's Pass Village is home to this celebration of fresh Gulf seafood and amazing local music. It's a three-day event featuring hundreds of local vendors, and art and crafts show, lots of live music, family friendly activities, and of course, all the delicious seafood you can eat.
January 13th – 15th Open until 9pm each day
More information, live music and event schedules here.  
Opening – The Wolves by Sarah DeLappe – Think Tank Theatre
Stageworks Theatre, Tampa
A deep look inside the minds and perceptions of nine teenage girls through the prism of their weekly prep to play soccer. We're talking about much more than make-up and gossip here. The opening discussion involves the Cambodian genocide, so buckle up. Topics like global politics and college plans give way to side monologues that further help the audience to "know" individual characters and deepen their presence on our imaginations. It's smart, contemporary and sometimes pretty heavy, but definitely worth your time.
January 13th – January 22nd (Pay What You Can Preview on January 12th  & Industry Night on January 16th)
Tickets and more information here.
Saturday
St. Pete Bacon & BBQ Festival
Vinoy Park, DTSP
Seafood isn't the only delicious food event happening this weekend! Lucky us. They don't say 'everything is better with bacon' for nothing, you know. It's a two-day BBQ and music fest that's sure to hit the spot. Grab a cold craft beer or specialty cocktail, cop a squat right on the Bay, listen to great live music and score some mouth-watering smokey goodness in the form of fall off the bone ribs, bacon burgers, brisket, and more. January 14th @12-7pm & 15th @1-7pm. Tickets, music and event times, and more information here.
Opening Reception – Touch in the Spirit of Love
Woodson African American Museum, St. Pete
Abstract painter and activist, Dr. Gary L. Lemons brings his message of hope, love, and humanity to the Woodson in a series of brightly colored images centered on connection. The artist says, "this series calls all people together to see each other reaching out to one another through the touching of their hands." The pieces are stunning, and the message couldn't be more important.  Join the artist
January 14th @5-8pm as part of Second Saturday ArtWalk. More information here.
Tampa Bay Black Heritage Music Festival
Curtis Hixon Waterfront Park, Tampa
Celebrate the MLK holiday weekend with two days of hit music on the Hillsborough River in downtown, Tampa.  Featured headliners include R&B group Dru Hill (40 million records sold worldwide), and Jazz icons, Jazz Funk Soul (Over 50 #1 Smooth Jazz radio hits). Our very own R&B/Soul superstar Siobhan Monique takes the stage right before Dru Hill. A prolific recording artist and performer, Monique has performed on Broadway, and is the niece of (Duke Ellington's) jazz trombonist, Buster Cooper, who lived and played locally at The famous Manhattan Casino and The Garden. There are many more artists as well to fill two days with incredible music.
January 15th & 16th @12 – 9pm (8 on Sunday) VIP Tickets available.
Tickets, music schedules, and more information here. 
Monday – MLK Day
MLK Dream Big Parade & Family Fun Day
Downtown St. Pete
The nation's longest running parade celebrating the life and legacy of Dr. Martin Luther King Jr. returns to DTSP with three days of celebrating before the main event on Monday. Starting on Saturday the 14th, check out Tampa Bay talent on display at the MKL Dream Big Dance Competition. Then, on Sunday, it's the MLK Dream Big Band Competition.  The big parade and a schedule of family events on Monday puts an exclamation point on the celebration.
January 14th – 16th Times, Schedule of events and more information here.
Have fun, and stay safe out there!
Cindy
Send your events to cstovall5@gmail.com