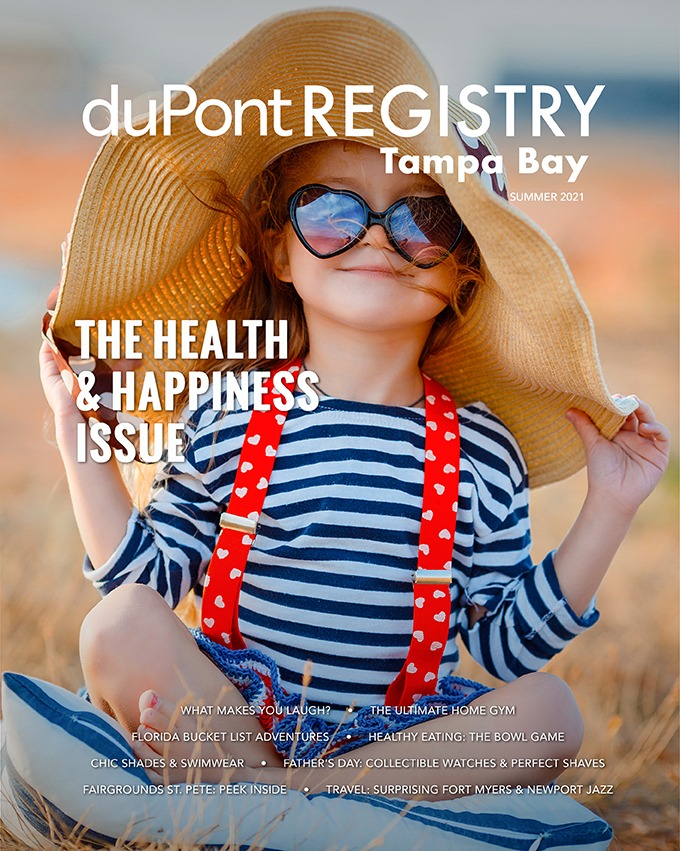 Editor's Note: For the 2021 edition of duPont Registry Tampa Bay's Health & Happiness Issue, we asked an assortment of funny people "What makes you laugh?" Next up: Natalie Symons, accomplished playwright ("Lark Eden," "The Buffalo Kings," "The People Downstairs") and novelist ("Lies in Bone," out this fall). Her husband, Jim Sorensen, says her laughter is "BIG and LOUD and INFECTIOUS." Here's what causes it.
Natalie Symons, playwright and novelist
Schitt's Creek brought me wondrous laughter and joy in the early days of the pandemic. So much so that my friend Teri sent me a life-size cardboard cutout of Dan Levy to keep my spirits up.
Matthew McGee eating the pizza in the mukbang video during the drive-in Scott and Patti Show at freeFall. Matthew is a comic genius. His portrayal of Todd in my play The People Downstairs at American Stage was sidesplittingly funny, and also quite touching.
Leslie Jones, always! Her live tweets watching Game of Thrones and Godzilla vs. Kong make me cry laughing.
The comedy pairing of Larry David and J.B. Smoove on Curb Your Enthusiasm. I watch them on YouTube when I'm having a bad day.
Chris Crawford is infectiously funny on stage. His bit with the falafel birds in The Buffalo Kings at freeFall was a master class in comedic acting.
Lori D. Shannon's one-woman play Superwoman Died Tonight is heartbreakingly hilarious. My husband can always tell when I'm on the phone with Lori because I'm laughing so hard.
I usually laugh the hardest at stories that blur the line between comedy and pathos. Melissa McCarthy and Richard E. Grant in Can You Ever Forgive Me? are, at once, tragic and hysterical. That scene at the end of the movie, where she meets him in the bar and he's sick. He gets up to leave and she starts laughing and tells him she just had the urge to trip him. Comic gold.
Oh, and the Zoom fiasco "I'm not a cat" video makes me howl with laughter.