On a wintry, windy day (even when the temperature's hovering around 80), there's no more comforting comfort food than a grilled cheese sandwich. So, amidst tornado watches and threatening skies, the grilled cheese seemed like a natural for this week's Friday Food Fight.
The two restaurants we visited could not be more different from one another. Uptown Eats in the Historic Uptown district of St. Petersburg is as welcoming an environment as Mom's kitchen — if Mom were as talented a chef as Dan Schmidt. Possibly the nicest guy in the food business, the former St. Pete High music teacher and bar manager had already established a successful catering business when he opened Uptown Eats last year in a storefront (the former Banyan Cafe) next door to the MIZE Gallery, owned by his husband, the artist Chad Mize. The family atmosphere extends to the food, which always feels like it was made with love and individualized attention. Uptown recently celebrated a record week of sales, Schmidt told me, which will be no surprise to anyone who's dined there.
The energy at Fo'Cheezy Twisted Meltz is brash, in your face and big fun, with a let's-throw-everything-at-the-wall-and-see-what-sticks attitude. Or rather, see what melts: The restaurant, as its name suggests, is all about the grilled cheese sandwich, in combinations that go from wild to wilder and boast punny names like "Buffalo Mother Clucker." Founded by celeb chef Robert Hesse as a food truck, Fo'Cheezy now has brick-and-mortar spots in St. Pete Beach and downtown St. Pete, alive with bright colors, "gold"-plated boomboxes and the bro'gadoccio of slogans like "Melt Life" and "Straight Outta St. Pete Beach."
While we could have gone for one of the more twisted meltz at Fo'Cheezy, like the Hot Mess (crispy Cheddar cheese curds, smoked Gouda, cheddar fondue, braised beef short ribs, pickled red onions, crispy tots, horseradish aoli and poutine beef gravy), we decided to go old-school for the Food Fight, pitting D.G.C. from Uptown Eats against Triple O.G. from Fo'Cheezy (the St. Pete Beach branch).
Who gets to be named Big Cheese? Read on.
D.G.C. (Dan's Grilled Cheese) from Uptown Eats
Texture & Color: The pale buttery yellow sourdough slices were not quite as toasty-crunchy as I might have wanted, but that may have been because we called in our order, picked it up after a 20-minute drive, and took it home to eat.
Ingredients: High-end components set this sandwich apart: Gouda & white cheddar, caramelized onion, sauteed mushrooms and spicy/sweet German mustard.
Flavor: I'm a sucker for anything mushroom, and these 'shrooms were stellar. But the stars here were the mustard and caramelized onion. Those additions, together with perfectly melty cheese and bread with a good chew, provided just the right amount of umami. It was difficult to stop eating this one.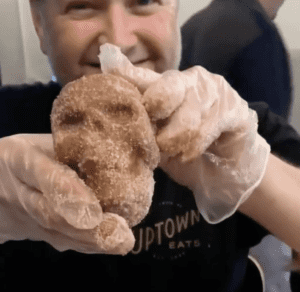 Extras: Dan's pumpkin chili. A once-a-year treat, this is a sublime stew of pumpkin, braised beef, butternut squash, red wine and secret spices, served with jalapeño cornbread. (And don't miss ordering Sugar Skulls for dessert — scrumptious, hand-crafted skull-shaped crullers.)
Cost: $11 with one side (we had the roasted potatoes). Add $2 for a cup of the chili (which you must have, no argument).
Triple O.G. from Fo'Cheezy
Texture & Color: The sourdough had an excellent crunch and a golden brown glow. As with Uptown, we ordered this order to take out, though we didn't call ahead.
Ingredients: The Triple O.G. is the most basic of Fo'Cheezy's sandwiches: American, aged Swiss and Cheddar cheeses. I wanted to try it in a combo as close as possible to the D.G.C., so I asked to add mushrooms, which — EGADS! — they didn't have. That was odd, because you can add just about anything to your sandwiches from the menu's Selfie Melt list ("You pimp it… We'll build it!"), even crushed Doritos and plant-based fried chicken. But… no 'shrooms. So I got bacon instead.
Flavor: Perfectly fine, but one flavor dominated — not sure if it was the American or the Cheddar, but the mix of three cheeses registered together as one not very subtle taste. And the bacon hardly registered at all, except to add a bit of grease.
Extras: Have a milkshake! We tried the Tahitian Vanilla with whipped cream and a cherry on top and felt like teenagers sharing straws at a Norman Rockwellian soda fountain — it was that good and homemade-tasting. We also tried the tomato soup — aka, Slap Yo' Mama Mater Soup with Sharp Cheddar and Cheezy Herb Croutons. This is a very tasty concoction, but more like a thick, chunky marinara sauce than a soup.
Cost: $7 for the Triple O.G., add $2 for the bacon. Shake: $9. Soup: $6 for a bowl.
AND THE WINNER IS…
I like the vibe at Fo'Cheezy and definitely want to try some of the more over-the-top choices, and the shake was yummy! But Fo's most basic trademark sandwich couldn't quite match the subtle, savory version at Uptown Eats. (You gots to have mushrooms!) Add points for the amazing pumpkin chili and sugar skulls, and we have a winner: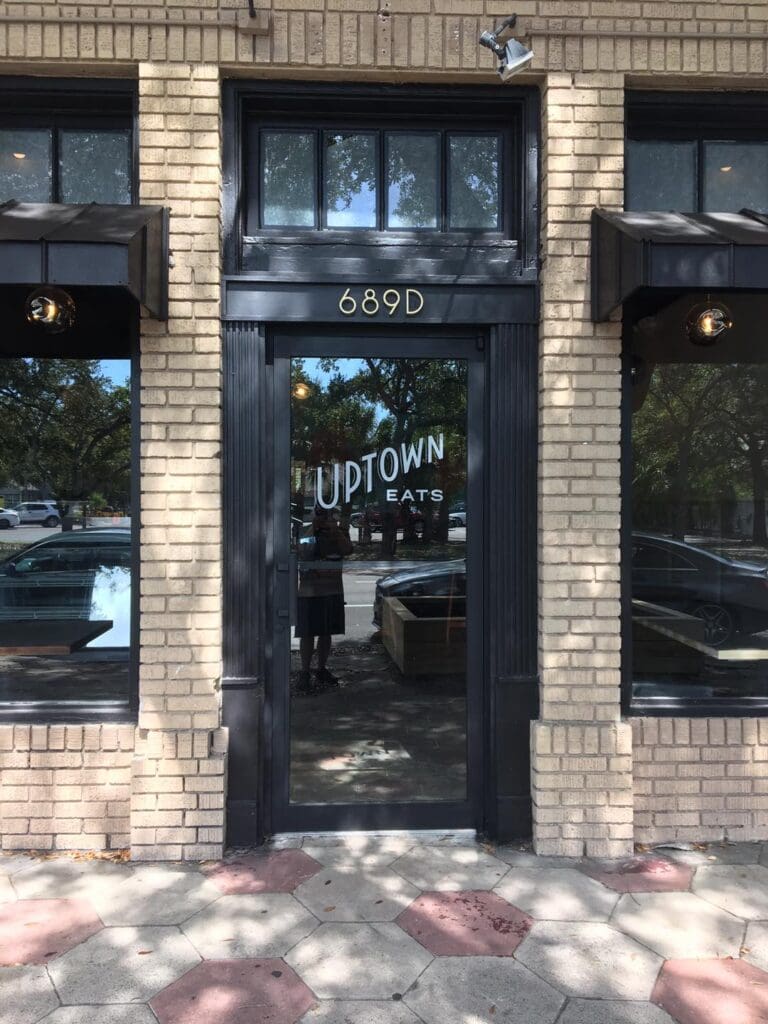 UPTOWN EATS!
Want to read about past Friday Food Fights? Follow these links:
What a Croque! La Croisette vs. Sammy + Paco's
Popeyes vs. Better Byrd: Who's the chicken sandwich champ?